Pie in a Pumpkin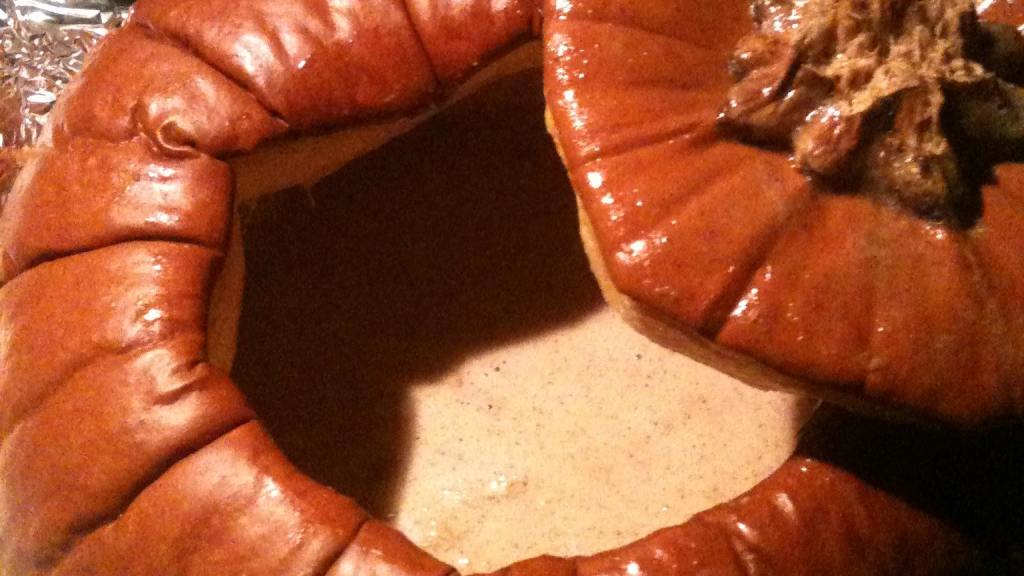 Ready In:

1hr 45mins

Ingredients:

9

Serves:

6-8
directions
Preheat oven to 350 degrees F.
Cut a lid off the pumpkin.
Scoop out the seeds and save for roasting later!
Place the pumpkin in a sturdy baking pan.
Beat together the remaining ingredients EXCEPT FOR THE BUTTER!
Pour into the pumpkin and dot with the butter.
Cover with the pumpkin lid and bake for 1 to 1-1/2 hours, or until the filling has set like custard.
Join The Conversation
We have been making this recipe for years! But the reviews are correct. If the baking instructions are followed, it doesn't set up. Keep baking. It does set up eventually, and it depends some on the size of the pumpkin and the thickness of the flesh, and whether a pie pumpkin or carving pumpkin was used. It has taken much longer to bake than the directions say every time. But the pie is worth it. We increase the spices, especially the cinnamon. Also, if you rub the outside with butter before filling, the whole thing turns a beautiful bronzed orange. Leaving the lid off for a while helps speed cooking a little bit. When selecting your pumpkin, try to get one with a nice stem for a handle. But it might not stay attached to the pumpkin lid with cooking. To check for doneness, jiggle the pan it's in and watch the ripples in the custard. When only the center inch or so is still rippling and not set, remove the pumpkin from the oven. It will finish setting up on the counter. A 5 pound pumpkin might overflow some. Children will think this is the coolest thing you ever cooked! This dessert is worth the trouble and long, long baking time. Don't forget to scrape pumpkin meat out with your custard.

I remember this show fondly, so I was happy to find the recipe. We ended up with 6 extra pumpkins from a carving contest and it seemed a good time to experiment. Mine also did not set up-however the resulting soup was absolutely yummy. I'll do some research on custard ingredients to try and adjust. It will be worth the effort.Lovely presentation with the cooked pumpkin.