Chinese Dim Sum Pot Stickers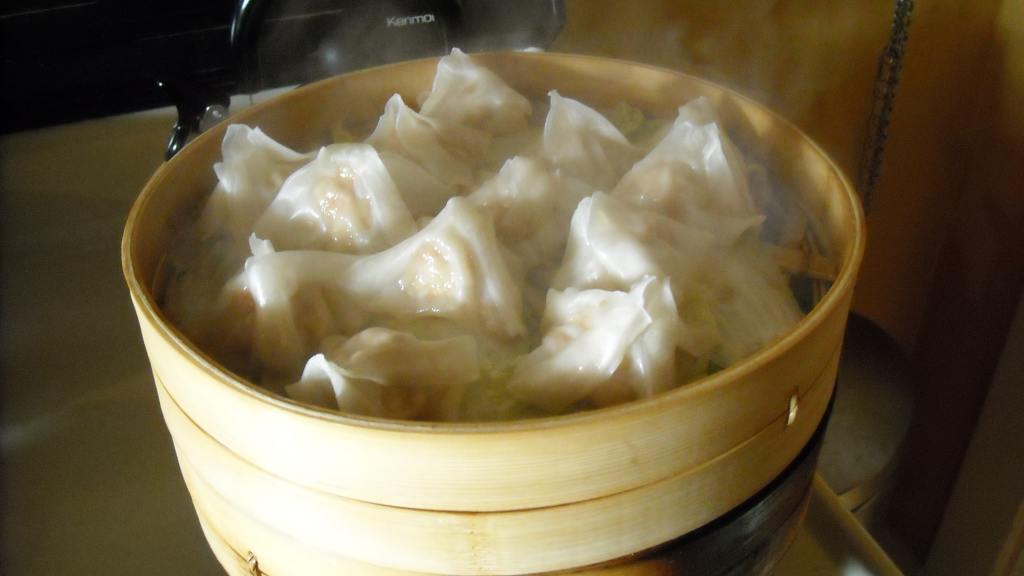 Ready In:

1hr 20mins

Ingredients:

20
directions
*NOTE: the original recipe specified ground lean pork. Either type of meat will work. However, we prefer equal parts of both ground chicken and ground pork.
DIPPING SAUCE: In a small non-reactive bowl combine the dipping sauce and set aside to marinate. Best prepared several hours in advance.
MEAT FILLING: In a large bowl combine the filling ingredients. Cover and refrigerate at least 1 hour.
To make a simple paste for sealing the wrappers, in another small bowl combine a few tablespoons of water and roughly 1 teaspoon cornstarch. Stir to blend. Place about 3/4 tablespoon of the meat mixture on one dim sum wrapper. Using your fingers or a pastry brush, add a little bit of the water/cornstarch mixture to the edge of the wrapper. Fold over the wet edges so they meet and they should look like mini-turnovers. Be sure edges are sealed firmly so that the dim sum do not fall apart during cooking.
(If you own a dim sum wrapper maker use that. If you don't own one, considering investing in a dim sum wrapper. They are inexpensive and come in very handy! A small turnover maker will also work.).
Place the filled dim sum singly on parchment or waxed paper lined cookie sheet. Fill all the dim sum wrappers.
FRYING THE DIM SUM: In large saute pan, on medium-high heat the peanut oil, approximately 1 tablespoon. Add the dim sum in batches, DO NOT crowd, and fry until golden on both sides, about 5 minutes.
Once golden, add 1/4 cup of broth or water, cover pan and bring to boil. Reduce heat to simmer and cook for about 20 minutes or until liquid is evaporated and dim sum are tender but not gummy . Serve immediately.
STEAMING THE DIM SUM: Place a large bamboo steamer inside a large stock pot. Fill with water so that the water does not exceed the bottom of the first level or tier of the steamer basket. Lightly oil the inside of the bamboo steamer basket so that the gyoza do not stick. Arrange the dim sum singly in the bamboo steamer, cover and bring water to boil. FYI- Don't put the cover on the stock pot, only the bamboo steamer.
Reduce heat to low-medium and cook for about 20 minutes or until dim sum are tender but not gummy. Make sure the water does not evaporate, checking periodically and adding more if necessary. Serve hot.
Serve the dim sum with your favorite dipping sauces.
Yield is estimated.
The meat mixture can be prepared in advance and frozen until ready to use. Any leftover meat mixture can also be placed in the freezer for later use.
Join The Conversation
Wow these were yummy. I didn't use the paste as they held together fine w/o it. Maybe it was just the wrappers I had. I didn't' have ground chicken so instead I cut up a few chicken breast tenders really small nth scissors. They came out great. I served with my Spicy Mayo along with your dipping sauce. Thank you CG. Made for ZWT 6 by a fellow Looney Toon Spooney :)