Persimmon Pudding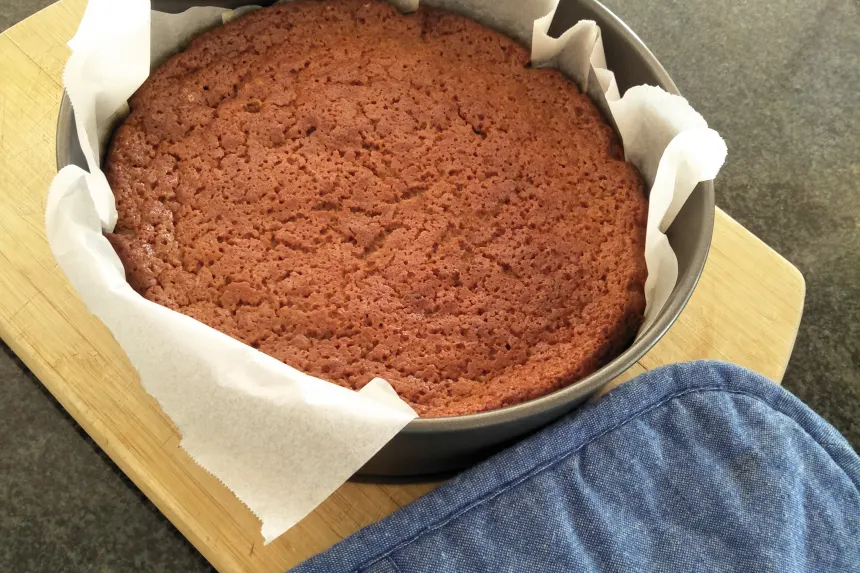 photo by Troy N.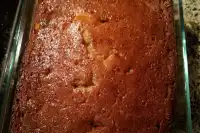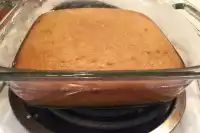 Ready In:

1hr 30mins

Ingredients:

9

Serves:

9
directions
Combine persimmon pulp with sugar.
Beat in eggs. Mix in milk, then butter.
Sift or stir flour with baking powder, cinnamon, nutmeg.
Mix with persimmon mixture.
Pour batter into a well greased 9-inch square cake pan.
Bake in a 315-325°F oven for approx 60 minutes or until knife comes out clean.
Questions & Replies

Reviews
I have not yet tried this particular recipe, but persimmons were an integral part of our yearly foraging pattern when I was growing up and we always had frozen pulp on hand. This is an unusual fruit, and care must be taken in order to ensure a pleasant experience. First, and most important, NEVER pick the fruit from the tree, at least until after gaining some familiarity with the fruit, it must be fully ripe and soft, otherwise we call it "puckery" and it is a most unpleasant and unforgettable taste which may put one off persimmons forever. The fruit is best when soft, and it is generally best to wait til they fall. This will vary from one tree to another, some here being good in August while others will not be ready till a frost or freeze. The ones that fall will look nasty sometimes, bits of leaf and dirt stuck to them, but this is MUCH preferable to an unripe fruit. Simply mash them through a colander to remove the seeds and debris, a bit messy true but sometimes really good food requires a bit of work. We are currently in the midst of harvest season here in Southern Indiana, and while we are in the midst of a severe drought and this was a record summer here for heat, the fruit is, to my taste buds, some of the sweetest I've ever encountered. Give it a try, but do it properly, and you should have good results.

 

You have to bake it for more like an hour. I put my oven at 315 for the first 35 minutes, then turned it up to 325 and kept setting the timer for 10 minutes. I baked it for another 35 minutes at 325. I used a little less sugar than it called for, too. Probably 3/4 cup. Great recipe, though!! And I shot a photo of mine since there wasn't one here. Use Hachiya persimmons when they are squishy ripe. No bitterness whatsoever. They can also ripen after being picked. The birds can get them or they can fall and splat on your head, as happened to my neighbor.

 

It turned out really well. I added a little extra cinnamon and nutmeg. I really enjoyed the texture of it....not to wet and not dry enough to be a cake. One review mentioned a watery like substance after/during the baking process. When I allowed it to cool the extra clear liquid seem to be absorbed back into the pudding. Really good recipe....my husband enjoyed it and he doesn't like many desserts. I will definatley attempt again when I get some extra persimmons! I also used a smaller dish 8 by something.

 
Tweaks
My family eats mostly gluten free and no sugar added healthy options so I tweaked this and it turned out super tasty. Substituted coconut sugar for regular sugar, coconut milk for cow milk, 1 & 1/4 c. almond flour for 1 c. regular flour and I didn't have any nutmeg so I used 1 tsp all spice instead of 1/2 cinnamon 1/2 nutmeg and it turned out scrumptious! Mmmmm sweet and a little less guilty (can't sub out the butter - I mean seriously that's what makes it taste SO GOOD)

 

So I ended up with 2 cups of persimmons, which I mashed. I think the ripeness of the fruit should determine the amount of sugar added. I added only 1 cup of sugar, tasted it, and it was perfect. I used 5 eggs, 1 1/2 cups of milk (ran out!), 1 1/2 tsp of cinnamon, a pinch of cloves, 3/4 cup of butter = 12 TBSP (who measures in pounds??), and used a 9 x 13" glass pan, greased with coconut oil. I can't tell you the time because I forgot to set it. I'm not much of a time person. I watch and check. Sorry. It totally came out perfect, and was delicious with a shishy of whipped cream, and a sprinkle of cinnamon on top!

 
RECIPE SUBMITTED BY
Hello, I am Rhonda from Southern Indiana. Many of the recipes I have posted are my Dear Mothers. She was a Great Cook! My posting is A tribute to her. For All the world to see her recipes. I lost my Mother to Cancer on May 6th 2001. 7/19/05 Took in a Stray Cat! His name is ROCKY. I love this site! I enjoy all the recipes and when I get a good review it makes me smile. Because it is for MOM!!!??
View Full Profile