Persian Rice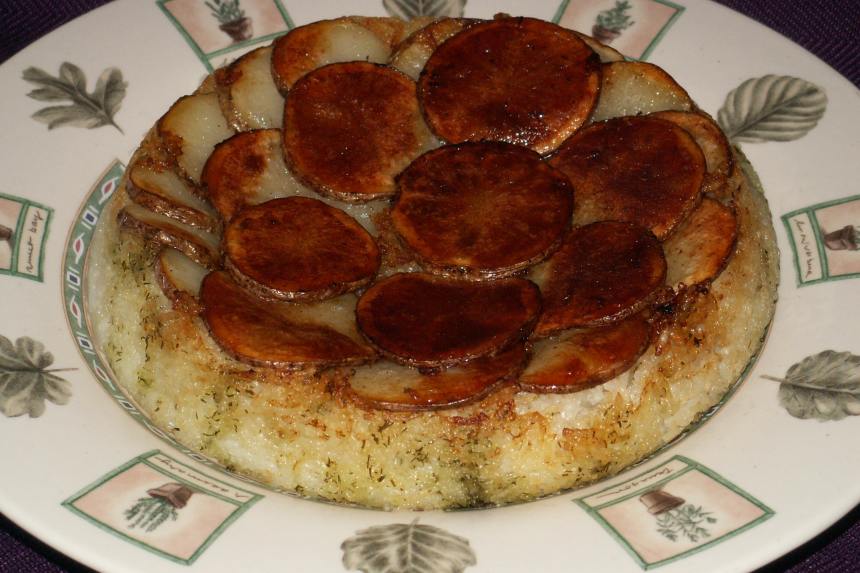 photo by CraftScout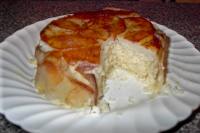 Ready In:

1hr 10mins

Ingredients:

5
directions
Bring the water to a boil in a large pot, add the salt, and then boil the washed rice for ten minutes; drain and reserve.
Dip the potato slices in the melted butter and use them to line the bottom AND sides of the same pot you just boiled the rice in.
Pour any leftover butter in the bottom of the pot.
Now, very carefully (don't move the potatoes), place the partially cooked rice into the potato-lined pot.
Cover the pot with a teatowel and then its lid and place over medium-low heat; this steams the rice and cooks and browns the potatoes.
This will take about 1/2 hour, but carefully check the rice for doneness and the potatoes for browning after about 20 minutes.
When the rice and potatoes are done (potatoes will be browned and crispy), remove from heat and remove lid and teatowel.
Place a large platter over top of pot and very carefully invert the pot.
The whole thing should slide out; if some potatoes come away, put them back where they belong.
I was told the crust is called the"tadiq" and it is the part the family members all fight over.
I admit that, when I tried to make this dish, it all fell apart; it was tasty though.
Questions & Replies

Hi, I am confused a bit... I cook the 2 cups of rice in 12 cups of water and then drain the water after 10 minutes. Then you say put back the rice in the pot to steam but there is no more water since you drained it so how is it going to steam? Also I hear some people put pommegranate molasses in the recipe is that possible? And where/when would you add it?

 
Reviews
Hi Lennie, The best rice to use is Basmati (or Jasmine Rice). This will give the optimum cake effect, and the flavours will be awsome. The recipe your friend gave you is authentic, but you need a good quantity of butter/oil to get the crispy bottom Tahdiq part to work. You can make this dish with or without the potatoes. Standard Tahdiq is just a crispy golden disc of rice at the bottom of the pan. You can do this by adding oil/butter at the bottom of the same pot you've boiled the rice in, let it heat a little, then carefully poar your part-boiled rice on top & follow the recipe to the end. I normally start it off on low to medium heat for 10 minutes, then turn the heat right doen to very low and let it steam gently for 30 - 40 minutes. You can exactly the same with the potatoes. The quality of the 'base' of your pot must be good; your pot should preferably have a heavy base to ensure an equal distribution of heat. Do not give up! Getting a good-shaped Tahdiq takes years of practice! Generally it is something that only Iranian grandmothers know how to do best ;-)

 

There is NO better rice than Iranian rice! I was married for 33 years to a good, Iranian-American who is a better cook than most of his female relatives and Iranian friends. There are a few things to note, some of which have been touched on by other reviewers. First, tadiq (tadeek) is fabulous for all except those who do not like crunchy things. Secondly, using Basmati is a must and your first water should be pretty heavily salted, but covering your (heavy pot) lid--we called it "diapering" it--is also a must. Just put the lid on a terrycloth kitchen towel, pull all the ends up and secure it with a clothespin. Thirdly, put about a 1/4 inch (I am guessing the amount) of water and about a tablespoon of oil in the bottom of the pan after draining the rice, let it start to boil, and do as one reviewer said "exactly": mound the rice and use the wooden spoon handle to poke several holes in the rice mound. Then cover with the diapered lid, wait about 3-5 minutes, and then turn the heat down quite low. My ex-husband always cooked his rice dishes at least an hour and 15 minutes, and no one disputes his success with it. Absolutely fabulous. The potatoes and all are not necessary, but one more important note: he also drizzles a little bit of olive oil with saffron crushed into it over the mounded rice before replacing the lid and inverting it to display the tadiq.

 

I'm a New Yorker who has had many friends from all over the world, including the middle-east. A former Persian/Israeli boyfriend added a beautiful twist to this recipe----A great tip for a great dish: Ad 1/4 tsp. cumin seed, 1/8 tsp. tumeric, and very thinly sliced onion, in addition to the sliced potatoes, in the bottom of the pan to lightly crisp before adding rice.

 

I too was married to an Iranian, In fact I lived there too. Tadiq is served all over the country. I do know up in northern Iran, the people like a short grain rice,and what my ex used to call sticky rice. But I lived in Isfahan and they usually had a type of basmati, This recipes is good but when you put the rice in pile it like it is a mountain, take a wooden spoon and put a kind of steam hole in the middle, cover with a dish towel or a layer of 4 paper towels and then put the top on so its tight fitting. You dont have to use potatoes, you can make this rice have a crispy brown crust by putting a layer of buttered rice on the bottom and piling the rest of the rice on top. or you can use onions or anything else you like on the bottom. You can also put down a few inces of rice add your khoresh and cover the rest with rice, or add dried fruit to the middle of the rice. Its also really tasty if you mix dried dill in the rice before putting it back in the pot, Iranians like that rice with fish. ( they mix lima beans and dill) but I dont really like lima beans! Happy cooking, I only make this type of rice, I have had success with basmati and jasmine.

 
RECIPE SUBMITTED BY
I have been sharing recipes here at Recipezaar since October 2001. You won't see me around anymore, although if you're an old-school Zaarite you'll remember that in the past, you couldn't shut me up!
View Full Profile