Perfect Spiced Roast Goose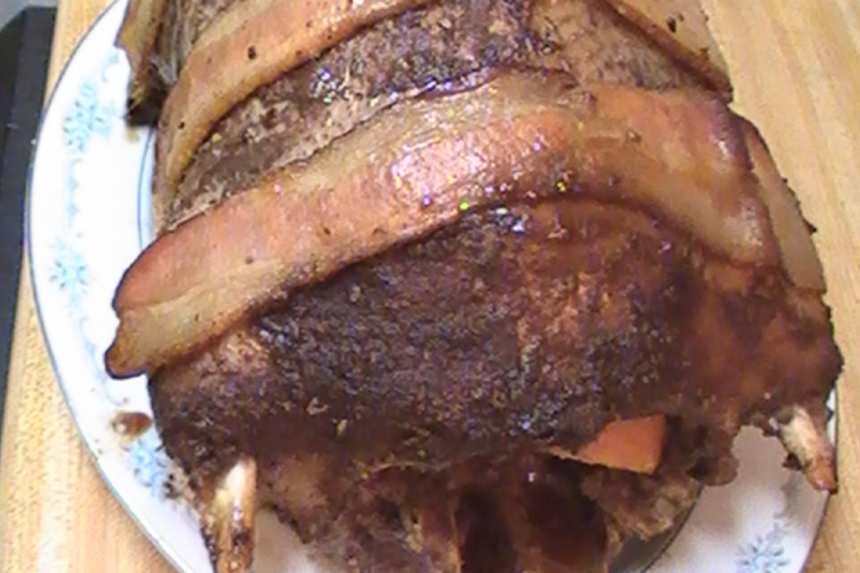 photo by Chef Lyle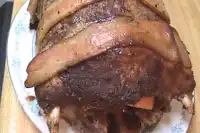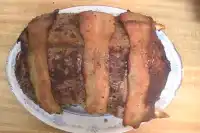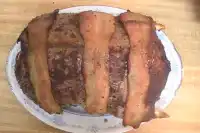 Ready In:

6hrs

Ingredients:

17
directions
For the marinade; in a large saucepan combine 2 cups water with 2/3 cups soy sauce, celery, dried onion and 1 tablespoon sugar; bring to a boil, reduce heat and cook uncovered until the celery is tender, stirring frequently.
Cool mixture to room temperature.
Pour the marinade into a large resealable bag; add in whole goose, then seal bag and turn to coat.
Refrigerate for 4 hours turning several times.
After 4 hours of refrigeration time discard marinade.
Sprinkle JUST THE INSIDE of the goose cavity with salt and pepper (you will season the outside of the goose with salt the last 1-1/2 hours of cooking).
Rub the outside of the goose with vegetable oil.
Place goose on a shallow roasting pan.
Set oven to 325 degrees.
In a small cup or bowl combine the cinnamon with garlic powder and anissed; rub spice mixture all over the outside of the goose.
Bake UNCOVERED for 30 minutes.
Meanwhile while the goose is cooking; in a small saucepan combine the vinegar with 1 tablespoon soy sauce, honey, remaining 2 cups water; bring to a boil, reduce heat and simmer uncovered until reduced by about half.
Remove the goose from oven and baste the goose generously with honey mixture.
Sprinkle lightly with salt.
Return to oven and bake UNCOVERED for another 30 minutes.
Remove from oven and cover with foil and return to oven to bake for about 1-1/2 to 2 more hours or until a meat thermometer reads 180 degrees (basting occasionally with remaining honey mixture if desired).
Let stand covered with foil for about 20 minutes or more before carving (do not prick with a fork or slice during this time or juices will flow out of the goose).
For the gravy; strain pan juices, then skim and discard any fat.
In a small saucepan combine cornstarch with cold water until smooth; whisk into the pan juices and bring to a boil, cook and stir for about 2 minutes or until thickened.
Serve the gravy with the goose.
Delicious!
Questions & Replies

Got a question?
Share it with the community!
Reviews
Good recipe, the goose was a hit in terms of taste, but it could have been softer. I did everything as instructed, the only difference was I made a stuffing of scallions and mushrooms grilled with ginger. The end result tasted somewhat Oriental, which is what we liked, but I am not sure why it ended up chewy. I went by the meat thermometer, as prescribed. Will try it again some day, may be I need to cook it a bit longer.

 

What a fantastic dish! This was my very first time eating / preparing a goose. The only things that I did differently were- I didn't use the stalk of celery, I used fresh parsley instead. And I omitted the Anise (didn't have any on hand). I also skinned the goose. At first I was scared that it would become too dry- So I used my Nesco roasting pan (in the oven) instead of a shallow roasting pan. It turned out perfect! Great texture, moist, and full of flavor! Will def. make again! Would love to try this with lamb or goat kid. Thank You for making my first Goose experience a pleasant one! :)

 

This Really was an excellent recipe and I followed it pretty closely. We had a friend give us a wild goose that they had hunted but did not know how to prepare. We had some friends over for dinners that have become accustomed to gourmet food, throughout the years and have recently been introduced to wild game dishes. I did add ¼ cup of Craisins (sweetened dried cranberries) and ¼ cup Cabernet to the marinade, Stuffed the cavity of the goose with 1 onion, and a Gala Apple that was quartered and toped with thick cut apple wood smoked bacon. The spice rub was absolutely perfect and I highly recommend this recipe, Thanks for Sharing.

 

This was great! We had guests for dinner and I thought I'd do something different with a goose - we raise our own and 'roast goose' gets a bit predictable. This was easy and came out fabulously tasty, I did foget to prick the skin of the bird and it still crisped up really well. Thank you for adding something different to our diet!