Peanut Butter S'more Quesadillas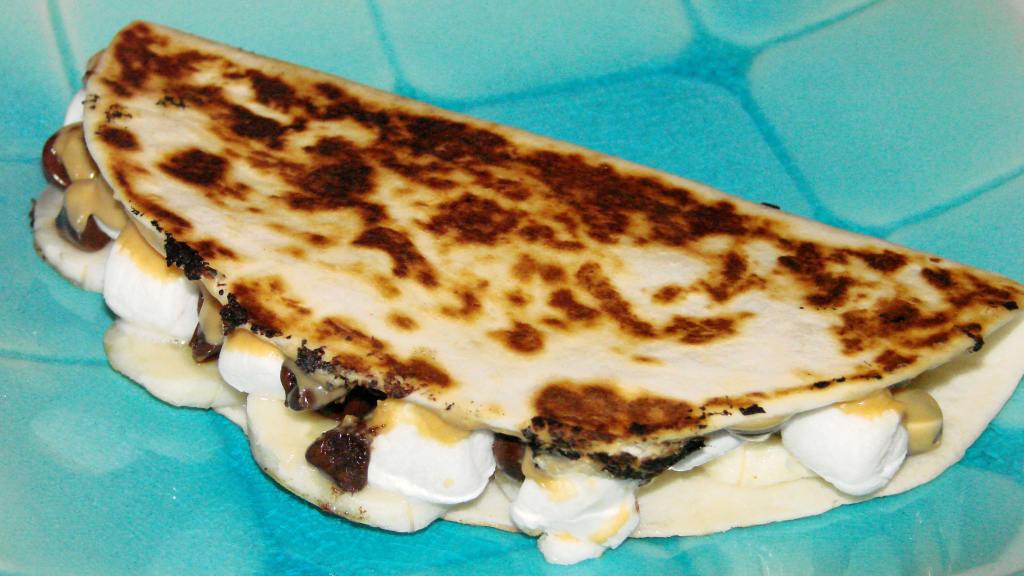 Ready In:

27mins

Serves:

Units:
Nutrition Information
directions
Spread 2-3 tablespoons of peanut butter over half of each tortilla.
Sprinkle marshmallows and chocolate morsels over peanut butter.
Top with banana slices.
Fold tortillas in half; press gently to flatten and seal.
Brush both sides of tortilla with a little bit of oil.
Put a 10-inch cast iron skillet over medium heat on a camp stove, grill rack, or grate over an open fire.
Place one quesadilla into skillet; cook for 2-3 minutes on each side or until golden and chocolate is melting.
Repeat with other quesadilla.
Sprinkle with cinnamon sugar.
Cut into wedges and serve.
Submit a Recipe Correction
Join The Conversation
These were great for my DS, as a special treat! I did not have a campfire, so I improvised and just used my skillet (and a little butter! ;-) ) They looked so good, that I then proceeded to fix one for myself and DH, to share! Gotta remember to try this when we go camping! Thanks for sharing this tasty treat, ratherbeswimmin'!

OK, so I had to re-review these since I make them ALL the time. They are SO delicious and much better than regular s'mores! The banana is so perfect with all the other ingredients. When I first starting making them, I wasn't sure about the use of a tortilla with s'more ingredients - but it works so well. Trader Joe's whole wheat tortillas are a great fit in them. In a pinch, I have made them with sourdough or whole wheat bread too, which is also quite good. DH said we should share one since they are huge, but then he ate one all by himself! If you brush just a slight amount of oil on the pan and one side of the tortilla, you won't gain much fat, but all the wonderfullness of the browning and crispness that is signature to this dish (just cook them on medium, or they get a little too brown). Flip these with the bananas toward the sky, not the pan, so they won't fall out. We liked them better without the cinnamon sugar. I got these from someone's best of the year cookbook last year, and they will definitely be in my best of the year cookbook this year. You can serve these for dessert, breakfast or even a snack! They only take 10-15 minutes start to finish.

Fabulous! I only had 8" tortillas so just used a little less of everything (truthfully, I didn't actually measure, just used what looked good). The only thing I changed was to use a non-stick skillet on the stove and no oil. It didn't get as golden brown and crispy, but still worked and cut a tiny bit of fat LOL Messy but good - thanks for sharing!