Peach Cobbler Dump Cake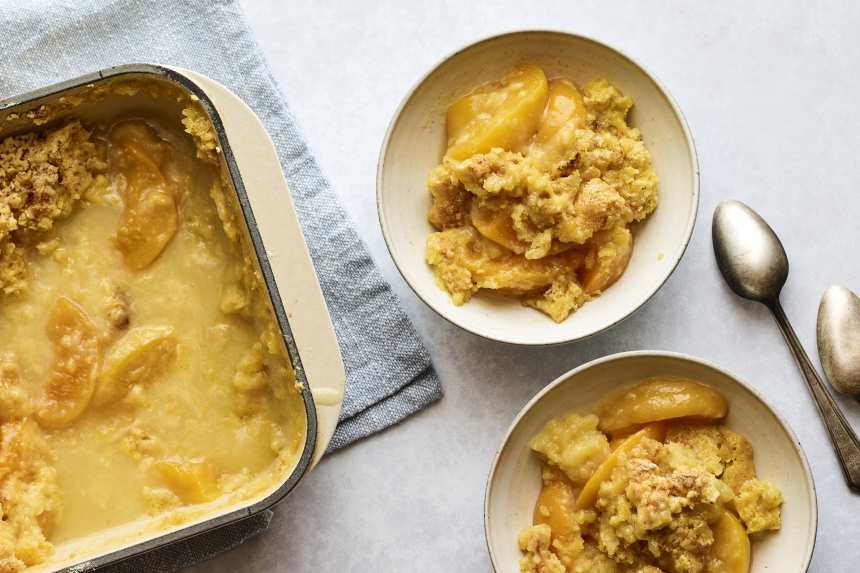 photo by Andrew Purcell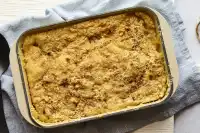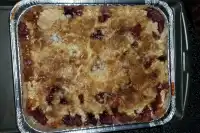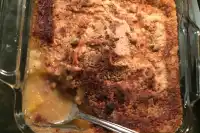 Ready In:

50mins

Ingredients:

4
ingredients
1

(18 1/4 ounce) box yellow cake mix

1

(32 ounce) can peaches in heavy syrup

1⁄2 cup butter
directions
Preheat oven to 375ºF.
Empty peaches into the bottom of a 13 x 9- inch pan.
Cover with the dry cake mix and press down firmly.
Cut butter or margarine into small pieces and place on top of cake mix.
Sprinkle top with cinnamon.
Bake for 45 minutes.
Questions & Replies

Reviews
Tips: Melt butter and pour over with spoon so every part is covered. If you leave any part uncovered it will stay powdery. Use can of Peach pie filling instead of peaches in syrup. Both yellow and white cake powder work fine. The other recommendation is a can of cherry pie filling mixed with a small can of crushed pineapple. Trust me, its amazing. Try also strawberry pie filling with a chocolate cake powder.

 

This is fantastic! I really don't know the sizes of anything, I just dumped. I had a big can of peaches and cut them into chunks. I also added a very small can of pineapple tidbits. I dumped half the cake mix on top, then pushed down. Then added the rest and pushed down. I used the trick of frozen butter and my cheese grater to distribute the butter evenly. Plus it was pretty. It was done to perfection at 45 minutes. I think cutting the peaches up was key, or else it would have been a soggy mess and hard chunks. Cutting them into pieces allowed the cake to mix with the juice better. Loved it, will make often. Cheers! :)

 

This is a great recipe. I make it all the time. I use an extra can of peaches, drained. I also use peaches in light syrup and light butter. Since I use light butter I end up with more dry spots. To alleviate this, I take it out after 15 minutes and spray it with butter spray. I also lightly press the topping down with a spatula to avoid too much dry cake mix. It is a little more work, but my mother in law actually likes it better than when she made it with real butter. It leaves the top crispier like more of a cookie.

 

Very easy and delicious. I cut the peaches into little bite size pieces. I pushed the cake mix down into the juice just a bit and melted the butter and poured over mixture. Largest can I could find was 29 oz. so next time I might add another small can. Served warm with vanilla ice cream. To die for!

 
Tweaks
My boyfriend who is 20 years my senior and never had a woman who can traditionally cook from scratch until me" loves this recipe. If you accidentally get peaches in juice rather than syrup add about 1/2c light brown sugar to the peaches before you put the cake mix on top and it comes out great. Amount of sugar will vary depending on personal taste.

 

We used to make this alot when I was a kid, and it's simple and a family favorite. I recommend using 2 large cans of peaches and cut them into bite size pieces. You must use the kind with heavy syrup or the topping won't be the right consistency. Use a box of yellow cake mix that makes a 9x13 pan and a stick of melted margarine that you drizzle over the top. Looking at the comments for this recipe, we never used cinnamon, but I do think that'd add a nice flavor when using peaches. I, personally wouldn't use white sugar on top, as I think it'd get too sweet. If you use the heavy syrup for consistency and bake until the top has lightly browned, it will get crunchy on top without adding sugar. This also is great using 2 cans of cherry pie filling instead of peaches. This dessert does tend to lose the crunchiness on top after a day, but I found keeping it in the refrigerator helps. It's also excellent served warm.