Pavlova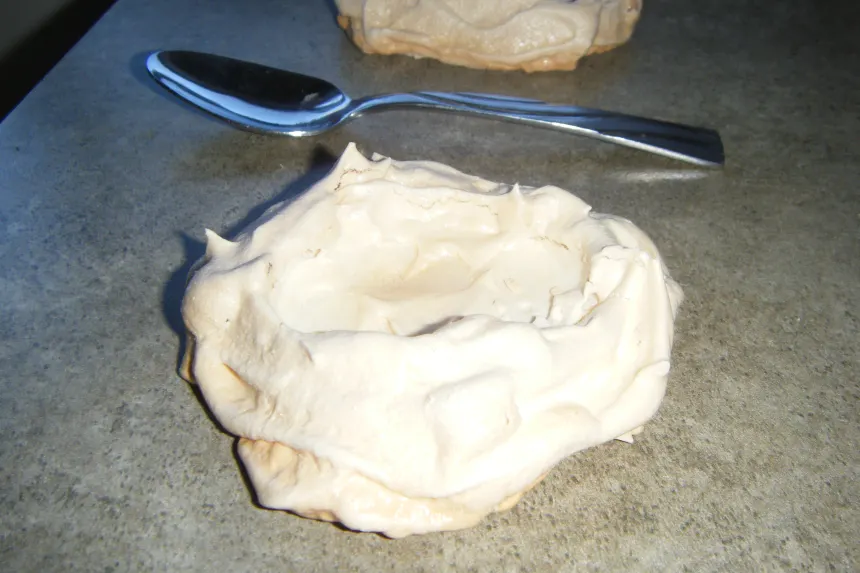 photo by feralgreens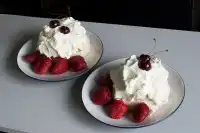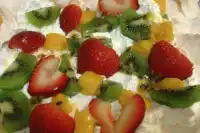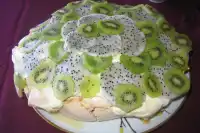 Ready In:

1hr 10mins

Ingredients:

6

Serves:

4
directions
Beat egg whites until they are stiff.
Add cold water to the eggs, beat again.
Add castor sugar gradually while still beating.
Add vinegar, vanilla and cornflour, again, while still beating.
Put greased paper on a greased tray and bake at 150 degrees C (300 F) for 45 minutes.
Cool in the oven.
Questions & Replies

Got a question?
Share it with the community!
Reviews
It's as good as any I have tasted, and better than most. The secret is in the vinegar, it makes the centre soft, like marsmallow, while the outside is a crisp baked meringue. In Australia we form a well in the centre prior to baking so it can be filled with fresh fruit (sliced banana, strawberries, Kiwi fruit and then covered in passionfruit pulp, double cream etc.), just prior to serving. The name comes from the ballet dancer of the same name in the early 1900's. There is some dispute as to who actually created this dish for her originally, with hotel restaurants in New Zealand and Australia both claiming to be the originators. Who cares, it is devine decadence.

 

I made this recipe last night, and seven perfect pale beige mini-pavlovas were waiting for me in the cooled oven this morning. However, I only used a half cup of sugar, and they're still a lot sweeter than I'd like. (I use only one tbsp per egg white to make meringue for lemon pie, and that's plenty sweet for me.) Sweetness is a matter of taste, however; the method works fine, and is easy! <br/> Following somebody's tip somewhere, which said to only add as much water as needed, I added only half the water, waiting to see if the rest was needed, but the mix ended up firm enough to spoon into nest shapes to hold the cream and fruit, so I didn't add more. I think that the amount of water needed is something each cook needs to play with, and it's probably affected by humidity, altitude, freshness of egg whites, and phase of the moon! (37% humidity in the house, 3600' elev., eggs laid the same morning, last quarter moon ;-) ) <br/> On a hunch (and lacking tinfoil), I baked the pavs on parchment paper on ungreased cookie sheets, and they popped off perfectly, no residue, crumbs, goo, cracking, or tearing. I've wrapped most of the pavs in paper to absorb any moisture (hah!), then in plastic, and now they're in a sealed cookie tin in the freezer so nothing crushes them...apparently they can be frozen for up to a month.<br/> North American readers, please make sure that you use corn STARCH, and not corn FLOUR that you'd use to make tortillas! Happy munching!

 

Thanks for the recipe, this is from the Edmonds Cookbook in New Zealand, which I think most people there seem to own. The pavlova is meant to crack, and it doesn't necessarily have to be white (it will be a light golden colour). It is important to add the sugar slowly and thoroughly beat it in before adding further sugar - I add it a heaped teaspoon at a time & this makes the pav light & fluffy (plus it doesn't seem to collapse). It is also important to not open the oven door at any stage, you need to leave this in the oven until the oven is cold.

 
RECIPE SUBMITTED BY
Hey Everyone! Greetings from Sunny Singapore! I'm am so glad to have found this site. It is waaaayyy better than other sites I've been. I have about 240 cookbooks and my faves are the older cookbooks I got from my mom as I prefer from scratch cooking. I have created several cookbooks dedicated to the use of eggs. I have come across a number of recipes requests for using up lots of eggs. So there they are. http://www.recipezaar.com/members/home/123897/Backtattoos.jpg The above is a picture of me at my office's Annual Christmas cum costume party. I won first prize with that orange costume! The one with the (fake) Tattoos was taken in Dec 2007 when I again won first prize. I love spicy food and the many different kinds of chilli dips different foods calls for!! Love baking, cross stitching, trying my hand now in shoe beading and patchwork and now doing a course on aromatherapy. Oh and am now trying to raise a flower and herb garden but it is not easy as I am a newbie at that too! In some of my recipes, you will note that there is a letter in brackets at the beginning of the name. This is what it means : (A) : Aromatherapy/Homeopathic/Less toxic I'm not crazy about recipes using pre-mix cakes as I am a more from-scratch person. My recipes will have the local name (when applicable) as well as the anglicised name, eg "Au Nee (Sweet Yam Paste). If I had a month off, I'd be in Texas.
View Full Profile