Pack It and Go Energy Bars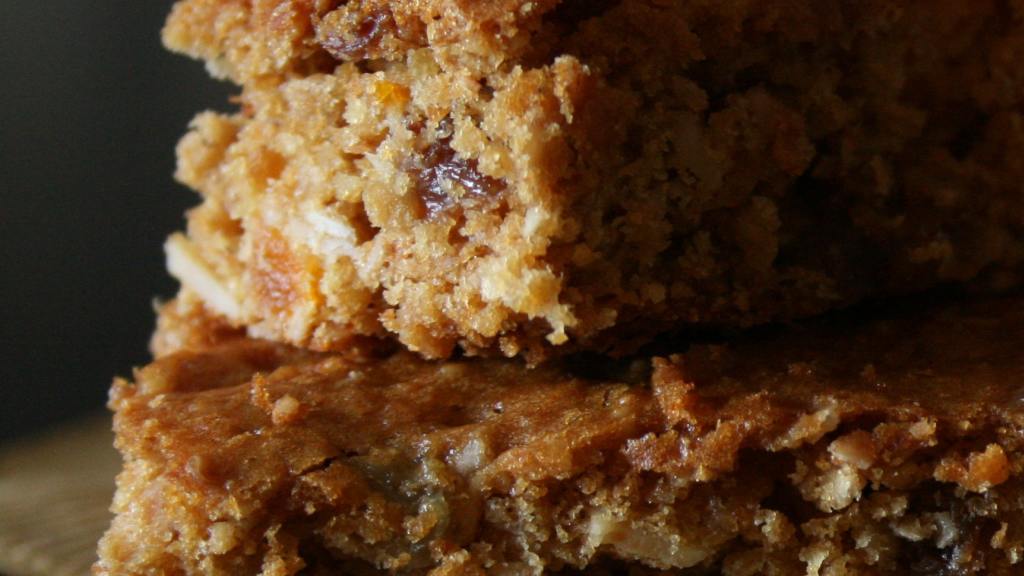 Ready In:

1hr 10mins

Ingredients:

19
directions
Preheat oven to 300°F.
Place oats and sliced almonds on a baking sheet.
Toast in oven for 10 minutes.
Set aside.
Turn the oven to 325°F.
Place raisins, apricots, oats, and almonds in a food processor.
Pulse about 10 times until coarsely chopped.
Set aside.
In the bowl of a heavy-duty mixer fitted with a paddle, beat the butter, brown sugar, molasses and egg until light and fluffy.
In a separate bowl, combine both flours, dry milk, wheat germ, baking powder, baking soda, vanilla, and salt.
Add to the creamed mixture.
Add the milk and mix thoroughly.
Add dried fruit mixture.
Butter a 13x9-inch baking pan.
Pour in the batter and spread evenly.
Bake for about 30 minutes, until set.
Cool in the pan. Cut into 18 (1 x 4-inch) bars.
To store, wrap bars individually in plastic wrap or those little snack baggies.
Will keep for about 1 week. For longer storage, freeze for up to 3 months.
Join The Conversation
I never would have thought about grinding the nuts, fruits, and oats, but it makes all the difference in the texture; it's not like a cake-y pastry holding together large chunks. I didn't have any almonds, so I substituted them with 1/4 cup of sunflower seeds and used 1 3/4 cups of mixed fruit and nuts. I also didn't have any wheat germ, so I used wheat bran instead. The result was delicious... thanks Sharon!

I also made these my own after reading previous reviewers. I used a combination of fruit and nut medley for my 1 1/2 cups of dried fruits. Also added a 1/4 cup whey vanilla protein powder and 1/4 cup dry milk. Beefed up the whole wheat flour some and - from the white. Thanks Sharon. I've been meaning to make this for quite some time. I should mention too that I made and wrapped them individually for the freezer for easy snacking whenever. Made for Cook-Book Tag~

Great snack bars...wonderfully versatile...like others I reinterpreted the add ins by using my own dried fruit mix of a combo of delicious berries, pineapple, apple and what -have-you ( { :) } )- (I have been dehydrating a lot of late with my new favorite toy/obsession {lol}... used some toasted steal oats and some flax seed (for a textural punch) ... soy-milk (vanilla flavored) & kinda played with protein-powder in with the dry mix instead of the dried milk (at my husbands request -that would be his latest favorite obsession {{RE:lol}} :) )...he is LOVING these as his after gym meal/treat and PICK-ME-UP!!!:)...Thanks Sharon