Onion Lentils and Rice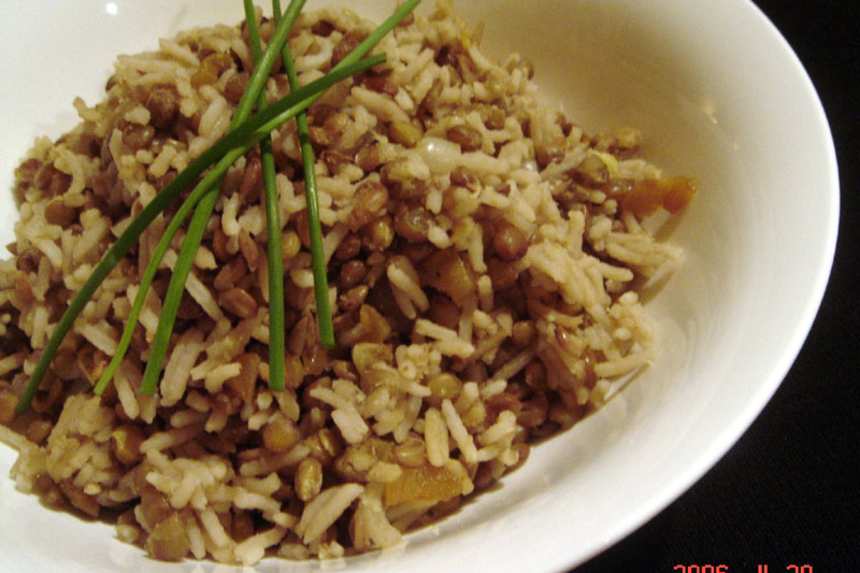 photo by Ninna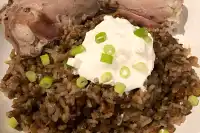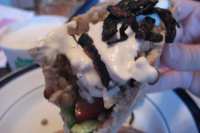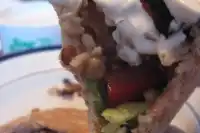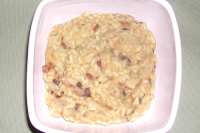 Ready In:

40mins

Ingredients:

7
directions
Heat olive oil in skillet, saute the onions with 1 tsp cumin until lightly browned (can add some garlic too, if desired).
Remove 1/3 of the onions and set aside.
Continue cooking the rest of the onions until dark brown and black in places.
In the meantime, bring water to a boil in a saucepan, add the lentils, reduce heat, and cover, simmering for 15 minutes.
To the lentils, add the 1/3 lightly browned onions, rice, salt, and remaining 1 tsp cumin.
Cover and simmer 15 minutes or until rice is tender.
Remove from heat and stir in the well-browned onions.
Cover and let stand for 5-10 minutes.
Serve!
Especially good with chopped lettuce, tomatoes, and a dollop of yogurt or sour cream on top.
Also good with cooked spinach.
Reviews
This was soooo good. I really appreciate the simplicity and vegan ingredients. I made as written mostly, but I already had cooked brown rice so I used 1/2 cup less water. I also sprinkled a bit of salt and cinnamon on the onions as they carmelized as per another Mujadarra recipe I saw online. Finally I increased the salt by 1/2 tsp.

 

AWESOME! I made this last night for dinner. I used regular small brown lentils and brown rice--which, unfortunately, took longer to cook and still wasn't quite done. A word to the wise: you may need a bit of broth or water if you use heavy-duty brown rice in this recipe. But it was great! I also added about 6 cloves of garlic because I'm a garlic freak. This was wonderful--I'll make it very often. Thanks for posting!

 

Yummy! This was my first time making anything with lentils in it, and I'm so pleased with the results! The lentils ended up a bit firmer than I think I would have liked, so next time I think I'll let them cook 5 minutes longer. I think they'd also be good rolled up with lettuce, tomato, and sour cream in a flour tortilla and eaten burrito-style. It's even better the next day---I'm eating the leftovers for lunch right now!

 

I found this recipe while trying to use up some random ingredients in my cupboard, and it was perfect for using the almost empty bags of green lentils and jasmine rice. I also wanted to use up a small amount of unsweetened coconut and some pepitas, so I toasted those and added with the caramelized onions. (I also used coconut oil to cook the onions.) A little random but it worked out well. This is wonderful comfort food!