No-Nonsense Chuck Eye Steak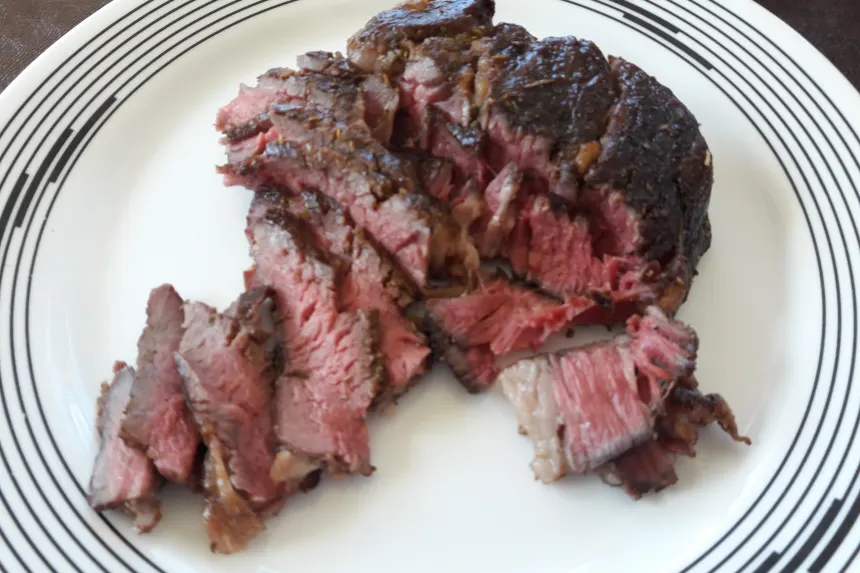 photo by ggrieser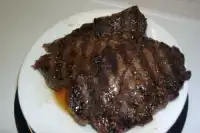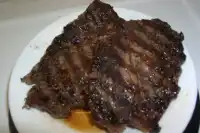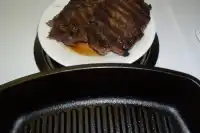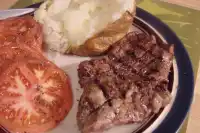 Ready In:

15mins

Ingredients:

4
directions
Cover both sides of the steak, first with the salt, followed by the pepper, and finally the olive oil.
Cook on an outdoor grill, or a hot cast iron pan, for 5 minutes per side.
Allow to rest for an additional 3 minutes on the plate. Enjoy.
Reviews
A friend told me about Chuck Eye Steaks, and now thats all I buy. I try to get a package around 1 pound or over. I put a little oil in a screaming hot cast iron skillet. Put in the steak and let it release itself, it knows when to be turned over, then I pop it in a hot oven for a few minutes. I like my steak med-rare. After it comes out of the oven I put a little salt, pepper, and garlic powder. LOVE IT!!!!Serve with a baked potato with sour cream and butter. YUM

 

This is pretty much how I do chuck eye steaks.......simple grilling over high heat or in a very hot cast iron skillet. I also agree that unwrapping the steaks, patting dry with paper towel and resting uncovered in the refrigerator for a few hours or more to dry the surface gives a really superior crust. I first learned to do this with pricy, bone in rib eyes on a rack over a rimmed cookie sheet. the drier the surface the better the sear. flavor packed steaks like these need salt and pepper, a little rub with olive oil....that's it. Add other seasonings if you prefer , just be careful not to let them burn.....it will turn bitter.

 
Tweaks
I cooked a couple of chuck eye steaks using you'r recipe a couple of days ago. I had thawed them out to cook while my Dad was visiting me, but we never got around to fixing them to eat before he left. I preheated my cast iron grill pan and cooked per instruction with the exception of using butter instead of olive oil. Very good flavored steak. I was almost run out of my apartment with the smoke tho! I love a place that smells like good food...Yumm Thanks for posting this recipe Bill Hilbrich

 
RECIPE SUBMITTED BY
Some of you know me as Brother William. No, I am not really a Monk, but I have grown to enjoy my simple and solo lifestyle. My love for humanity is based on fellowship rather than sensuality. I PROMISE that I will never share a recipe unless I have tasted the food. Most of the recipes are mine, but I have included a few classics, and some recipes that were written by very creative people, that are just so good that I had to share. From time to time I have found recipes with my name on them in print magazines, but they are always altered in some way by the publisher. So there is no reason why you should not add your own personal touch. If you leave this page with just one thought, I hope that it would be that Cooking is a Creative Sport. I grew up in Glenview Illinois, just north of Chicago. My Mother loved those little exotic cookbooks, that were sold as a weekly series in grocery stores in the 1950's. I was taught to eat whatever was put on my plate so I ate food from a different culture every week. If I had to pick a favorite, it would be Mediterranean. After leaving my Mother's table, I have lived and enjoyed eating in Colorado, Missouri, Montana and Nebraska, before settling in Saint Cloud, Minnesota in 1975. After a 30 year marriage with mixed reviews, I am now pleasantly single again, and plan to stay that way. Up until recently, I had occupied my evenings just talking with people and sometimes sharing recipes, while soliciting donations for Non-Profit Organizations. Yes .. that's right, for over 20 years, I was a Telemarketer. The perfect job for a Taurus. I enjoy reading cook books the same way most people read novels,and I am still improving my skills in the art of Solo Cooking. However; my true passion will always be sharing my favorite recipes with all of you.
View Full Profile