Microwave Ricotta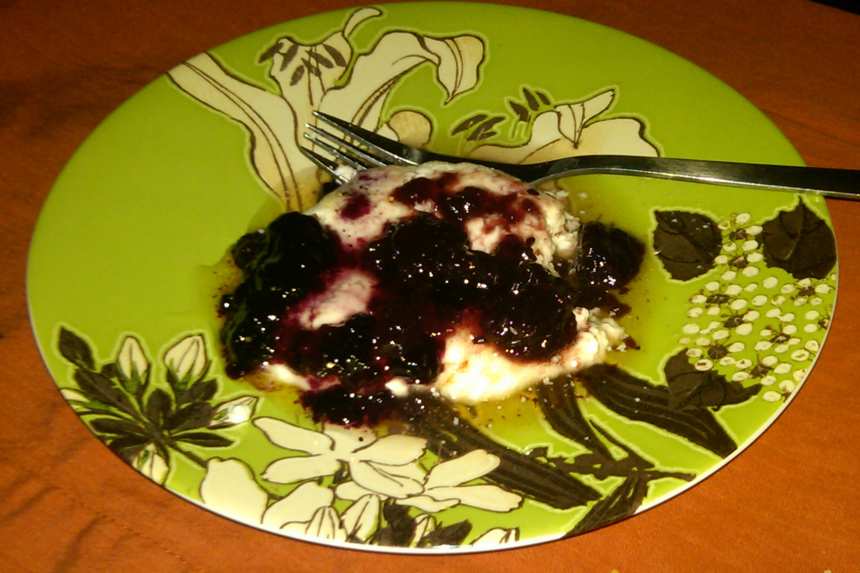 photo by Maggie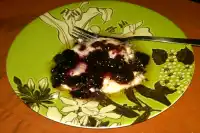 Ready In:

4mins

Ingredients:

3

Serves:

2
directions
Moisten 4 layers of cheesecloth or two layers of food-safe paper towels and lay into a colander set over a bowl.
Combine milk, salt and vinegar or lemon juice in a 4-cup glass bowl or measuring cup. Microwave on high until bubbles form around the edge, 2-4 minutes. (An instant read thermometer should read 165-170°F). Remove from microwave and stir gently for 5 seconds; solid white curds should separate from translucent whey. If not, microwave up to 30 seconds more (if using lemon juice, add an extra 1-2 tsp before reheating).
Transfer curds to lined colander using a slotted spoon or wire-mesh skimmer. Cover exposed curds with a layer of plastic wrap and refrigerate until desired texture is achieved (see next step). The whey may be used for bread-making or for enriching a garden.
5 minutes drain time will give a soft, almost cream-cheese-like consistency, great for immediate consumption drizzled with olive oil, salt and pepper as a snack or appetizer, or with honey and berries as dessert. 15-20 minutes of draining will give you a cottage-cheese-like consistency good for moist savory applications like lasagna, manicotti, ravioli or spinach dip, for moist sweet things like cheesecake, or for uncooked pastry applications like cannoli filling. 2-24 hours will result in a dry, firm, crumbly curd best for pastries like ricotta pancakes, ricotta gnochi, or tortas.
Questions & Replies

Got a question?
Share it with the community!
Reviews
YES!!! Try this it is mmmmm phenomenal! I think I found this recipe just seconds after you posted it, definitely meant to be!!! I followed the recipe almost exactly as written, and used distilled white wine vinegar. I didn't have whole milk, but I did have half and half and skim milk, so I used 1 cup of each. Wow, I think it took 7 minutes from start to clean up, and here I am enjoying a delicacy! I took your suggestion to consume while warm with berries and honey, but used agave sweetener since that's what I had. Mmm just perfect! I can't wait to prepare this for my next dinner party, it looks and tastes like a sophisticated italian dessert, definitely will impress! I don't think I'll share the recipe just yet... eventually, but I just have to let them be in awe for a little while! :D Thanks for sharing such a unique and fabulous recipe! We need more recipes like this that are so thoughtful in nutrition and committed to using "real" food. What a payoff! Thank you thank you thank you!!!

 

Hooray! This recipe allows me to have a lactose-free soft cheese. I use Lactaid whole milk and only add 1/2 the recommended white vinegar along with the salt. And for the easiest cooking ever? Use your microwave probe and cook to 190 degrees. When cycle is finished, I check that curds are forming, and if not, I add the rest of the vinegar and microwave for 30 seconds. A yogurt strainer is such an easy to clean substitute for the messy cheesecloth. Love this in lasagna, or as a substitute for cream cheese or even for sour cream on baked potatoes.

 

after several rapid Zmails ( thanks!) i decided to make this in 2 batches. I used 8 cups of whole milk, 2 tbsp salt and 8 tbsp white vinegar and microwaved it in 5 minute increments until it seperated, probably 20/25 minutes tops. poured in into a cheesecloth lined colander and drained. Repeated all again so i could make the amount i needed. It turned out amazing and creamy and had some leftover to eat for breakfast with strawberries! will make again for sure now that i know what i'm doing and can speed things up a bit. Thanks for great communication Dr and i too love Serious Eats so thanks for posting the recipe here. I used the leftover whey in roll recipe too and they turned out great! Bonus!!

 
RECIPE SUBMITTED BY
I'm a 48 y/o gay Jewish man in the suburbs immediately north of New York City. I'm a general internist, practicing and teaching at a medical college north of NYC. I also earned a Masters in Public Health degree in 2013. After a Walt Disney World trip in Dec 2006 where I had to rent an electric scooter because I couldn't manage the walking, I decided to have gastric bypass surgery, which was done Feb 28, 2007. I lost 160 lbs (though I've gained back about 60 of that since). I can't eat as much as I used to, so I want every bite to be extra good!
View Full Profile