Martian Cookies (Zucchini & lots of other stuff!)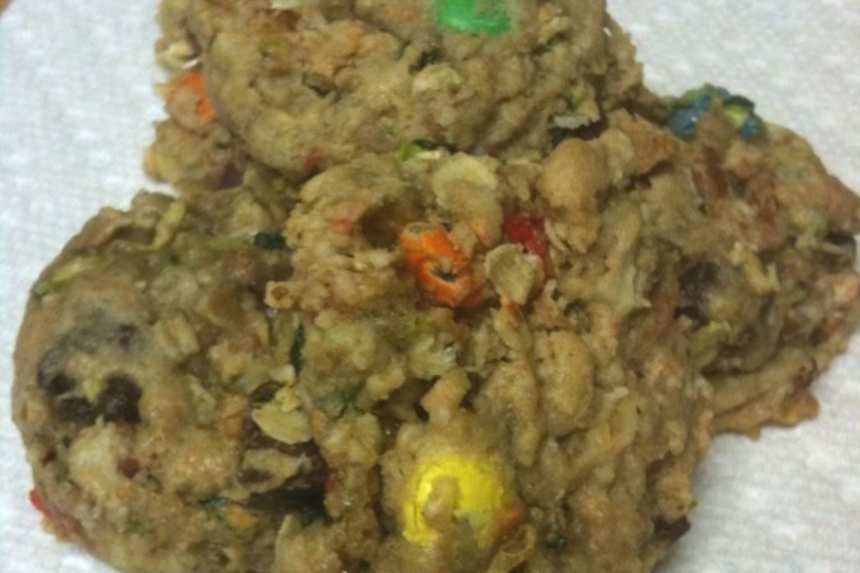 photo by Greeny4444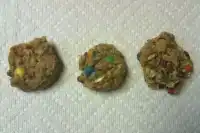 Ready In:

40mins

Ingredients:

13
directions
Preheat the oven to 350.
Beat the butter until soft.
Add the sugar and beat until fluffy.
Add the eggs& vanilla and beat it all well.
In another bowl mix the flour, cinnamon, baking soda and salt.
Using a mixer on low add the flour mixture to the butter mixture.
Beat until blended.
Use a spoon to add the rest of the ingredients.
Drop onto an ungreased cookie sheet and bake for 10-12 minutes or until they are brown.
Questions & Replies

Got a question?
Share it with the community!
Reviews
I can't believe that I haven't rated these cookies yet! I have made atleast six batches of these cookies and they are by far my family's favorite. My kids actually took these cookies to school and told the other grade schoolers what they were! They were ridiculed mercilessly and by the end of the week the other kids were trying to trade thier food for my kid's cookies! I have frozen several batches of dough and baked the cookies later - and rest assured they were just as good as the first batch. I have to admit, I had a bit of trouble with the first batch. I thought they were not cooking at all (even to the point that I thought my oven wasnt on) yet the bottoms were burned to a crisp. This is a cookie that must be baked with "the force" you need to trust that when the recipe says it's done- it's done! when it says "golden brown" its not talking about the top of the cookie, its talking about the bottom. Thank you so much for posting!

 

We loved these cookies! :-) However, when I had the oven on 350?, they didn't seem to be doing too much. I decided to up the temp to 375?, which is the standard temp for most cookies. Once I did that, they cooked perfectly. Yum!<br/><br/>I doubled the batch, but I didn't double all the goodies. I only put one cup of Nuts, 1/2 cup of Butterscotch, and 1/2 cup of Chocolate Chips. I then added a 1/2 cup of raisins. My husband is a huge fan of oatmeal raisin cookies, so I tossed some raisins in the mix. Delicious!<br/><br/>Next time, I'm going to try using Regular Oats instead of Quick Oats and see how they come out. I usually use Regular Oats for Oatmeal Cookies, but I wasn't sure if the moisture of the zucchini would absorb into the Reg Oats. Now that I've made them, I think it will work, as long as I cook them at 375?.<br/><br/>Great Cookie!! ...and a Great way to use some of our overabundance of Zucchini.

 

Oh yes, I'm keeping this recipe! I usually don't put tons of stuff into a cookie, but I had some zucchini that needed to be eaten (in one way or another), so here I am. I followed the recipe, except for a few things: I used 1/2 cup packed brown sugar for some of the sugar, and no one I know really likes butterscotch anything (except me), so I don't usually have those chips around. I substituted mini baking M&Ms for the butterscotch chips, and they looked like lights on a UFO. Hehe. The batter just makes you happy - either that, or I'm kinda loopy, because it is somewhat late.... I used pecans for the nuts, and I did squeeze the excess moisture from my GRATED zucchini, before I added it to the batter. I baked 10 minutes exactly, and GotBoxer? is right - they don't look done, but I flattened mine with the back of a spatula, so they looked like cookies and not domes, and I put them on a wire rack to cool. My hubby sneaked one more while I was turning my computer on to write this! These would be good to take on a hike, for a kid's party (maybe without the nuts), or anytime, really (which is when I'll be making them!). :) Thanks for this AWESOME recipe!

 

I thought these turned out pretty good. Though I did make several changes: sub 1/4 C applesauce for half the butter; used 1/2 C granulated sugar and 1/4 C brown; 1 C whole wheat flour and 1/2 C ap, plus a little baking powder to help with the lower gluten content of whole wheat; lots more cinnamon, as well as a little nutmeg and cloves (I like spice, hehe); I only had old fashioned oats, so I just whirled them in my Magic Bullet for a couple seconds to give them the right texture. I also did not use nuts, and only had chocolate chips (which I didn't measure - never do). While that seems like a ton of changes, I feel that it was still the same basic cookie, and I did like it. Though I must say that after eating some of the batter (I'm awful like that with cookies), I was kind of disappointed in the flavor of the final product. It seemed to have lost some of the flavor while baking. But they are a bit better the next day. Thank you for something new to try out! UPDATE: I just pulled a few of these out of the freezer, and must say that they freeze very well. Either let them thaw on their own for a few hours, or pop them in the microwave for ten seconds or so, and they are still great!

 
Tweaks
Interesting idea to tell kids the green specks are Martian, instead of something good for them like vegetables! I was a little less aggressive than J-Lynn in reducing the fat content, and didn't have any problems with the texture: I substituted half a banana for half of the butter, as well as using margarine for the rest. I think probably this is a recipe where using the mixer to "fluff" the butter/sugar mixture is important, instead of just "creaming" them. Also, I left out the chips, and I squeezed a lot of moisture out of the zucchini before adding it.

 

I won't rate these because I adjusted the recipe when I made them. I doubled the recipe, and then I was trying to decrease the fat content: I substituted applesauce for half of the butter and 2 egg whites for one of the eggs. The result was palatable but not delicious; they became slightly rubbery. In fact, without the chocolate chips they would have been downright bland. I may try again, but am posting this so you can learn from my mistake!

 

This is the only way someone could get me to eat zucchini...I kept trying to notice the zucchini, but I couldn't! I had already grated it before I found the recipe, and I did it on the fine grate side, and squeezed out some of the water, and it worked nicely. Also, I used evaporated cane juice instead of the sugar, and half whole-wheat pastry flour, and they were perfect!! I found that if I baked them for 15 minutes, they were better, but I think my cookies were bigger than called for. YUM!!! Now I can eat my veggies!

 
RECIPE SUBMITTED BY
Life without change is boring. And my life is never boring!! I don't know what plans have been made for us for the future, but I'm doing my best to enjoy the ride!
View Full Profile