Magnolia Bakery's Banana Pudding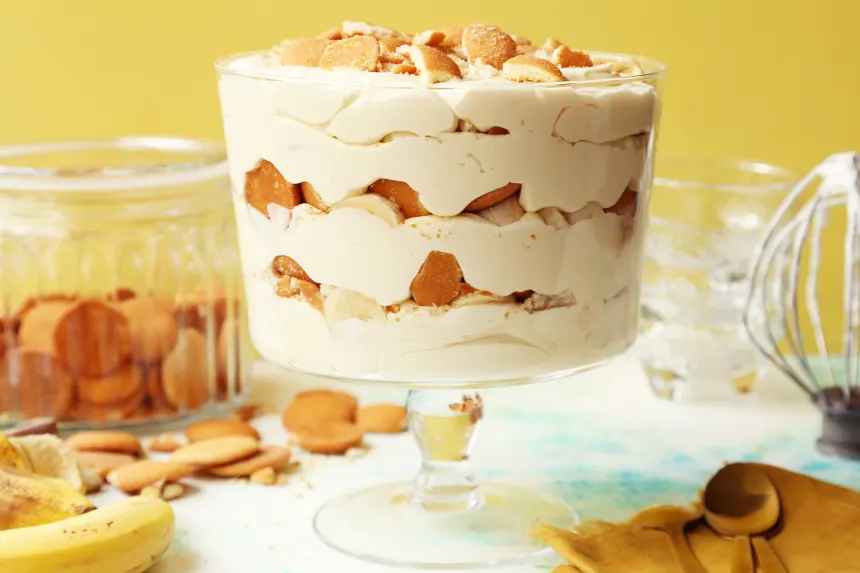 photo by Jonathan Melendez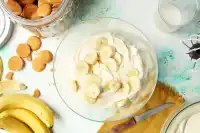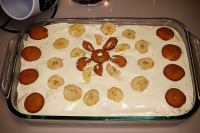 Ready In:

4hrs 30mins

Ingredients:

6
directions
Blend the water, pudding mix and sweetened condensed milk until will mixed.
Refrigerate at least 4 hours or overnight.
Whip the heavy cream until soft peaks form.
Fold the pudding mixture into the whipped cream until well incorporated.
In a trifle bowl layer wafers, sliced bananas then pudding mixture. Continue until all of the mixture is used up ending with the pudding mixture.
Refrigerate for 30 minutes.
**Cooking time is refrigeration time.
Reviews
I made this dessert for the first time about a month ago. I had been to Magnolia Bakery in New York a few months back and had the banana pudding. I usually would never order a banana dessert but have heard such rave reviews about it that I had to try it. I was impressed and knew that I had to attempt making it. I have the Magnolia Bakery cookbook at home so I found the right occassion to make it and I whipped it up! It turned out PERFECT. Absolutely wonderful and such a nice presentation. I like a subtle banana flavor and since the pudding part in this recipe is actually vanilla flavored and I didn't use super ripe bananas, it was very subtle. If you wanted a stronger banana flavor, you could use more bananas and make sure they are plenty ripe (but not banana bread ripe - like almost black). This dessert would be perfect for a picnic or barbeque. It's not a fancy gourmet dessert by any means but just a good old fashioned southern pudding. You must try to make this at least once. I think you will be impressed and hooked. I will definitely make it again. Oh, in my cookbook it says to let the pudding sit in the fridge from 4-8 hours after assembling it. It says "no more than 8 hours". I let mine sit for 3 hours and it was fine and I've heard of people letting it sit for 12 hours and it was fine as well. Make sure you use a clear bowl if you have it because it's fun to see the layers of the pudding.

 

Hi! Naureen Swaleh here, my cousin Filza made me try the banana pudding at Magnolia and I loved it. Got this recipe, tried it and it is absolutely delicious! Really excited to make everyone in my family try it too. I didn't have vanilla pudding, so I used egg pudding and added vanilla extract. The pudding is actually the binding and thickening agent in this recipe. I hope this review is helpful to you.

 

I followed the recipe as written with one tweak. I like to make this pudding the day before I serve it so that the Nilla Wafers soften. After mixing the water, pudding mix and sweetened condensed milk, I only wait about an hour before whipping the cream and adding it. Then after it is layered, I refrigerate it overnight or at least 4 hours.