Magnolia Bakery's Vanilla Birthday Cake and Frosting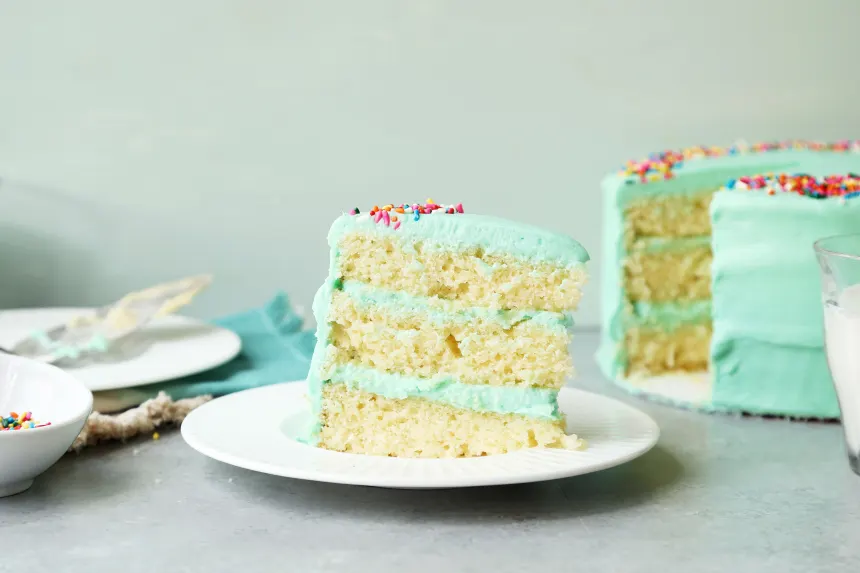 photo by Jonathan Melendez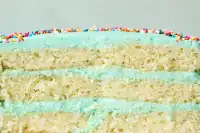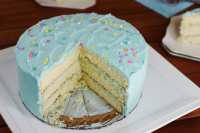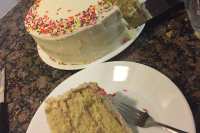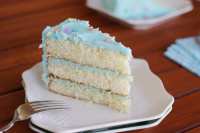 Ready In:

50mins

Ingredients:

11

Serves:

16
directions
Preheat oven to 350°.
Grease and lightly flour three 9 inch round cake pans, then line the bottoms with waxed paper.
In a large bowl, on the medium speed of an electric mixer, cream the butter until smooth.
Add the sugar gradually and beat until fluffy, about 3 minutes.
Add the eggs one at a time, beating well after each addition.
Combine the flours and add in four parts, alternating with the milk and the vanilla extract, beating well after each addition.
Divide batter among the cake pans.
Bake for 20 to 25 minutes or until a cake tester inserted into center of cake comes out clean.
Let cakes cool in the pans for 10 minutes.
Remove from pans and cool completely on wire rack.
If you're making cupcakes, line two 12-cup muffin tins with cupcake papers.
Spoon the batter into the cups about three-quarters full.
Bake until the tops spring back when lightly touched, about 20 to 22 minutes.
Remove cupcakes from pans and cool completely on a rack before icing.
When cake has cooled, ice between the layers, then ice top and sides of cake.
To make the icing - place the butter in a large mixing bowl.
Add 4 cups of the sugar and then the milk and vanilla.
Beat until smooth and creamy.
Gradually add the remaining sugar, 1 cup at a time, until icing is thick enough to be of good spreading consistency (you may very well not need all of the sugar).
If desired, add a few drops of food coloring and mix thoroughly.
Use and store icing at room temperature, as icing will set if chilled.
Can store in an airtight container for up to three days.
Reviews
I have used this recipe several times now and the first time I used it was for jumbo cupcakes. The cupcakes were AWESOME, but when I use it for sheet cakes, it has not ever turned out as moist and fluffy as the cupcakes. The sheet cake is more dense. Still a great flavor, but I will stick with using this recipe only for cupcakes.

 

I like this recipe a lot. A little improv can really make it great. It really has that bakery cake flavor. This would probably be great almond flavored too. I got mine to turn out with a very soft texture by replacing the regular milk with buttermilk (which I made myself by measuring out a cup of milk & subtracting a Tbsp, then replacing that tablespoon of milk with some lemon juice & let it sit for 5-10 mins). The acid in buttermilk breaks down the gluten in flour, which results in a softer cake. Also, I put my regular granulated sugar in the food processor (I have a ninja chopper) and ground it down to make supefine sugar instead. This makes the sugar easier to absorb, and also cuts down on mixing time. Doing this really turned out a flavorful and moist cake. I only gave this 4 stars because, like others have said, the cooking time is wayyy off. my cupcakes actually burned on the bottom, but they still were awesome on the inside. just watch it more than relying on the cooking time & do a doneness test frequently. I don't know how the frosting is, because I used my own recipe.

 

I will never buy box cake mix again! Super easy and delicious. Next time I will probably add another teaspoon of vanilla for a little extra flavor (and take out a teaspoon of milk so the consistency is right). My cupcakes didn't get a "crown" on them, which if I was making a layer cake to decorate I would definitely prefer, but for cupcakes I will add a little baking powder next time also. Great recipe!

 

Outstanding! Made for my twin daughter's birthday cake and made a 2nd batch for take-away cupcake favors for their party. YUM. Didn't use this frosting; used the Sprinkles frosting also on this site, which was excellent. The cake has an almost pound cake type density and flavor and is very, very good!!! Going in my favorites folder!

 
Tweaks
I was looking for a white cake and have come across this recipe a few times on different sites. I've read several reviews from those sites and this one regarding the success of this recipe. It seems people either love it or it was a disaster. I've just finished baking 2, 9"x13" rectangular cakes, using 2 separate batches of batter. With the previous reviews in mind I prepared the batters with some minor tweaks. First, I made sure all my ingredients were at room temp, including the milk. Second, I sifted the flours together to lighten them up. Third, I used regular salted butter as I can't be bothered with unsalted butter, except in rare circumstances. Fourth, I substituted 3.25% buttermilk for regular milk (I had some on hand otherwise I would have made my own with lemon juice). Fifth, I added an extra 1/2 tsp of vanilla. Sixth, I greased and floured the pans, then put parchment in the bottom which I also greased and floured. The cakes took 45 minutes to bake in the rectangular pan. The batter was light and tasted wonderful. After they cooled I cut the cakes in half horizontally to freeze them before frosting and fondant, and the crumb is soft and moist, not the cornbread texture that some report. I can't comment on the taste after baking as I am making this cake for a customer. From all other aspects though, I would say this recipe is a keeper.

 

After reading many of the reviews, I made the cupcakes from this recipe. (Used a different homemade frosting though). I followed the directions and found them to be slightly dry, although very tasty. Next time, I think I'll use one less egg and perhaps substitute buttermilk for the milk. They were good, but I think they could be better!