Lemon Icebox (Or Freezer) Cake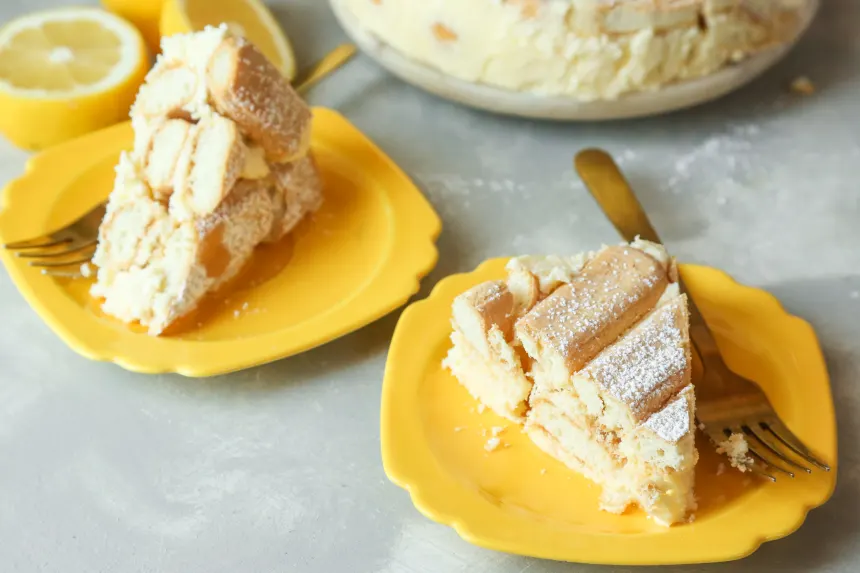 photo by Probably This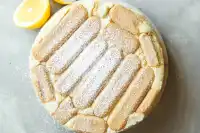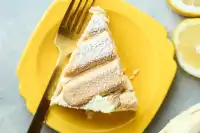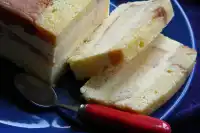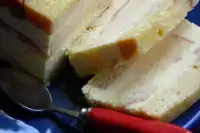 Ready In:

20mins

Ingredients:

6
directions
Cream butter & sugar together.
Add egg yolks, grated lemon peel, grated orange peel + the strained juices & mix well.
Beat the egg whites till stiff & fold them into the butter mixture.
Line the bottom of a 1-qt mold or cake tin w/ladyfingers (or pound cake fingers) & cover them w/a layer of the butter mixture.
Repeat for as many layers as you can, ending w/ladyfingers or pound cake on top.
Refrigerate overnite or freeze for at least 2 hours & then unmold to serve.
Idea Option: Sub lime for the lemon? Yum!
Questions & Replies

Got a question?
Share it with the community!
Reviews
5 Stars!!!!! Athough this a a bit of a struggle to make it was *well* worth it in the end. I found the end result more orange-y than lemon but it was a spendid combination. I took slices to my neighbours and they inhaled it, compliments galore. If you use cake as I did DO save some of the inside slices for the top or you will have the two toned effect from using the ends of the cake up last (visual only, there's no difference in taste). What went wrong with mine in the making *should* not have been possible in both Twissis and my estimations but I'm here to tell you that should the worst happen to you it's perfectly and completely recoverable. Basically I was ok until step 2 but then it didn't want to mix in at ALL ... everthing seperated like scrambled eggs floating in orange/lemon juice. I whisked it & beat it with the hand beater and finially resorted to the food processor and blended the heck out of it .. it got better but was still a bit of the scambled egg look .. I added the egg white( mix now back in a regular baking bowl)and poof, back to the real scrambled egg look so second trip back to the food processor and blitzed it until it resembled pieces of scrambled egg less (I know it said fold, but mine wasn't in a foldable state)... then carried on as normal per recipe. BTW I was baking this with 5 year old DD .. she got very mixed cooking messages today LOL and our conversation went like this: This is how you do this ... and then it goes like ... oops no it didn't .. let's try - um that isn't working either, shall we try, see now it's better.(no mama it isn't .. look...) Oh.. ok lets try- see? ALL better again... (no mama it isn't .. look!) Oh, ok, lets try...(Mama do we HAVE to do ALL this?) Well yes, becuase sometime things don't go as planned and I have to fix it.. (OH, ...so you didn't do it right?) Wellllll, nooo I don't think so at least- I try and do it exactly as it says on a recipe, (what's a recipe?) the paper here that tells how I have to make it...(so you did something wrong?)Well that's always possible but I didn't think so- want to put the cake pieces in a loaf tin? (can I eat some?) No.. we need all of it for the dessert and any your dinner is on the table shortly and you have to eat your veggies first (DD.. can I go now mama?)Please see my rating system: 5 stars for a recipe that (for me) didn't go to plan but still came out wonderfully in the end, that delighted all that tried it and was a mother/daughter experience that makes the best of memories. Thanks!

 

I used only 3 Meyer lemons in place of the orange/lemon combination. I also precooked the yolks and whites separately (very gently) before making the cake, because of immune compromised family members. The flavour is amazing! The texture is straight up scrambled eggs, though. Gross texture. Lovely flavour. My fault for trying to take safety into consideration ??

 
RECIPE SUBMITTED BY
I am an American transplanted from Dallas to Iceland by marriage to a native Icelander & I retired to become his "Kitchen Queen". We love to entertain our family & friends, so I have an eclectic collection of recipes. I especially love simple, easy-fix, flexible & make-ahead recipes - BUT also like challenging myself on occasion. I enjoy baking & food photography. I am devoted to the "More is Always Better Principle" & apply it liberally to bacon, butter & garlic. I can have ingredient issues due to availability here in Iceland & my DH is medically diet-restricted from some ingredients as well. Either situation might require me to modify a recipe, but I will do my best to be true to your recipes & fair/honest in my reviews. Mary Pat (aka twissis)
View Full Profile