Leg of Lamb for the Slow Cooker / Crock Pot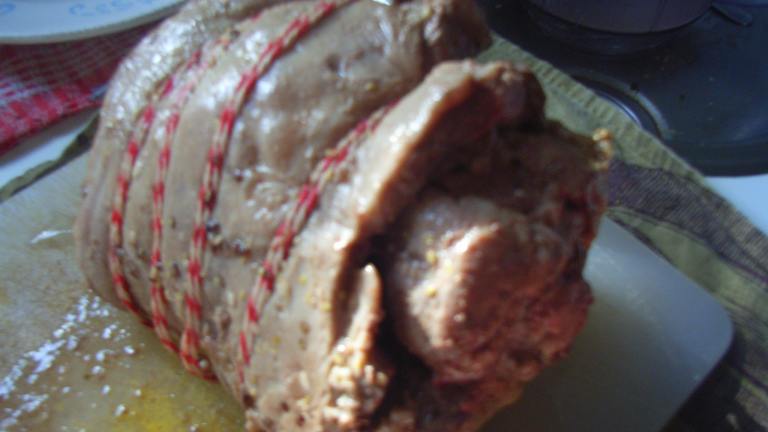 Lamb is consumed quite a bit in Australia. I cooked this leg of lamb in the slow cooker today for Little Miss (DD) and Hubby (DD). I don't eat red meat, but I don't deprive my family if they want to eat it. You may not want to season the lamb with salt, as this recipe has the liquid stock & soy which both have high salt contents, but it's up to your taste bugs. You could also push some rosemary into the incisions with the garlic or sprinkle some around the lamb once its in the Slow Cooker / Crock Pot. Hubby said the meat fell away from the bone. Enjoy
Ready In:

10hrs 2mins

Serves:

Units:
directions
Make small incisions in leg of lamb and insert the slices of garlic in each incision.
Rub olive oil, rosemary around the lamb and season with salt and pepper.
In large non-stick pan, brown leg of lamb.
While the lamb is browning, you can prepare the slow cooker/crock pot. Pour the stock and soy sauce into the slow cooker/crock pot. When the lamb is finishing browning add it to the slow cooker/crock pot.
Cover and cook for 8-10 hours on low setting.
Remove from slow cooker/crock pot and let rest 15 to 20 minutes before slicing.
Submit a Recipe Correction
RECIPE MADE WITH LOVE BY
"Lamb is consumed quite a bit in Australia. I cooked this leg of lamb in the slow cooker today for Little Miss (DD) and Hubby (DD). I don't eat red meat, but I don't deprive my family if they want to eat it. You may not want to season the lamb with salt, as this recipe has the liquid stock & soy which both have high salt contents, but it's up to your taste bugs. You could also push some rosemary into the incisions with the garlic or sprinkle some around the lamb once its in the Slow Cooker / Crock Pot. Hubby said the meat fell away from the bone. Enjoy"
I love to use the crockpot for as many meals as possible, mostly out of convenience. While this recipe is simplistic, it also turns out to be quite a winner. My 14-year-old thanked me twice for this meal, which is rare. Meat was tender, slightly pink and really tasty. We love lamb and usually only eat it out as I always thought that it must be roasted and elaborately prepared. This recipe proves that that is not the case. I will definitely make this again when I find lamb on sale.

I used a small (0.4kg) boneless joint and cooked it on low overnight. I didn't salt the meat, but did use regular soy sauce. I also didn't bother inserting the garlic and rosemary- just crushed a couple of garlic cloves and added that directly to the slow cooker, along with a couple of sprigs of fresh rosemary and thyme. Everything else was as described.<br/>I found that the meat was excellent. Super moist and tasty. I made the liquid into a gravy, but I didn't much like how it turned out- too salty and the lamb flavour was very overpowering. If I were to make this again, I wouldn't bother with the gravy at all, and just serve a mint sauce. The meat is juicy enough that it doesn't really need a sauce.

A leg of lamb is a real treat for us as it's so expensive here (even though I live in a country that has 10 times as many sheep as people!!) But it had been so long since we had a nice Sunday roast and I decided to make this recipe. I used chicken stock and ordinary soy sauce, it wasnt too salty and turned out perfect. Very tasty and we all loved it.<br/>Thanks for a great recipe.