Kittencal's Best Deviled Eggs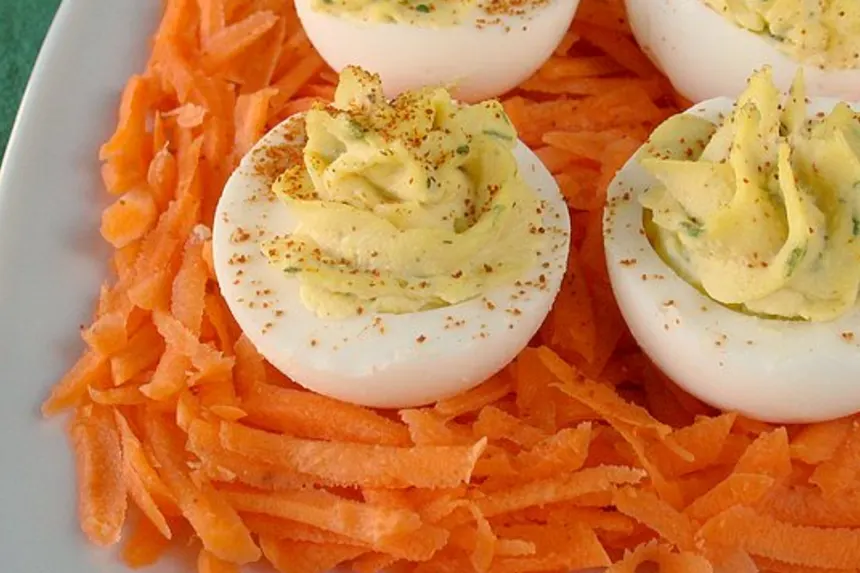 photo by Calee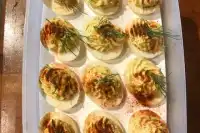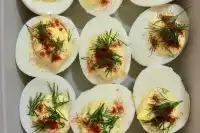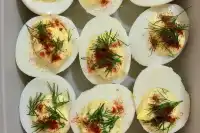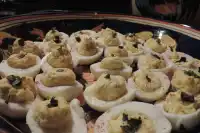 Ready In:

25mins

Ingredients:

11
directions
Slice the eggs in half lengthwise; remove the yolks, and set whites aside.
In a small bowl, mush yolks well with a fork, leaving no small lumps.
Add next 10 ingredients (adjusting to suit taste) mix well to combine.
Spoon or pipe egg yolk mixture evenly into the whites.
Sprinkle with paprika.
Cover tightly with plastic wrap.
Store in the refrigerator until ready to serve (if not making the yolk mixture a day ahead it is best to prepare the eggs and refrigerate for about 5 hours before serving this will give the flavors a chance to blend and intensify).
Reviews
Absolutly delicious! I agree with You! These are the best Deviled Eggs I've ever had! A neat trick with deviled eggs is put everything but the whites in a zip-lock bag and knead the bag 'til throughly mixed. cut a lower corner off of the bag and pipe the filling into the whites. No fuss! No muss! No torn whites!To clean up, throw away the bag.

 

Wow! I've never made my eggs like this......just chop up some onion, pickle, add salt, pepper, little garlic and mayo. DH has always praised them(and me). So I was a bit skeptical about adding all these ingredients, but after all it is a Kittencal recipe.....so I forged ahead.....I tasted one when I was finished and wasn't too impressed. An hour later I tasted again, and then again, and again! These really do get better and better - I can see why you recommend making a day early. And then DH tasted them....oh my...he raved and raved. We ate all but two of them yesterday. I just ate the last two (not hungry but they were calling my name) and they were even tastier today! I am actually thinking about making another batch! Super recipe Kitten!

 

Eggs have always been hard to transport for me (big family-lots of eggs) So I make the yokes the nite before and put in a zip lock bag. I put the whites in another bag and when I get to where I am going, I put the whites on a plate, cut a small slit in the zip lock bag and squeeze. These were very good. Thanks

 
Tweaks
I made these. They are a super solid deviled egg. The OP suggests using half mayonnaise half miracle whip, and I suspect there is a reason. After blending the yolk mix I detected it was a bit Bland and added some vinegar, but probably not enough. If you don't feel like the added cost of Miracle Whip I would recommend at least a tablespoon of apple cider vinegar and perhaps a touch of sugar or splenda. Nevertheless, these are very solid deviled eggs particularly for a recipe that does not use any prepared mustard.

 

I've never made deviled eggs, cause I don't particularly like them. But, it was my husband's birthday, and he happens to LOVE deviled eggs, so I thought I'd make them for him as a special treat. I made them the night before as suggested, and I didn't have mustard powder, so I substituted 1 1/4 tsp of yellow mustard for the mustard powder and it worked out just fine. They were a HUGE success! I even had one girl tell me that they were better than her grandma's deviled eggs! I'll be making these again for our next BBQ! Thanks again Kittencal!!

 

I lovethis recipe!! I've been making deviled eggs...well since I was old enough to cook an egg, and this is our recipe, except that we use lemon juice (about a tablespoon) instead of the milk; makes the filling lighter-tasting, and as I've never been a fan of Miracle Whip, I use Best Foods Mayo -- the best. As my husband cannot digest garlic, I've since substituted onion powder for the garlic powder, but that's just our issue. It brings me such pleasure, though, to see my deviled eggs practically disappear when they're on a buffet table, solid proof that the recipe is a winner. Thanks for posting this so that others can enjoy these delicious morsels.