Ketchup - from Fresh Garden Tomatoes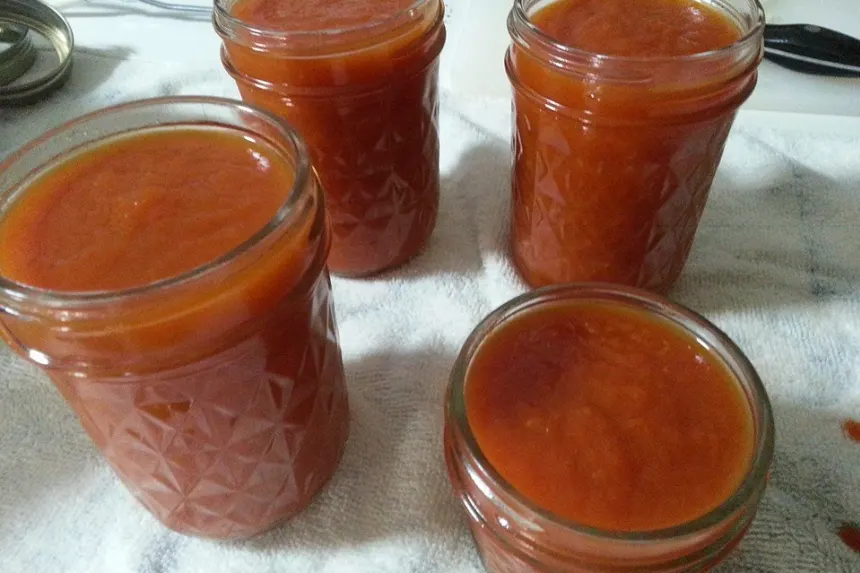 photo by CelticBrewer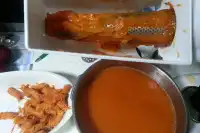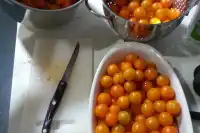 Ready In:

6hrs

Ingredients:

13

Serves:

64
directions
Depending on size, halve or quarter your tomatoes. Sauce tomatoes (Roma) are ideal, but any will work. I used a combo of Roma, Beefsteak, and (mostly) Cherry.
OPTIONAL: Smoke a tray's worth of the tomatoes. I cold smoked mine for a few hours over hickory. It gave it a subtle but delicious smoke flavor. Again, this is totally optional.
Add the tomatoes, salt, garlic, sugar, and onions to a pot and boil for 30 minutes.
Cool the mixture until you can send it safely through your food mill. I used the mixer attachment and it worked beautifully. If you don't have a food mill, you can peel and squeeze the tomatoes using the boiling water / ice bath method.
Return the now de-seeded and de-skinned tomato sauce to the pot and back onto the stove.
Continue to boil the sauce to reduce and thicken.
Meanwhile, in another non-reactive pot; heat the apple cider vinegar with all the remaining spice additions. Heat until the spices have infused into the vinegar.
Using a fine strainer to leave behind the whole spices, pour the vinegar into the tomato mix. If you don't have a strainer or tea-ball, you can wrap the spices in a cheesecloth satchel.
Continue to reduce until you reach the desired ketchup texture. This can take 4-6 hours. I've heard of people using a crock pot for this process.
Follow standard canning procedure if you want a shelf-stable product. Otherwise, cool and keep in the fridge.
Reviews
I was very surprised how this recipe turned out! It doesn't taste like heinze... IT'S BETTER! For smoking the tomatoes, I sauteed them over a wood fire in a 12" skillet in batches for an hour. It added a slight smoky flavor which was perfect. Not too smoky, but subtly detectable. I doubled the onion and garlic, and then followed the recipe. It's a keeper if you have too many tomatoes from your garden. I used brown sugar. Much better alternative than GMO high fructose corn syrup that is in almost EVERYTHING today. I am very pleased. Thanks for posting this recipe.

 

Wellllllll....I kinda sorta followed this recipe. I didn't have peppercorns-actually I did, but THAT is way too much work. Also, no mustard seed, bay leaf, cloves, and pepper flakes. I also used Roma tomatoes for a thickness of the sauce. Finally, I'm too lazy to take the skins off, it's not like they're gonna kill ya. It came out perfect, the family L-O-V-E-D it. Here's to keeping it simple! Oh, I forgot, 6 lbs??? 2 pints??? I'm dealing with CRATES of tomatoes from the garden. I laugh in the face of 2 pints. Try 13 and that just for the catsup. (or Ketchup) :)

 

I like that this recipe isn't over the top on spices - resulting in a product that tastes like BBQ sauce. I threw 7 lbs of tomatoes, 1/2 onion, 2 cloves o garlic in my vitamix and did not need to strain out seeds or skin for fiber. At the same time, I brought the vinegar to a low boil with the spices and then turned off the burner so the spices steeped like tea to preserve the oils in the spices. Then I added the vinegar to the tomato sauce with the sugar and salt. Brought it down to a paste consistency and got 3 pints. I have tried many different recipes for canning over the years and I like this one for the color of the sauce and the not off the top vinegar taste. It meets the acid level for safe canning of tomatoes. I give this a 5 and will tinker with it. We used our own organic romas and stupice tomatoes.