Kaleenka Piroshky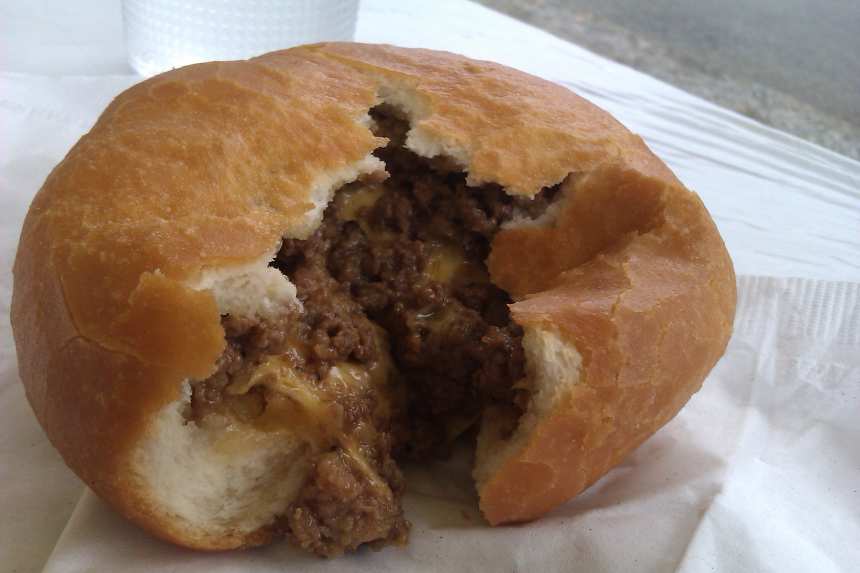 photo by tnt-robinson_9026204

Ready In:

1hr 50mins

Ingredients:

15
directions
In a skillet, brown the onion in oil, about 7 minutes; remove and set aside.
Brown the ground beef in the skillet, drain the grease, then add in the cooked onion, garlic, salt, and pepper; set aside.
(The original recipe had you then chill the mixture to 40 degrees and"pick out solid fat," but that's a step I forgo).
In a small ceramic or glass bowl, dissolve the yeast in the warm water and let stand for 11 minutes.
In a large bowl or using a large stand mixer, place 4 cups of the flour, sugar, salt, egg, the remaining oil, water/yeast mixture, and the milk; mix together (use a dough hook attachment if you have one), adding additional flour as needed to make the dough soft but not sticky.
Knead, either for about 10 minutes by turning out onto a floured board and doing it by hand or by using a dough hook in a mixer on slow speed for about 6 to 7 minutes.
Place in a large bowl, cover with a towel, and let rise for 45 minutes to 1 hour; punch down.
Preheat oven to 350 degrees F.
To fill the piroshky, pinch off a piece of dough about the size of an egg and roll it out to 1/8-inch thick, then place a cube of cube of cheese and 2 tablespoons of meat filling in the center.
Lift up the edges of the dough and bring it up to the top, pinching together tightly to completely enclose the filling and so that the dough knits together.
Place the piroshky on a microwave-safe dish or tray, seam-side down, and microwave for 10 seconds; set aside and let rise for 10 minutes.
Repeat the piroshky construction, microwaving, and rising with remaining ingredients.
Place risen piroshky (all of them) on a non-stick baking sheet and bake at 350 degrees F until golden brown, about 15 to 20 minutes depending on your oven; alternately, you can deep fry them at 300 degrees F until golden.
Note: you might also be able to run the dough ingredients through the initial preparation steps in your bread machine, to make it especially easy!
Questions & Replies

Got a question?
Share it with the community!
Reviews
This recipe turned out great, however there were quite a few hiccups along the way. The recipe says to use a whole pound of cheese which left me with around 3/4 of a pound unused. The two pounds of beef was also far too much, and I'd barely scraped the surface of it by the time I ran out of dough. I'd also recommend salting the beef a little extra, and extra garlic never hurt anyone. Also, if you *really* like onions then I do feel the need to remind you all that onions cook down to about 1/2 of what you originally had, and this threw me off. I thought to myself, well that was a lot of onion but now there's much less so maybe the proportions of the other aspects of the recipe will also turn out to be a reasonable amount. No, its not. I don't know if its just how I assembled them, but if you feel like there's too much or too little of something then don't blindly follow the recipe, go with your gut about how much you should use. Personally, in hindsight I should've used half the beef and cheese that I did. Other than the wasted food, this recipe turned out great! My family loved it, and its always nice to return to these simple comfort foods once in a while. Personally I like cooking, so this was a great use of my evening. TLDR: if you feel like it's too much, its too much.

 

Wonderful recipe! I've been making piroshki for years, but was usually lazy and used frozen dough. Now that I live in a country where frozen dough is not available, I had to find a recipe to make it from scratch, and this one was excellent! I agree with the other review that the dough was not difficult to prepare at all, and I also agree that adding a bit of butter at the end would not hurt, as the dough was a tiny bit dry. But overall, they had a great, soft texture, the dough was perfect to work with and they came out of the oven very smooth, round and uniform (unlike the lumpy, misshapen ones I used to make using frozen dough). Highly recommended!

 
RECIPE SUBMITTED BY
<p>It's simply this: I love to cook! :) <br /><br />I've been hanging out on the internet since the early days and have collected loads of recipes. I've tried to keep the best of them (and often the more unusual) and look forward to sharing them with you, here. <br /><br />I am proud to say that I have several family members who are also on RecipeZaar! <br /><br />My husband, here as <a href=http://www.recipezaar.com/member/39857>Steingrim</a>, is an excellent cook. He rarely uses recipes, though, so often after he's made dinner I sit down at the computer and talk him through how he made the dishes so that I can get it down on paper. Some of these recipes are in his account, some of them in mine - he rarely uses his account, though, so we'll probably usually post them to mine in the future. <br /><br />My sister <a href=http://www.recipezaar.com/member/65957>Cathy is here as cxstitcher</a> and <a href=http://www.recipezaar.com/member/62727>my mom is Juliesmom</a> - say hi to them, eh? <br /><br />Our <a href=http://www.recipezaar.com/member/379862>friend Darrell is here as Uncle Dobo</a>, too! I've been typing in his recipes for him and entering them on R'Zaar. We're hoping that his sisters will soon show up with their own accounts, as well. :) <br /><br />I collect cookbooks (to slow myself down I've limited myself to purchasing them at thrift stores, although I occasionally buy an especially good one at full price), and - yes, I admit it - I love FoodTV. My favorite chefs on the Food Network are Alton Brown, Rachel Ray, Mario Batali, and Giada De Laurentiis. I'm not fond over fakey, over-enthusiastic performance chefs... Emeril drives me up the wall. I appreciate honesty. Of non-celebrity chefs, I've gotta say that that the greatest influences on my cooking have been my mother, Julia Child, and my cooking instructor Chef Gabriel Claycamp at Seattle's Culinary Communion. <br /><br />In the last couple of years I've been typing up all the recipes my grandparents and my mother collected over the years, and am posting them here. Some of them are quite nostalgic and are higher in fat and processed ingredients than recipes I normally collect, but it's really neat to see the different kinds of foods they were interested in... to see them either typewritten oh-so-carefully by my grandfather, in my grandmother's spidery handwriting, or - in some cases - written by my mother years ago in fountain pen ink. It's like time travel. <br /><br />Cooking peeve: food/cooking snobbery. <br /><br />Regarding my black and white icon (which may or may not be the one I'm currently using): it the sea-dragon tattoo that is on the inside of my right ankle. It's also my personal logo.</p>
View Full Profile