Jellied Cranberry Sauce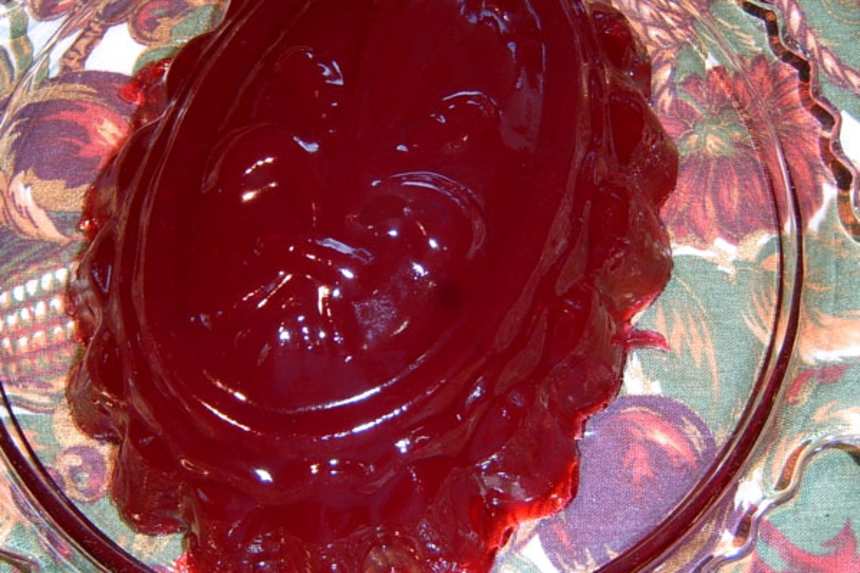 photo by Outta Here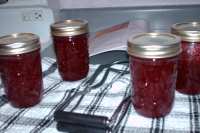 Ready In:

50mins

Ingredients:

5
directions
Place two clean 2 cup or four 1 cup straight-sided mason jars on a rack in a boiling water canner; cover jars with water and heat to a simmer (180 F/82 C). Set screw bands aside; heat lids in hot water, NOT boiling (180 F/82 C). Keep jars and lids hot until ready to use.
Wash cranberries; drain. Combine cranberries and water in a large stainless steel saucepan. Bring to a boil; cook until skins burst. Puree mixture and return to a clean saucepan.
Add sugar. For spicy sauce, tie cinnamon and cloves in cheesecloth square, making a spice bag and add to cranberries, Gradually bring mixture to a boil, stirring until sugar dissolves. Increase heat, boil vigorously until mixture reaches gel point. Discard spice bag, if using.
Ladle sauce into a hot jar to within 1/4 inch of top rim. Using nonmetallic utensil, remove air bubbles. Wipe jar rim removing any stickiness. Center lid on jar; apply screw band securely and firmly until resistance is met- fingertip tight. Do not overtighten. Place jar in canner; repeat for remaining sauce.
Cover canner; bring water to a boil, At altitudes up to 1000 feet, process-boil filled 1 cup jars-10 minutes; 2 cup jars-15 minutes. Remove jars without tilting. Cool upright, undisturbed 24 hours; DO NOT RETIGHTEN screw bands. After cooling check jar seals. Sealed lids curve downward.Remove screw bands; wipe and dry bands and jars. Store screw bands separately or replace loosely on jars, as desired. Label and store jars in a cool, dark place.
Questions & Replies

Got a question?
Share it with the community!
Reviews
I was inspired by mikekey's photo to try this for Thanksgiving, because my family prefers jellied cranberries and I like everything on my table to be homemade. Unfortunately, I had a series of mishaps with this first attempt at any sort of jelly. First, I managed to burn the cranberries in step 2. I was able to salvage most of them. Then, in step 3, I never reached jell point because of my nervousness at the process. Therefore, there was no molding or canning (I planned on a mold). I ended up with a freezer-jam consistency which actually tastes pretty good on turkey sandwiches. I did find it a bit too tart for my expectations of jellied cranberries, also. I guess I am just not good at this, and next year I'm back to Ocean Spray.

 
RECIPE SUBMITTED BY
My passion is cooking, I have been baking and cooking since I was young. With 2 working parents it was essential. <br> <br>I am trained as a Professional Cook, even have a cooking certificate, lol. The best education I ever got was going to cooking school. <br> <br>I spent 3 years cooking in a gas station restaurant and all was well working there, but my heart still wanted to cook for kids. October 2008 I finally got the job I wanted. I been cooking for the kids for just over a year now and I love every day of it. The kids are great, some frustration, but it is all good, they are so smiley everyday, how could you not like work when you have a bunch of smiling faces looking at you. <br> <br>Another good thing about my job is I get the summers off. I had a pretty good summer, I got to tend to my garden and get a bunch of stuff into the freezers, I was given a second freezer this summer. I have been planning on eating mainly out of the freezers so we can save some extra cash for Christmas. <br> <br>I have plans on finding some nutrition courses that I can do online, just for dabbling in, it would sure help with cooking for the kids. <br> <br>I live with my hubby and 3 kids (11,6,5), and one cat, who is part in-door, out-door. <br> <br>I really want to get back into losing weight this school year, it has been 1 1/2 years since I lost about 15 pounds, I have maintained that loss though. I would still like to lose another 10 pounds.
View Full Profile