Jack's Sweet Challah Bread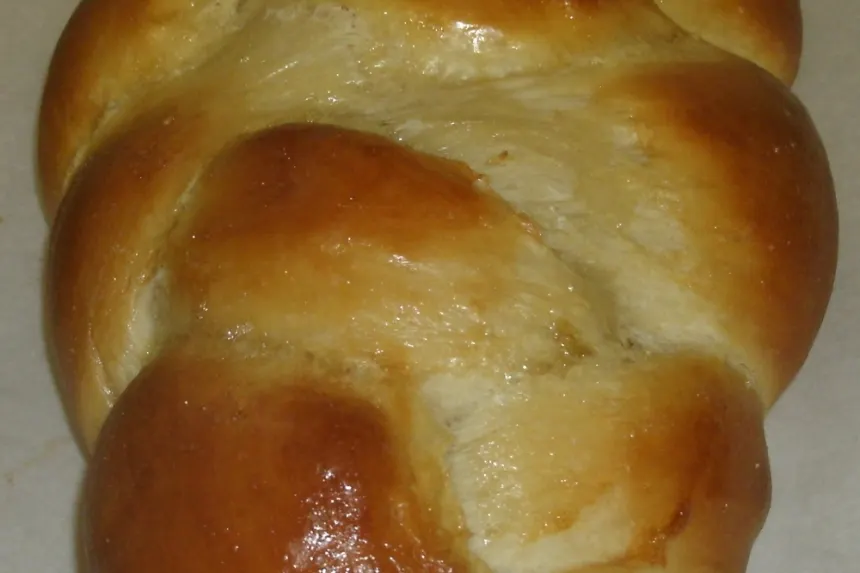 photo by jackstrat

Ready In:

1hr 5mins

Ingredients:

13

Serves:

24
directions
In small bowl, combine water and dry dairy cream and mix until completely dissolved.
In 4qt to 6qt glass mixing bowl, combine 3 cups flour, salt, sugar, and instant yeast. Whisk until well incorporated.
Add egg, egg yolks, canola oil, and vanilla to water mixture. Whisk until well incorporated.
Add wet mixture to dry mixture and mix until incorporated.
Add one cup of flour and mix.
Add 1/2 cup flour onto top of mixture and 1/2 cup flour onto work surface.
Dump mixture onto counter and knead the flour into the dough mixture.
Knead for 10 minutes adding a teaspoon of flour at a time to work surface until dough is soft but not sticking to hands. Resist temptation to add too much flour. The dough should be slightly sticky and soft when finished.
Place saucepan of water on stove to boil.
Meanwhile, remove the dough from mixing bowl. Wash bowl and dry with the towel that you will use to cover the rising dough. Pour 1 tsp of oil in bowl. Place dough in bowl and turn dough to coat it with oil.
Cover bowl with the damp towel. Place the bowl of dough on the middle rack of oven. Place saucepan of boiling water below the rack where your dough sits. Close the oven, but do not turn it on. The pan of hot water will create a warm, moist environment for your dough to rise. Let the dough rise for 1 hour.
Remove the bowl and gently punch down dough to remove air pockets. Place it back inside the oven and let it rise for 1 hour longer.
After one hour has passed, prepare egg wash by beating the egg whites, salt and water until smooth.
Remove dough from oven. Flour work surface. Punch dough down and turn dough out onto floured surface. Knead for a few minutes, adding flour as needed to keep the dough from feeling sticky. Now your dough is ready to braid.
Divide your dough in half. Place one half in rising bowl and cover.
Divide second half into four equal pieces. Roll each piece into a strand approximately 14" long, tapered at each end. Place strands on work surface parallel to each other. Pinch the far end of strands together.
Separate strands at the end closest to you for room to weave the braid. Take the right-most strand and weave it over, under, and over the adjacent three strands. Repeat process until braiding is finished. Pinch ends closest to you together and fold under the loaf.
Place the braided loaf on a baking sheet lined with parchment paper.
Brush a thin layer of the egg mixture onto the visible surface of the loaf.
Repeat process for second half of dough.
Let the challot rise 45 minutes or so. You know that the dough is ready to bake when you press your finger into the dough and the indentation remains rather than bouncing back.
Heat oven to 350°F Sprinkle a pinch or so of granulated sugar over each loaf and bake for 20 minutes. After 20 minutes, remove each loaf from oven and coat the center of the braid with a thin layer of egg wash. This area tends to expand during baking, exposing areas that will turn white unless they are coated with egg wash.
Place the loaves back into the oven and bake for an additional 15 to 20 minutes.
Remove loaves from oven and test for doneness by turning it over and tapping on the bottom of the loaf—if it makes a hollow sound, it's done. Let loaves cool on the baking sheet for a few minutes, then a wire cooling rack before serving.

Substitutions/Variations/Notes:

The 1-1/2 cups liquid may be water, soy milk, dairy milk, or the mixture that I recommended. Warm this liquid to approximately 125°F to activate the instant yeast nestled in the dry mixture.
The vanilla is optional. Do not use imitation vanilla.
Feel free to add 1/2 cup to 1 cup regular or golden raisins or similar dried fruit.
Melted or room temperature butter or margarine may be substituted for the oil, using the same quantity.
You may add one additional egg yolk. I find that using the white of the egg dries out the bread. However, you could use three whole eggs, one egg plus two or three egg yolks.
You may substitute 1/2 cup honey for the sugar.
You can proof the instant yeast for this recipe: In measuring cup: 1/2 cup 110° water, dissolve 1 tsp sugar, dissolve 1 Tbsp yeast. Should double in measuring cup in 10 to 15 minutes. Apply to recipe. Reduce hot water (liquid) by 1/2 cup.
Questions & Replies

Got a question?
Share it with the community!
Reviews
Have any thoughts about this recipe?
Share it with the community!