Instant Pot Hainanese Chicken and Rice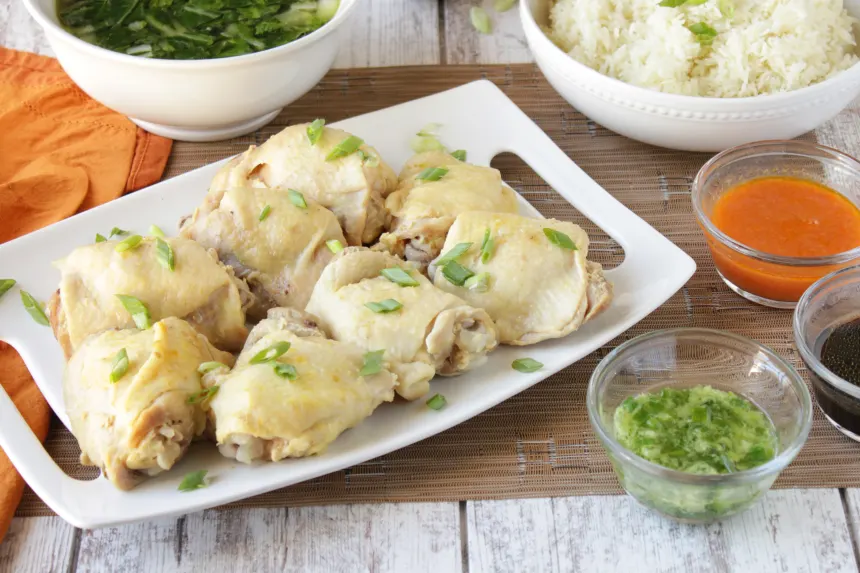 photo by DeliciousAsItLooks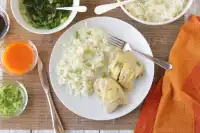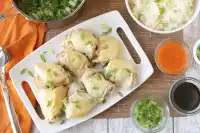 Ready In:

1hr

Ingredients:

16
directions
CHICKEN.
2 Tbsp peanut oil; 6 stalks green onions, cut 2 inches long; 2 shallots, roughly chopped; 12 cloves garlic, smashed (a little more than a head); 4 Tbsp ginger, unpeeled, sliced; 4 cups chicken broth; 1 Tbsp sea salt; 8 large chicken thighs (3-4 pounds).
Heat up the Instant Pot (Saute). When it says HOT, add 2 Tbsp peanut oil. Add green onions, shallot, smashed garlic, and sliced ginger, and saute for about 2 minutes, until fragrant.
Pour in the chicken stock and deglaze the bottom of the pot. Add 1 Tbsp of sea salt and mix well. Place all the chicken into the pot; try to submerge them all. Close lid and cook at High Pressure for 8 minutes. When done, turn off the heat and allow to fully Natural Release (about 10-15 minutes). Meanwhile, prepare an ice bath and place a cooling rack over a baking pan.
When pressure is off, open the lid and carefully remove chicken using kitchen tongs. Place the chicken into the ice bath (or place under running cold tap water). Then place them on the cooling rack to firm up the skin. (Chicken will be served at cool room temperature.). When cool, transfer to a serving dish.
Strain the chicken stock into a saucepan. Discard the solids. Wipe the Instant Pot clean with a damp paper towel.
RICE.
2 Tbsp peanut oil; 4 cloves garlic, minced; 1 cup broth from pot; 1 cup water; 2 cups Jasmine rice.
Wipe Instant Pot with a damp paper towel. Heat up Instant Pot (Saute). Meanwhile, rinse rice. When IP says HOT, add 2 Tbsp peanut oil then add the minced garlic. Stir until lightly golden. Add in the Jasmine rice, broth, and water. Close lid and cook at High Pressure for 3 minutes. Turn off the heat, Natural Release for 10 minutes, and then fully release the pressure. Open the lid and fluff rice with a fork -- it's ready to serve!
SAUCES.
> Sweet soy sauce > Combine 2 Tbsp dark soy sauce, 2 Tbsp shaoxing wine, 2 tsp sugar, 4 drops toasted sesame oil, and 1 Tbsp chicken broth from pot.
> Green onion ginger sauce > In a small saucepan, heat 3 Tbsp peanut oil. In a small heatproof bowl, combine 2 stalks green onions, finely minced, and 2 Tbsp finely grated peeled ginger. When oil is hot, pour into bowl (it will sizzle!) and stir well. Add salt to taste.
> Chili sauce > Combine 2 Tbsp hot sauce, 2 Tbsp finely grated peeled ginger, 3 cloves finely minced garlic, juice of 1 lime, and 1 tsp chicken broth from the pot.
SOUP.
Add 2 cups water to the remaining broth in the pot. Bring to the boil. Add the bok choy and reduce to a simmer. Cook for a few minutes, only until the bok choy is tender-crisp. If you wish, garnish with green onions thinly sliced on the diagonal.
TO SERVE.
I like to place everything (soup, chicken, sauces, and rice) on the table, for people to help themselves and condiment their food as they wish. =).
NOTES * I prefer chicken thighs, but you could substitute whole legs, or breasts. * To cook the chicken on the stovetop, just simmer covered until done. Check after about 30 minutes; chicken should be cooked through but not falling off the bone. * For short-grain rice in the IP, for every cup of rice, use 1 1/2 cups liquid. * You could also cook the rice in a rice cooker; follow rice cooker instructions for proportions of rice and liquid for type of rice. * To substitute for the shaoxing wine, you could use pale dry sherry. For a nonalcoholic alternative, try apple juice or white grape juice; add it before the sugar, then add sugar to taste, so the sauce doesn't become too sweet.
Questions & Replies

Got a question?
Share it with the community!
Reviews
I was looking for an easier way to make this dish and came across this recipe. While the ingredients and proportions are good, cooking this in an Instant Pot gives mediocre results. One of the appealing things of this dish is the texture of the chicken; it should be supple, yet firm without a trace of stewed chicken texture. This was not the case. Maybe a 3 minute pressure cook with natural release would have given the chicken a better texture. The next issue was the rice. The 3 minute pressure cook with so little liquid set it into burn mode. I managed to save it by releasing the pressure and adding a bit more water and cooking it again. The bottom of the pot is now caked with semi burnt on rice. If you want a more authentic Hainanese Chicken Rice, don't take the lazy route like I did. Make the real thing with barely simmered chicken and deliciously fatty rice. I like using the Instant Pot but do not recommend it for this dish without some major tweaks.

 

I've never made a meal like this before, so I didn't know what to expect, but we were pleasantly surprised! It's a bit labor intensive, but not too complicated. The directions are laid out very well. The chicken was moist and flavorful and the rice had the perfect texture. We loved the different dipping sauces, with the sweet soy sauce and green onion ginger being our favorites. I wasn't sure what type of hot sauce to use for the chili sauce, so I used Tabasco since that's what I had in the pantry. It was very spicy! The bok choy soup was good too. I couldn't find baby bok choy, so I used about half of a head of regular-sized bok choy. All in all it was a wonderful meal!