Grilled Hoisin Chicken with Mai Fun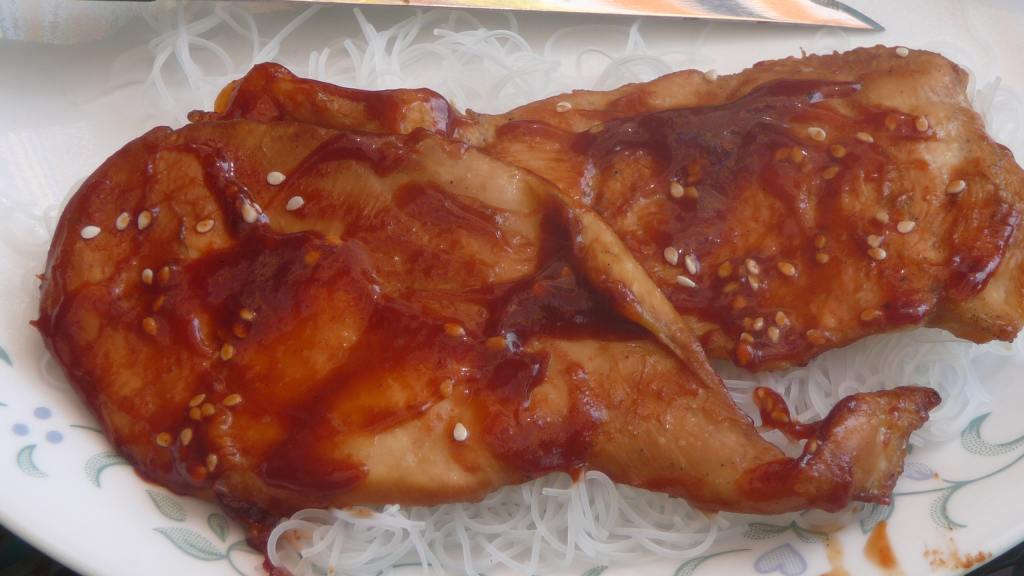 Ready In:

25hrs 15mins

Ingredients:

14
directions
The night before preparing food, mix together marinade ingredients in a small bowl.
Place chicken in a ziplock bag and add marinade and seal, removing as much air as possible.
Refrigerate overnight, turning occasionally.
The next day, well before preparing food, heat oil to a depth of 2-inches at 375-400F in a large skillet or use a deep fryer.
Add small amounts of mai fun to hot oil and allow them to cook briefly (they will puff like rice cereal and float to the top almost instantly); remove them and drain as soon as they do this and set aside to use later.
Whisk together ingredients for sauce in a small saucepan and bring to a boil; lower heat and simmer for 3-4 minutes then remove from heat and allow to cool.
Bring chicken out of refrigeration and allow to warm to room temp- 30-45 min, then drain from marinade, reserving marinade.
Bring marinade to a boil in a saucepan, lower heat, and simmer for 2-3 minutes, then allow to cool (if it gets too thick, add a little water); use for basting chicken as it cooks.
Prepare grill, allowing for cooking with indirect heat.
Grill chicken using an indirect heat method, preferably charcoal, 45 min-75 min, depending on grill temp, or until chicken reaches an internal temp of at least 170F in the thickest part of the breast, basting occasionally.
As chicken nears doneness, apply sauce mixture to chicken and allow to glaze and cook onto it, then remove chicken from grill.
Sprinkle chicken with toasted sesame seeds.
Arrange a bed of puffed mai fun on a serving plate and arrange chicken on top of it; serve at once with other foods as desired.
Join The Conversation
Oh boy - this hit the spot! I doubled the marinade & used it on 8 bone-in chicken thighs. Was a bit short on rice vinegar so added the juice of a lime that needed a home. Marinated about 4 hours & boiled the leftover marinade in the microwave. This made wonderful chicken with a fantastic glaze. The sauce with the grated ginger was the perfect sauce. Dh kept talking about how delicious & tender the chicken was (sopped it liberally with the boiled marinade as directed). Served with mixed vegies (lots of broccoli) & basmati rice. Thank you Sue L for a recipe we'll be using when friends come down (& for just ourselves too!)!
RECIPE SUBMITTED BY
You know me as Sue L or Sue Lau. I write a food blog at palatablepastime.com which specializes in Midwestern, Amish, Southern, and Ethnic recipes. Most of which are my own recipes. There are a few there that aren't, but not many. And really, since the best of my recipes here are my recipes, it tells me you guys like me just a teensy bit. ;) I post all my latest stuff on my blog including new recipes, updates to older recipes and (hopefully) much better photos. So don't be shy in dropping by. If you like my stuff here you will LOVE my stuff there. Seriously.
View Full Profile