Greek Chicken and Potatoes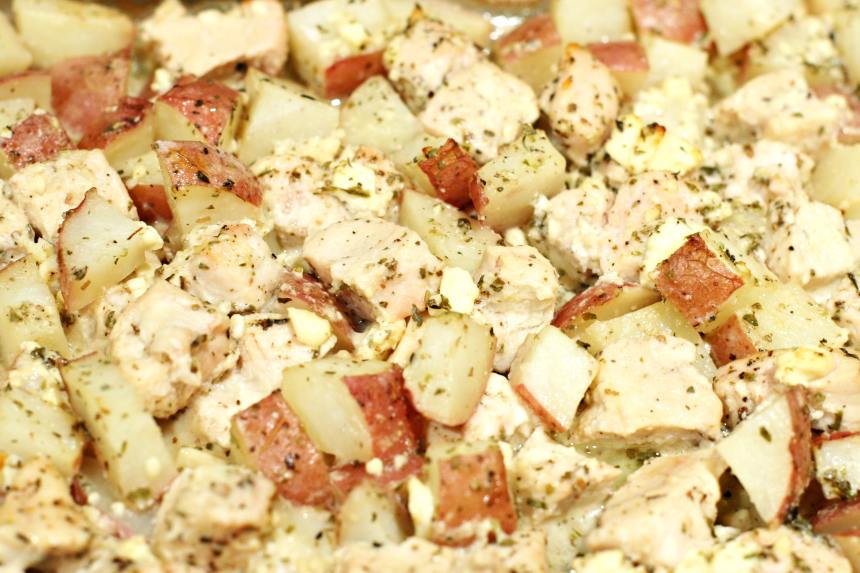 photo by CulinaryExplorer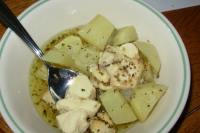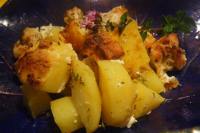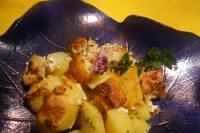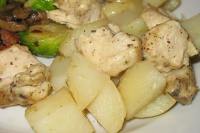 Ready In:

45mins

Ingredients:

9
directions
Preheat oven to 400°F Place chicken, potatoes, and garlic in a 9 X 13 inch glass baking pan.
Mix well to get everything evenly distributed in the pan.
Season with salt and pepper.
Pour the chicken bouillon over all.
Whisk olive oil, lemon juice and crumbled oregano together.
Pour evenly over chicken and potatoes.
Bake approximately 30-35 minutes until chicken is cooked through and potatoes are tender and golden brown, basting occasionally with pan juices.
Questions & Replies

Got a question?
Share it with the community!
Reviews
Super. Actually made this in the crockpot because I didn't have the right kind of baking pan. After about 4 hours on the high setting, chicken breast was so moist and tender and potatoes were so rich, some crispy. Being in the crockpot also, I didn't have to baste it. Wonderful combination of ingredients.

 

Wow I read through a lot of reviews before I made this, and they were all mostly right. Up the garlic cloves. Parboil the potatoes first, especially if you're using A) glass pyrex to bake and B) boneless chicken breasts. A little extra lemon zest or slices wouldn't hurt, and neither would a dash of onion powder. I used chicken tender cutlets and they seemed to be the perfect size.<br/><br/>I LOVE the flavor of this dish, but I have to say it would be much better marinated overnight. The flavor didn't have enough time to permeate the chicken. :( Also, I can see how people would think this is bland... if you mind your potatoes and meat being the same flavor. Next time I will just cook the chicken this way, and roast the potatoes or serve with fresh green beans, etc.

 

Wow this was great. Even my picky daughter had seconds which is unheard of. I did make some changes as suggested in the reviews. I Increased oregano to 1 tablespoon, decreased olive oil to 1/8 cup, added 1/2 teaspoon of thyme, 4 0z Feta cheese and juice of one lemon. I baked covered for 30 min, then uncovered for another 20-30 minutes I also rearranged so the chicken was on bottom and potatoes on top to get crispy skin on the potatoes.

 

This recipe has so much potential. Potatoes will not be cooked enough if you use boneless chicken breasts and are baking for only 30 minutes...can't be done. Might I suggest bone-in chicken, then you would cook an hour. Half the potatoes and slice. If you are keeping the skin on the chicken, don't add the oil....way too greasy. You need onion in this, add half an onion. I used 5 large cloves of garlic and the oregano was just not enough. You need to double it. The lemon flavor was faint, too faint. I would add 1/3 of a cup. I agree with another reviewer that the potatoes need to be on top of the chicken. But what I think I might do next time is take all the spices, herbs and liquids and marinate the chicken and potatoes in it, then bake.

 
Tweaks
I thought the flavor was excellent. I modified the recipe slightly....added a onion, an extra garlic clove, an extra lemon and instead of oregano, I used a tsp of Greek Seasoning. The recipe also took about an hour to cook (not a 1/2 hour as stated), but overall it was very good. I will definitely add this to my favorites list.

 

This was some tasty chicken! I did as someone else suggested and added some onion and bell peppers. I also doubled the lemon juice and garlic, instead of the oregano and salt I used a Greek seasoning blend, and I used chicken broth instead of the bouillon and water. Oh, and I cooked it in a metal broiler-type pan instead of a glass casserole...that made it brown a lot more than I think it would have otherwise. I didn't have any leftovers of this one! Thanks!

 

Excellent recipe. I made a couple of changes, I used 1/2 cup of chicken broth instead of boulion, added an extra clove of garlic, added 1 tsp. of basil, added a whole sliced onion and last but not least sliced mushrooms. I will make this again and maybe I will skip the potatoes and serve it over pasta, topped w/feta cheese. Yum!!!

 
RECIPE SUBMITTED BY
I am an American married to a Belgian, and have lived in Belgium since December 1999. Cooking is my major hobby. I'm also an avid reader, but I have difficulty finding the time. I love to travel. Since moving to Europe I've been lucky enough to have had the opportunity to go a couple of times per year to Paris, as well as having visited London, Rome, Florence, Naples, Amsterdam, and of course Brussels and Antwerp. I've seen at least parts of most regions of France, as well as parts of Germany, Austria, a great deal of Switzerland, Slovenia, Croatia, Luxembourg, and Monaco. I'm absolutely in love with the Bay of Naples and Sorrento coast areas of Italy, which my husband and I recently re-visited on a trip that included Rome, Puglia, Umbria and Marche. I'm still looking forward to Ireland, Spain, Portugal, the Czech Republic . . . the list is too long ! One of the bonuses of travel is getting to taste the local cuisine, and afterward trying to figure out how to duplicate it at home. I think cooking is one of the nicest things a person can do for someone they love (including themself!) I had to submit a picture with me and my cat, Sophie, as she insists on sitting in my lap when I'm sitting at the computer. If you are wondering what all that stuff hanging on the wall behind us in the photo is, it is just a small part of my husband's military medal collection. He was appalled by my posting this picture-- Our study is the messiest room in our house (thank god!)
View Full Profile