Gravy, Brown Sauce, and White Sauce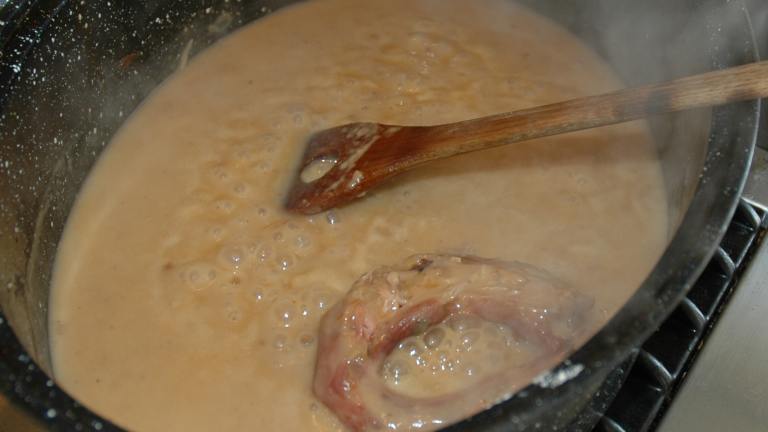 Smooth, simple, and savory. Dedicated to Julie (.::.Blink.::.)
Ready In:

22mins

Serves:

Yields:

Units:
Nutrition Information
directions
When baking a turkey, or chicken, I use the brown drippings from the pan. (It is also one of the ways I can tell if it is done). The quantities may be different if you have less drippings, but proportions are the same.
Fill a large measuring cup with water, and set it aside.
Put the pan on the stove and turn the burner to medium to get rid of any water, as it is the fat and flour that actually make the roux.
After the water is gone, add an amount of flour about equal to the fat, stirring constantly, and turning down the heat if needed.
Cook enough to get rid of the raw taste, but don't let it get too hard or burn. I turn down the heat to get more control of this. After it seems done, (just a few minutes) slowly add the water stirring constantly, using enough water to make a medium consistency (thick gravies tend to be more paste like, and I don't like thin either!).
This needs to be cooked for at least 10 minutes to insure no raw flavor. I make sure I have plenty of water at my fingertips, so that it does not quickly become gummy and gooey.
For beef, the same method, use the pan drippings.
For something with no fat, you can use butter, flour and, water.
To make a brown roux (for brown sauce) follow the same instructions, but cook until the butter and flour become a medium brown.
A white roux (for white sauce), stop cooking it as soon as it turns from white to a hint of a golden color. I usually use milk, instead of water, in a white sauce.
Salt and pepper to taste.
Submit a Recipe Correction
RECIPE MADE WITH LOVE BY
"Smooth, simple, and savory. Dedicated to Julie (.::.Blink.::.)"
Join The Conversation
I can rember my mom stirring the rue mixture until it was perfect brown color. This recipe brought back those memories. Thank you so much for posting. I added two beef boullion cubes to my water after it reached a boil. Then I used a wisk to stir the boullion mixture into the rue. I also added a little wine and onion powder to taste.