Ghirardelli Brownies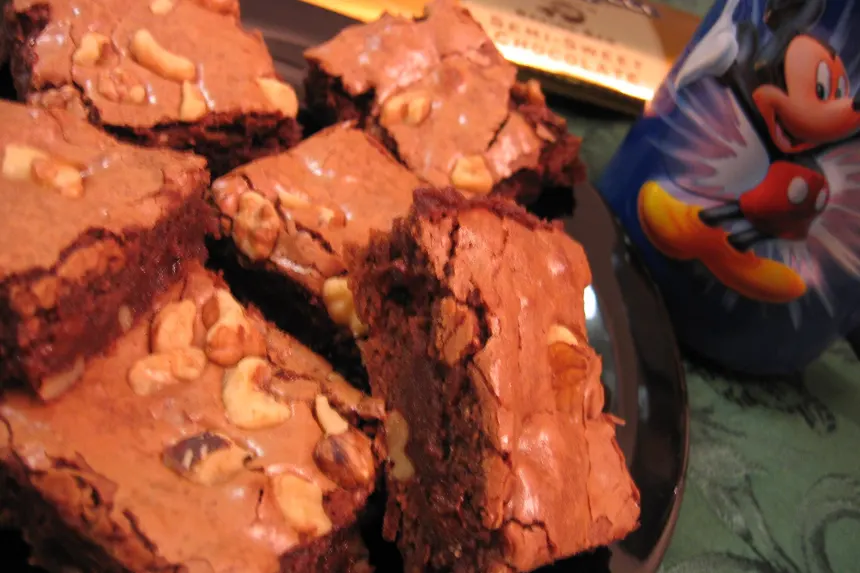 photo by eatrealfood

Ready In:

30mins

Ingredients:

10
directions
Grease a 8x8 inch baking pan and set aside.
Preheat oven to 400 degrees.
In a medium bowl stir together the eggs, sugar and vanilla.
Mix well.
Add butter mixing to incorporate.
Sift the ground chocolate with the flour, baking powder and salt.
Stir into the egg mixture and add the walnuts.
Spread into the prepared baking pan.
Bake for 20 minutes or until a toothpick inserted in center comes out clean.
Questions & Replies

Got a question?
Share it with the community!
Reviews
Instead of the sweet ground chocolate, I looked on Ghirardelli's website and it said to substitute a 50/50 mix of cocoa and sugar. I didn't use walnuts and put them in a mini muffin pan with the cups 3/4 full. I then cooked them for about 14 mins using a toothpick to test them to be a little undercooked. I cooled them on a rack and them dipped the tops of them in a chocolate ganache-type topping (melt together 1/2 cup chocolate chips, about 1 tsp water, about 1 tablespoon butter, and 2 tablespoons milk; whisk together until smooth). Absolutely delicious! This method provides a great presentation.

 

These brownies are nearly perfect, and that's a pretty high compliment considering I've tried and thrown out several recipes over the last year. They are easy to make, moist (not too cake-like), fudgy and just darn good. My only gripe, and it's a minor one, is that they cracked a bit on top while I was baking them. I left out the chocolate chips and walnuts.

 

This recipe was terrible! I looked it up because I wanted Ghirardelli brownies, but didn't fee like going to the store to get the boxed mix....now I'm regretting the effort, time, and ingredients wasted by making this. It definitely could have used more butter or oil, more cocoa, less flour...just a whole face lift! I'm going to re-do this recipe and post the GOOD version for everyone to try.Ugh...what a waste! :(

 

The recipe was so easy to make. I doubt I will ever by box brownies again, whether it is this recipe or another. They are for a friend so the taste test results are not in yet. However it seems the 20 minute bake time did not work for me. I did a toothpick test after the stated 20 minute bake time b/c it didn't seem the edges pulled from the pan and the top hadn't "crackled" even a little bit. Sure enough, the toothpick test showed that the inside was not done and I put them in for another 5 minutes. After 25 minutes I did a second toothpick test and still didn't look "brownie done" to me and the toothpick test confirmed. I put them back for another 5 minutes and found that at 30 minutes the edges had pulled slightly form the pan and the top had a slightly crackled look to it. My gas oven was set on 350 and I also have an independent thermometer that I keep in my oven at all times. I checked this oven thermometer and it said the oven temp was 350 the whole time these were baking. I hope they are not over done now... I will edit review after the tasting, but only if it turns out that I overcooked them otherwise I will left the review stand.