German Spaetzle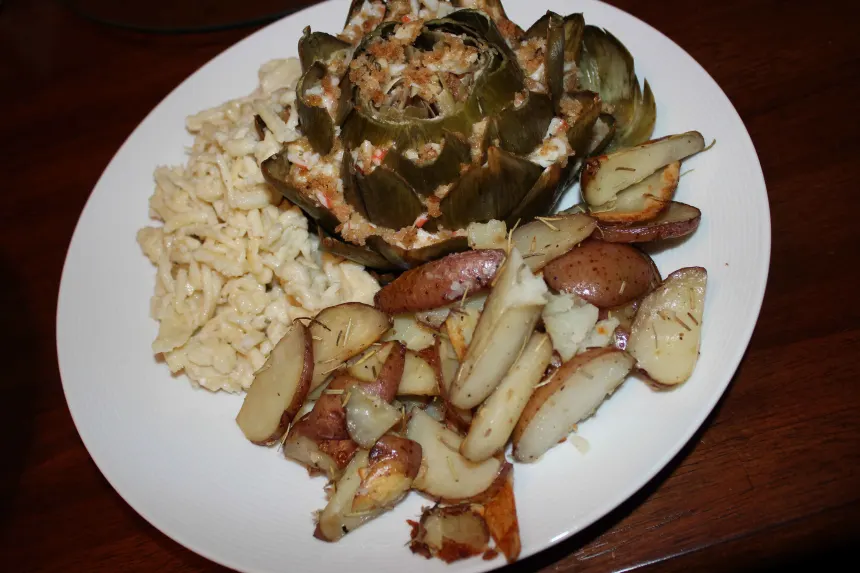 photo by ArtsyBakingGeek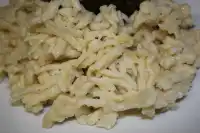 Ready In:

30mins

Ingredients:

8
directions
Mix eggs, flour, and milk. Add seasonings to taste. (Batter will be pretty thick.).
Bring a large pot of salted water to boil.
Using a spaetzle maker or colander (or anything that has holes in it), push batter through the holes into boiling water.
Spaetzle is ready when it floats. Remove with a slotted spoon to drain the water out.
Add butter to a saucepan and melt over medium-high heat.
Add spaetzle and saute. (Add onions and garlic for extra flavor.).
Serve and enjoy!
Questions & Replies

Got a question?
Share it with the community!
Reviews
I loved the taste of the spaetzle! However I chose to use a potato ricer to push the batter through which was a huge mistake. I either have to learn how to use the potato ricer better or find something better to use. This recipe is definitely going to be used once I can figure it out. <br/><br/>Made for PAC Fall 2012.

 
RECIPE SUBMITTED BY
I am a Restaurant Management major at the University of Central Florida. I also plan to get my Associates degree in Baking and Pastry Management from Valencia Community College. I hope to open a bakery someday in sunny Fort Myers, Florida. <a href="http://photobucket.com/images/chef%20icon" target="_blank"><img src="http://i110.photobucket.com/albums/n103/ELLIOTSGRL4LYFE/ththSpatula_by_xXIceNickyXx.png" border="0" alt="CHEF ICON Pictures, Images and Photos"/></a> <a href="http://photobucket.com/images/cookies" target="_blank"><img src="http://i425.photobucket.com/albums/pp339/karlitaaxoxo/cookie.jpg" border="0" alt="cookies :D Pictures, Images and Photos"/></a> <a href="http://photobucket.com/images/funny%20chef" target="_blank"><img src="http://i248.photobucket.com/albums/gg179/tamratapir/funny-pictures-iron-chef-cat-is-baf.jpg" border="0" alt="Iron Cat Chef Pictures, Images and Photos"/></a> <a href="http://photobucket.com/images/funny%20chef" target="_blank"><img src="http://i230.photobucket.com/albums/ee267/DebsNAmood/Funny%20Stuff/Dontmesswithchef.jpg" border="0" alt="Don't Mess with the Chef Pictures, Images and Photos"/></a> <a href="http://photobucket.com/images/funny%20chef" target="_blank"><img src="http://i115.photobucket.com/albums/n306/Aquter/Funny%20Pictures/CTRLALTDELONLINEChefKillingBannana.jpg" border="0" alt="CTRLALTDELONLINE Chef Killing Bannana Pictures, Images and Photos"/></a> <a href="http://photobucket.com/images/funny%20cooking" target="_blank"><img src="http://i260.photobucket.com/albums/ii31/bleupantry/Kitty/funny-pictures-just-add-tuna.jpg" border="0" alt="cooking cat Pictures, Images and Photos"/></a> <a href="http://photobucket.com/images/funny%20cooking" target="_blank"><img src="http://i186.photobucket.com/albums/x259/alastair_hm/Kinda%20Funny/funny-pictures-cat-is-in-your-lasag.jpg" border="0" alt="Lol Cat Cooking Pictures, Images and Photos"/></a> <a href="http://photobucket.com/images/baking" target="_blank"><img src="http://i251.photobucket.com/albums/gg296/FnordWarrior/funny-pictures-cat-baking-bowl.jpg" border="0" alt="lol cat baking Pictures, Images and Photos"/></a>
View Full Profile