Easy Homemade Almond Roca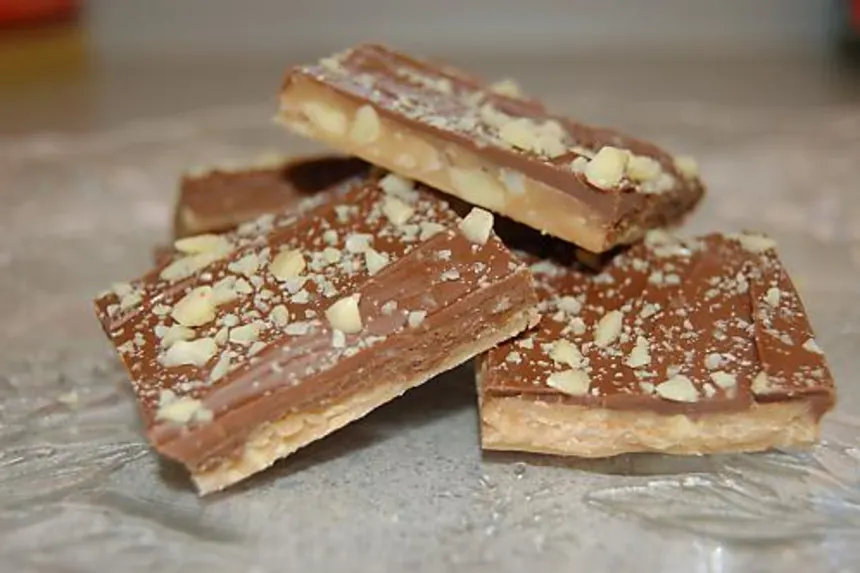 photo by Camzmom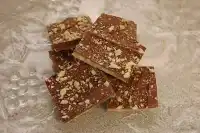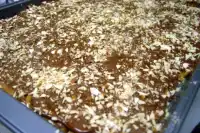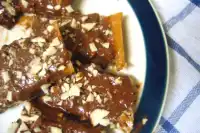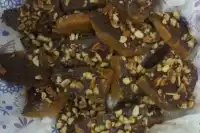 Ready In:

50mins

Ingredients:

6
directions
Over Medium heat, melt butter in a large pot.
Add corn syrup, water and sugar to pot and cook until temp reaches 290 degrees OR until the mixture becomes the color of a brown paper bag (about 15-20 minutes) stirring constantly with a wooden spoon (mixture will rise and bubble quite a bit).
Remove from heat and Stir in 1/2 of the Almonds.
Turn mixture onto a greased cookie sheet WITH EDGES!
While the mixture is cooling, melt the chocolate over low flame until all the chips are gone, and chocolate is smooth.
Score the Almond butter mixture into the shape you desire (I just scored into rectangle shapes).
Pour the hot chocolate over the almond mixture and spread evenly.
Sprinkle with remaining almonds and allow candy to cool completely and chocolate to harden before breaking apart and serving.
Note: I let mine refrigerate over night after breaking the into squares, and they had a better texture this way, we thought.
Questions & Replies

This is the best recipe!!! however one question: why does one batch turn out perfect and when making a second batch in a brand new pot the oil separates out of the toffee mixture at 270° and is spitting all over the stove and when you pour it into the baking pan this separated oil floats to the top of the toffee and all around edges and you have to take six paper towels and mop it up before you can put the chocolate down - why??

 
Reviews
Ok. First, ignore the post about using brown, rather than white sugar. You want the flavor of a slightly "browned sugar." Secondly, buy a candy thermometer, if you don't have one. This is a science. Not an art. Third, brown slightly the almonds. Buy slivers. Keep a keen eye out during this process, as they will go from golden to ruined in an instant. Obviously, this can not be done at the same time you are preparing your candy mixture. Unless, you have six hands and three eyeballs. Do it first. Let the almonds rest for a bit, then put them in the very heaviest duty "ziplock" bag you can find. Grab a hammer. Pound those almonds into submission. The finer the better. Lastly, no need to melt the chocolate simply place them, scatter them, put them all over your toffe, when you pour the mixture into the buttered pan and they will melt on their own. Just spatula to spread the chocolate before adding the remaining toasted almonds. Do refrigerat, or cool. But not too long, no more than two hours, or the chocolate will separate from the toffee. Make four pans. Will take up your evening. But, armed with wax paper and about 10 decorative tins from the dollar store, YOU are now a winner ...

 

I decided to try this recipe after reading all the reviews. It's fantastic!! On my stove it took about 25 minutes for it to turn the right color. Also, to cut one step out of the recipe, once I poured the butter mixture onto the cookie sheet, I just waited for it to harden a bit then poured the bag of choc. chips on top and waited for them to melt. Then I simply just spread it to cover the toffee. Worked great! Thanks for a great recipe!

 

I tried to make fudge once, total disaster, so I've always shied away from making candy. However, my BIL makes almond roca every year for the family at Christmas, he insisted it was easy. So, when I found this recipe, I pushed up my sleeves and decided I'd give it a try. The store didn't have anything but sliced almonds, which I didn't like the looks of, so I bought crushed pecans, otherwise I followed the direction exactly. The mixture took a long time to come to temperature, (I used a candy thermometer), the better part of 45 minutes, but I have a new electric stove, and I was increasing the heat by one increment at a time. This really does need a med or better heat level, it really does turn the color of a paper bag. I used salted butter and white sugar, and poured the mixture into a lasagna sized, buttered, disposable aluminum pan. This worked perfectly, as I don't think the recipe said what size of vessel to use. I melted the chocolate chips in a bowl over boiling water. Once everything was in the pan, we set it out in the garage over night, 40 degrees or so. This morning, we had roca to rival my BIL"s! It came out easily, and is perfect in every way! I can't believe I did it!! Thank you so much! Now, I don't have to spend grossly over inflated prices at craft fairs to get my fix!