Easy Cracker Candy
photo by Mom2 T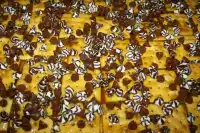 Ready In:

15mins

Ingredients:

5
directions
Preheat oven to 400°F.
Place the crackers side by side in a foil-lined jelly-roll pan (I spray the foil with non-stick spray).
Combine the butter and brown sugar in saucepan.
Bring to a boil, stirring constantly.
Cook for 3 minutes.
Pour the mixture over the crackers.
Bake 5 minutes.
Sprinkle the chocolate chips over the baked crackers.
Let stand 5 minutes then spread the melted chocolate over the top.
Sprinkle with nuts if desired.
Chill in the refrigerator until set.
Invert onto a flat surface; remove the foil and break into pieces.
Store, covered in an airtight container in refrigerator.
Note: You can skip the chocolate chips- it's still delicious.
Reviews
I was going to rate this 4 stars. It's different and easy and cheap, but it wasn't my favorite thing. But then I kept sneaking back to the fridge to get another piece, and I decided that was a sign! I cut the recipe down, and that's how I will do it every time I make it for just us, because otherwise I'll eat even more! I used 24 crackers, since that's what my small cookie sheet held. I used 1/2 cup plus 2 tablespoons of butter, 1/2 cup plus 1/8 of a cup of light brown sugar, and 1 and 1/4 cups of chocolate chips. I know I will make this soon and will include it on my holiday cookie platter. EDIT** I tried this a 2nd time using margerine, and it was very sticky. I wouldn't serve it to anyone because I was afraid the would lose their teeth. Then I did it a 3rd time, using real butter again. It wasn't sticky at all. Just nice and crunchy. So if you only have margerine, skip this recipe until you have butter on hand!

 

My friend's family has been making this for about 30 yrs now... we never knew the name of it originally so we called it "I can't Believe it's Already Ready Candy". It is excellent made w/ brown OR white sugar. Her recipe directs you w/ specific times for EVERYTHING! You line a broiler pan w/ foil and arrange your crackers (her recipe called for Ritz). Melt butter and sugar and boil for 3 minutes. Pour over crackers and bake at 400 degrees for 5 minutes. Immediately sprinkle the chocolate chips over this evenly and pop back in oven for 2 min or less. This spreads the chocolate very easily over entire top of candy. Sprinkle your choice of nuts on top. FREEZE them solid...then break into pieces and store in airtight containers. The odd shapes they make when broken up make them even more interesting. I always make these for Christmas baskets w/ a copy of the recipe attached. EVERYONE loves them. Oh... and when you take them out of freezer.. lift foil sheet out... invert and peel candy off foil. Put pan away... it's clean! You can also use buttered or sprayed parchment paper.