Creamy Scottish Oatmeal (With Crock-Pot Instructions)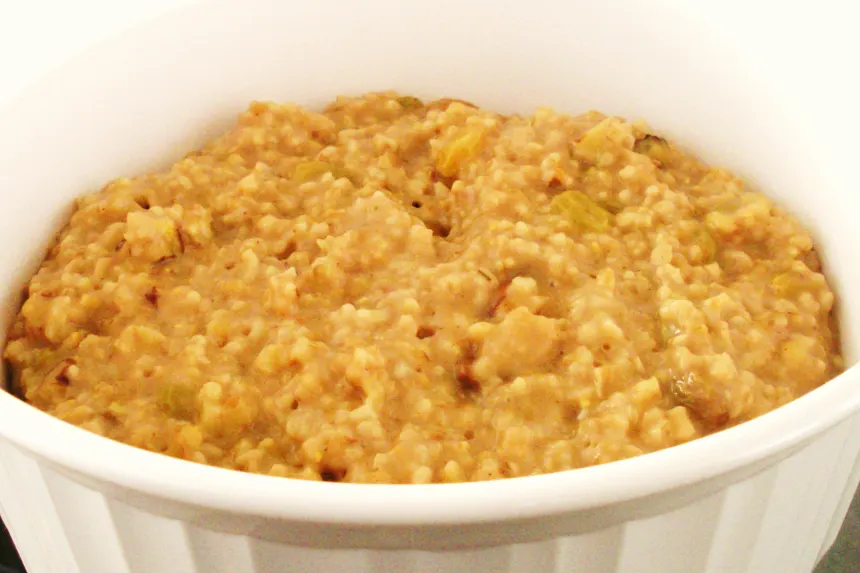 photo by elastigirl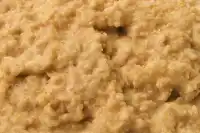 Ready In:

35mins

Ingredients:

10
directions
If you are making this in a crockpot, the first and only step is to throw everything together in a 2-quart crockpot [increase the water to 3-1/2 cups to allow for evaporation]. Okay, now nighty-nite! We'll see you in the morning!
Otherwise, bring 1 cup milk and 3 cups water to a boil in a 2-quart saucepan.
Stir in oats, spices, and raisins.
Reduce heat to low, cover, and cook for 30 minutes, stirring occasionally.
When cooking is complete, stir in brown sugar, maple syrup, vanilla, pecans, and salt (don't add the salt with the boil; the oats won't cook right).
If you are using a crockpot, you may notice that a crust has formed on the bottom of the crock after cooking. This is perfectly normal. You can eat it if you want to, or you can just leave it. Just make sure to transfer the recipe into a resealable bowl and soak your crockpot right away. This stuff will stick like glue if it dries.
Serve! You can add more fresh or dried fruit, butter, more milk, whathaveyou, but it's awesome all on its own.
Questions & Replies

Got a question?
Share it with the community!
Reviews
This was very easy to put together although I didn't add the fruit as I was afraid it would turn to goo. Instead the raisins were added just before serving. It would help greatly-especially for beginner cooks to indicate the amount of time to cook the oatmeal and what temperature for the crock pot directions. I cooked the oatmeal on LOW for close to 7 1/2 hours and it worked out perfectly. The recipe was doubled in order to use a standard size 3 quart crock pot. I plan to make this again very soon. Thanks for posting.

 

I had been looking for a crock-pot breakfast cereal recipe for some time - this one was worth the wait! I used a 6oz package of mixed raisins/cranberries but no nuts (didn't have any on hand) and it worked out perfectly. I also added the extra 1/2 c water. These oats turned out creamy - not dry. I also lined my crock pot with a liner to make clean-up easier.

 

I make mine in the crockpot. It is a great healthy (and easy and cheap) breakfast for my whole family. I use regular raisins and dark maple syrup simply because it's cheaper and it comes out just fine. I do add the pecans too. I use the burbon vanilla - the kind in a jar with flecks that is more like a paste to give it a good vanilla flavor. If you make this, I recomend you buy the oats in bulk at a health food store - they are much cheaper that way (less then half the cost then at my grocery store).

 

Very good and creamy oatmeal. I followed as directed, except leaving out the maple syrup and replacing it with honey. Personal preference. Very good directions, I made it in the Crockpot and woke up to a hearty and healthy breakfast. It was so nice to have something warm on such a cold day. I will be making this all winter now! Oh, if you fill your crock with water and put a dryer sheet on the top, all that dried on crusty stuff will softened up and come right off. Made and Reviewed for New Kid on The Block tag - Thanks so much! :)

 
RECIPE SUBMITTED BY
My name is Stephanie, and I'm keenly interested in food and the science (yes, science!) of cooking. I'm an avid Alton Brown fan, and I take a similar scientific approach to the food I eat. I'm a former successful Atkins dieter who just recently went vegetarian and I'm having to relearn how to cook. My passion for cooking is second only to my passion for music in any and most forms. Some examples: Arcade Fire, Bright Eyes, Cat Power, Death Cab for Cutie, Elliott Smith, Franz Ferdinand, Gnarls Barkley (just A-G, to name a few). Favorite cookbook of the moment: "I Like Food, Food Tastes Good: In the Kitchen with Your Favorite Bands" by Kara Zuaro. All-time favorite: Better Homes and Gardens New Cookbook. My grandma had one, my mom has one (and grandma's copy!), and I have one. Great format, simplicity, ease of use, can't beat it. Next cookbook acquisition will be a good metric cookbook. I already convert to metric in my head as I cook, but you lose something in the translation.
View Full Profile