Cream Puffs (Puffed Shell of Choux Pastry)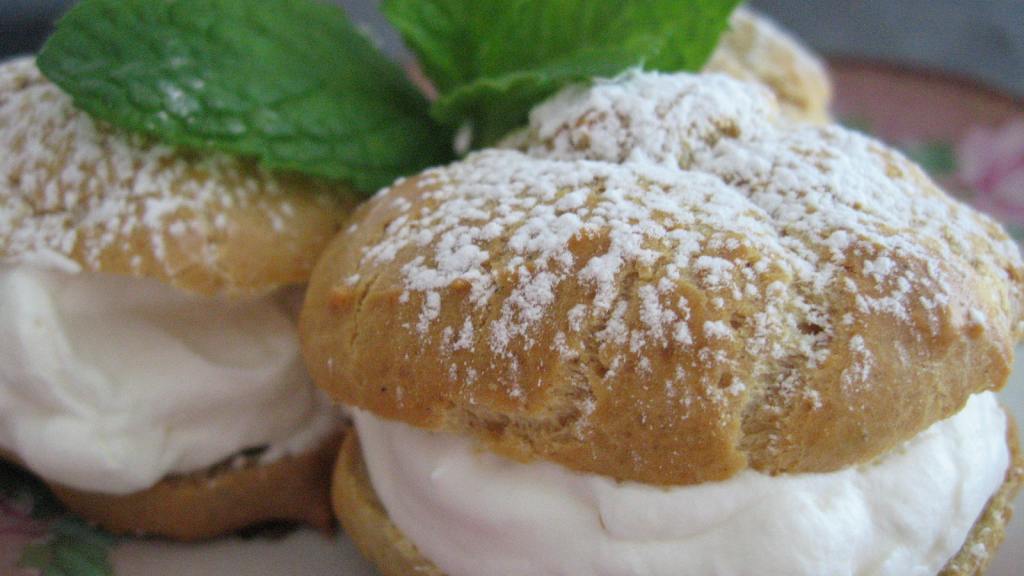 Ready In:

40mins

Yields:

Units:
Nutrition Information
directions
Preheat oven to 400°F.
Prepare baking sheets by greasing and flouring or by lining with Parchment.
Place water and butter in a saucepan and bring to a boil. Add the flour, cardamom and salt all at once and stir constantly with a wooden spoon until the mixture leaves the sides of the pan and forms a ball. Blend in the milk well. Remove pan from stove burner and stir in the eggs, one at a time, stirring well until completely blended.
Mix in the Bakers' Ammonia well.
Drop on cookie sheets about 3 to 4 inches apart. Bake 20 to 25 minutes.
Cut one of the shells in half at the end of baking to make sure they have dried out enough. If not dried completely, turn the oven off, punch a small hole in the bottoms of the shells, and place them back upside down in the oven to dry out for about 10 minutes. If the insides of the pastry shells are still very moist you may want to bake the shells longer so the shells won't deflate when you take them out of the oven.
Allow to cool completely before filling.
Fill with chocolate, vanilla or any flavor custard you enjoy!
Submit a Recipe Correction
Join The Conversation
After spending about 25 yrs as a professional baker in my family owned bakery where we made anywhere between 4500 to 5000 cream puffs every Wednesday and Thursday using basically this same recipe without the cardamom except in larger quantities. I would cook the choux paste and drop them by hand and bake them on Wednesday afternoon and cover them and on Thursday my Dad and I would cook up approximately 4 to 5 gallons of milk into custard which we would IMMEDIATELY cool down by whipping it on our 80 qt mixer until it was BELOW room temperature and then we would fill the shells which I had baked on the previous day. By using the ammonium carbonate(Bakers Ammonia) which I dissolved thoroughly in the milk we NEVER had any failures with our shells deflating because I would blow a cool fan on the shells after I dropped them until they formed a light crust on them and I would put them into a 500° oven and then cut it back to 450° after 15 minutes. This made them puff and then set the shells and dried them out to keep them from collapsing. So I know for SURE that this is probably the best recipe for cream puffs I have ever used!!