Cream Cheese Bourbon Pecan Pound Cake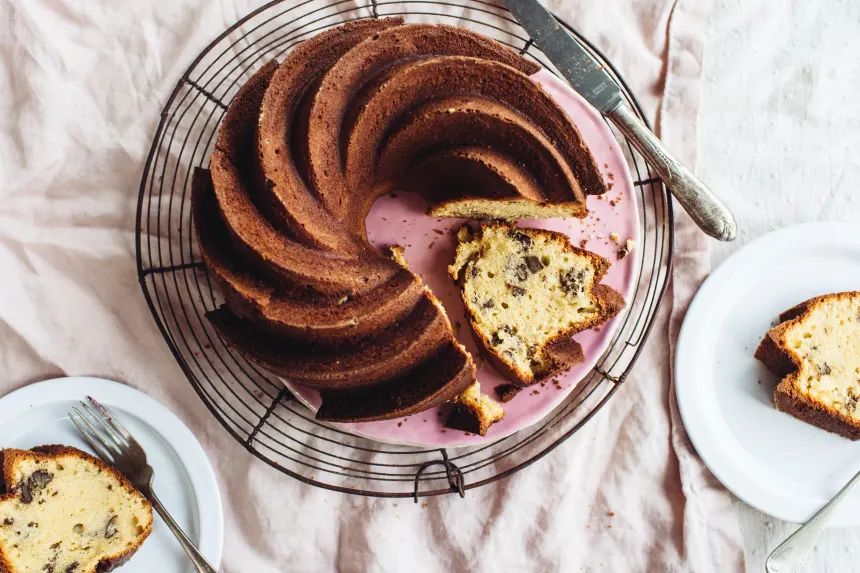 photo by Izy Hossack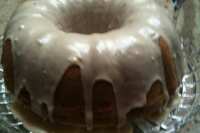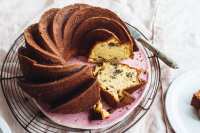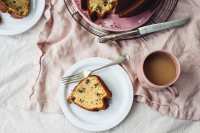 Ready In:

1hr 55mins

Ingredients:

9

Serves:

12
directions
Preheat oven to 325°F
Grease and flour a 12 cup tube or bundt pan.
Beat butter and cream cheese at medium speed with an electric mixer until creamy.
Gradually add sugar, beating at medium speed until light and fluffy.
Add eggs, 1 at a time, beating just until the yellow yolk disappears.
Sift together flour and salt; add to butter mixture alternately with bourbon, beginning and ending with flour mixture.
Beat batter at low speed just until blended after each addition.
Stir in vanilla and pecans.
Pour batter into a greased and floured 12-cup tube pan.
Bake for 1 hour and 30 minutes to 1 hour and 35 minutes or until a wooden pick inserted in center of cake comes out clean.
Cool in pan on a wire rack 10 to 15 minutes.
Remove from pan; cool completely on wire rack.
Reviews
This is a fabulous cake. Funny, the bourbon in it mellowed out and it has quite the praline taste to it. I put a bourbon flavored glaze on it, and that really truly was the "icing on the cake" haha. 1/3 cup melted butter, 2 cups of powdered sugar, and 3 tablespoons of bourbon. Can't give this recipe enough accolades~!!!

 

Fantastic! I made this last week using some of the nice Maker's Mark bourbon I'd bought. Very easy to put together. I divided the batter into 2 loaf pans and then added the pecans to one pan as we have some nut allergies to contend with. The only issue I had was deciding when enough baking was enough. At one hour the centers were still pretty goopy, so I kept going another 5 minutes at a time. Finally after probably 15 more minutes I took them out as they were as brown as I could deal with on the oustides, yet still a bit less cooked in the middle than I'd hoped. Cooled, wrapped and refrigerated them and found the texture to be just fine when we tried some. My finacé threatened to pick up the loaf and just gnaw on it. Great recipe.

 
RECIPE SUBMITTED BY
My husband and I married straight out of college in July of 1992. I work as the Assistant Manager at a wine shop which allows me to drink on the job! (OK, not that much, but it's still a fun job...) Besides helping customers choose wine they will like (and also help with food and wine pairings for their menus), I also get to help with the catering end of the business, so I get to spend a fair amount of time in the kitchen making fun appetizers and beautiful food displays. I also work part-time at the fromagerie next door. So yeah - that means I eat on the job, too. :^D We live on several peaceful wooded acres on a cute little river in rural NE Wisconsin, with a cranky old-lady Burmese and whatever stray outdoor cats that have decided to adopt us on any given day. The cute puppy in the picture is Jake, our Elhew-bred English Pointer that we brought home on Easter weekend 2007. I've also got 2 painted turtles named Dennis and Fuzz, and a bunch of fish (koi and goldfish, along with the guppies & swordtails in the turtle tank). I USUALLY eat and cook healthy, but I rarely pass up dessert, either. I do not eat red meat, and try to limit other animal products, too. I love to bake, although I seem to collect a lot of scone and biscotti recipes which I NEVER get around to making. I bake and eat A LOT of cookies and muffins... I almost always reduce the sugar by 1/4 and use whole wheat pastry flour for at least part of the flour. Those two changes do so much to make recipes healthier without compromising taste. I try to reduce fat whenever I can, too, but while I want to eat healthy, I still want to ENJOY what I eat!!! I seem to give a lot of 4 and 5 star reviews here - I seem to have a pretty good sense of what I like by looking at a recipe before I try it. Thank you to anyone that tries my recipes in return, or photographs them. Amber: <img src="http://netnet.net/~mkburie/amber2.jpg"> ........And a grown up Jake (one year old in January 2008) :) - <img src="http://netnet.net/~mkburie/JAKE111307.JPG"> Charlotte (May 27, 1992-June 1, 2009): <img src="http://netnet.net/~mkburie/Charlott.jpg"> Ashley: Adopted October 8, 1996 - Passed Away January 6, 2009 <img src="http://netnet.net/~mkburie/ashley2.jpg"> Mike: September 26, 1994 - March 19, 2004<img src="http://netnet.net/~mkburie/mike1997-lr.JPG">.... <a href='http://www.niftymaps.com/visitor-map.php?id=36321'><img src='http://i.niftymaps.com/36321.png' alt='Click to zoom in on my visitor map!' border='0'></a>Create your free world <a href='http://www.niftymaps.com/' target='_blank'>visitor maps</a>
View Full Profile