Cornish Pasty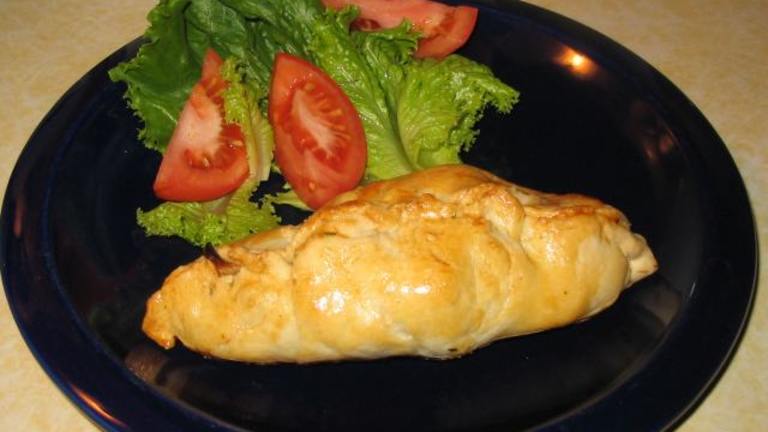 Recipe handed down from my great grandmother. Individual pasties were often made for lunches for the men in the fields or on the seas.
Ready In:

2hrs

Serves:

Yields:

Units:
directions
Make pie crust: Mix flour by hand with 1/2 of shortening till crumbly.
Add remaining shortening and continue to mix.
Salt may be added to flour if desired.
Add water- mix with fork until forms into a ball.
Roll out into top and bottom crust.
Or may use purchased crust.
Preheat oven to 350.
Put uncooked pie crust into bottom of 9" pie plate.
Cover with a layer of sliced potatoes.
Sprinkle with 1/3 of the onions.
Crumble 1/2 ground chuck and spread over potatoes.
Continue layering ending with potatoes and onions.
Cover with top crust.
Put a few holes in it for steam to escape.
Bake approximately 1 1/2 hours until potatoes are soft.
Let sit 10 minutes before slicing.
Serve in slices as a pie with Chili Sauce on the side.
Submit a Recipe Correction
It's not really a cornish pasty. Pastys should never use ground or minced beef, and always include potato, swede and onion. cut pastry in a 12 inch circle place raw filling into middle, bring pastry upfrom one side to lie flat on the other side, then and this is the tricky bit, using your thumb and forefinger twist ruffles along the edges to seal the pastry. The Cornish pasty seam is always along the sides and thick enough to be used as a handle. We use Skirt of beef in our pasties, and add a little suet to the filling.http://www.ourcornishpastyshop.com/

thank you for sharing this recipe, have never had finnish pasty. out of ground meat. always out of chunks of a type of steak. my grandparents and dad were finnish, i serve pasty for Christmas Eve meal every year, and throughout the year. When my daughters come for a visit that is what they request. Giving them each cookbooks for Christmas presents from handed down recipes , pasty will be in there for sure. our recipe has never called for turnips, i have recenly found recipes where the pasty's were not made in a pie plate , but as individual litle wrapped pies, will try that type next. ground chuck was good, just use to my steak. The smell of any pasty in the oven cooking is undescribable. Thanks again for sharing.

My wife grew up with Finnish pasty. I remember going to my in-laws on "pasty nights" and having one of the most mouth watering meals I've ever eaten. Her mother used turnips, potatoes, onions, carrots, meat and several different spices and another ingredient too. Your pasty is a very good "non-turnip" version. As I'm writing this I'm smelling the oven baking the pies. This is our second time making your recipe. Great stuff! Thanks for sharing the recipe.

Thanks for sharing this recipe.. I did however (pardon) improvise... to the filling I added home grown diced turnip, 1/2 tsp hot english mustard powder, 1 beef buillion. The secret I was let known in a flawless cornish pasty is that the filling has to be raw and then baked... The pastry (dough) needs careful chilling time and butter and lard is incorporated for a light thin pastry