Upper Michigan Pasties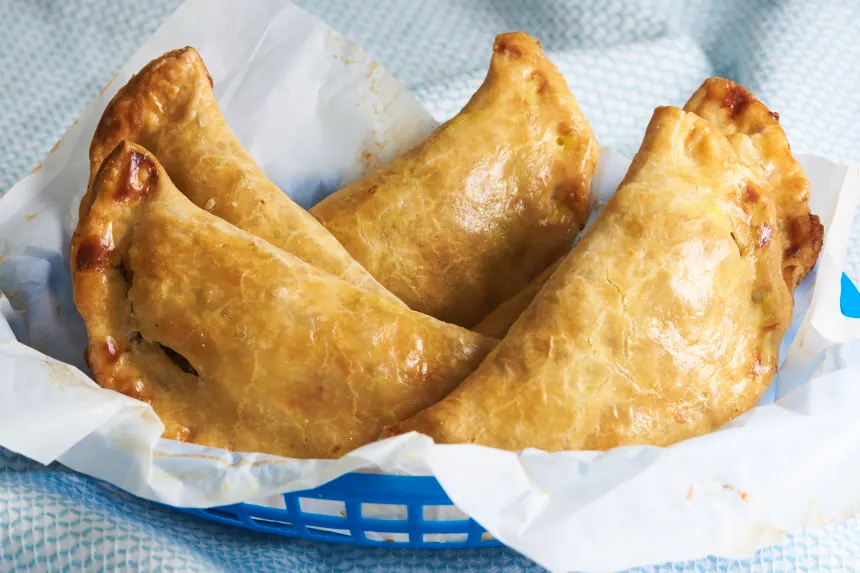 photo by Robin and Sue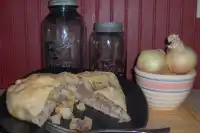 Ready In:

2hrs

Ingredients:

10
directions
Crust:

Pour the boiling water over the lard until the lard is dissolved.
Add salt to flour and add this to the waterand lard.
Mix this together until it forms a ball.
Wrap in Saran Wrap and refrigerate overnite.

Filling:

Combine the filling ingredients in a large bowl. Let sit and meld together, while rolling out the crust. This chilled dough will make 8 pasties.
Take one of the dough balls and roll out on a floured surface, roll into a circle about.
1/8 inch thick. Do the same with all the dough.
Put large cupful of filling on the crust; dab ice water around the edge of the crust to seal.
Add a teaspoon of butter on top of the filling before sealing.
Fold crust over top of filling like a turnover, and seal edges well.
Place pasties on baking sheets and bake at 425°F for 15 minutes; then turn oven down to 350°F for 60 mimutes, or until nicely browned.
When done, brush the top with butter.
I serve with ketchup.
Questions & Replies

Reviews
I have no frame of reference for what a pastie is supposed to be but I thought this turned out good. There was way too much filling though so I baked the extra in a dish. That would have worked if I had covered the dish! I guess being in the crust the filling must be steaming to help it cook. I did greatly reduce the amount of salt and pepper in the filling. This would NOT work for someone on a low sodium diet! I think the crust could have stood with less salt as well so I will try 2 tsp next time. ETA: I made them all up at once but only baked half of them. The others I put into the freezer. Last night I pulled them out and placed them on a cookie sheet. I loosely covered them with foil and baked at 350 for 60 min then removed the foil. I think it was only another 15 min to cook them completely. I'm so glad I did it this way because they came out just as tasty as if they were fresh baked!

 

Yep, these are the real deal, all right! My grandma was from Lake Linden in the Copper Country. She made the BEST pasties! When I tried to get the recipe from her, it was just, "Oh, a handful of this and a little bit of that." She did it by "feel" and "sight".These took me straight back to my childhood, Rose! After browsing through about 50 other pasty recipes here at zaar, yours was the only one with a lard crust. I knew I had the right one! That's what makes a pasty authentic and gives it that true U.P. flavor! Dee-lish! Look no farther, folks, this is THE U.P. pasty you're craving! Thank you so much for posting!:-)

 

Mad half a recipe, and used one teaspoon of salt in the crust and added a teaspoon baking powder. Next time to the two cups of flour I will add 1 1/2 teaspoons salt. It was a little scary making hot water crust, not knowing what I was getting into. But end results were crispy, and flakey in nice layers, better than puff pastry. I had chopped all my filling too tiny, so next time will keep to a medium size chop for vegetables, and I didnt use enough turnip, of course I din't follow the exact amounts to recipe, my fault. I am making again and soon. After baking I frozea few, and when placed in oven at low heat , I swear the crust was even flakier,

 
Tweaks
These remind me of St. Ignace. Really easy dough to work with and very tastey and flakey when cooked. I used leeks in place of the onions, venison in place of the sirloin and added some shredded carrots and chopped celery with the other veggies. With just a sprinkle of garlic salt, oregano, & margorum it was perfect. Thanks for a great taste of home.