Coconut Bread With Sweet Pineapple Butter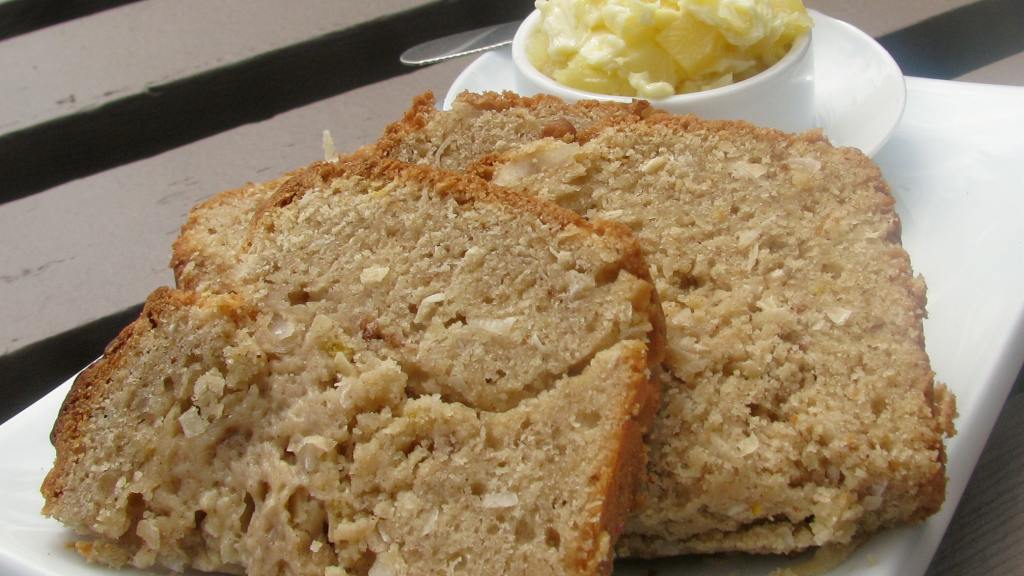 Ready In:

1hr 35mins

Ingredients:

14
ingredients
1⁄2 cup unsalted butter, melted, plus more for greasing the pan

3

cups all-purpose flour

1

tablespoon baking powder

1

teaspoon salt

1

teaspoon ground cinnamon

1

cup brown sugar, packed

2

eggs, lightly beaten

1

teaspoon vanilla extract

1

lemon, zest of, finely grated
1 1⁄2 cups unsweetened coconut milk
1 1⁄2

cups shredded coconut, toasted

confectioners' sugar, for dusting

Pineapple Butter

8

ounces crushed pineapple, drained

1

cup unsalted butter, softened
directions
Preheat oven to 375 degrees F. Grease the bottom and sides of a 9 x 5 inch loaf pan with butter.
In a large bowl, mix the flour with the baking powder, salt and cinnamon. In another bowl, whisk together the melted butter, brown sugar, eggs, vanilla and the lemon zest. Pour in the coconut milk and whisk it all together.
Pour the wet ingredients into the dry ingredients and fold everything together until you have a smooth batter. Gently fold in the shredded coconut until everything is evenly distributed.
Pour into the prepared loaf pan and put on top of a cookie sheet. Bake for 1 hour to 1 hour and 15 minutes, or until a wooden toothpick comes out clean when inserted into the center of the bread. Make sure to rotate the bread a few times while cooking to ensure even cooking and browning.
Cool the bread in the pan for 20 minutes. When cool enough, release from pan and let completely cool before slicing.
Toast the slices of coconut bread, dust with confectioners sugar and serve with the pineapple butter!

Pineapple Butter:

Press all of the liquid out of the crushed pineapple. (If there is too much juice, the fruit will separated from the butter.) I like to use a food processor to mix up the pineapple and butter but you can also mash them together in a bowl - just make sure your butter is very soft. Place the butter into a serving bowl.
*Note: to toast the cocount, Preheat oven to 350 degrees F. Spread the coconut on a cookie sheet and bake for about 15 minutes, stirring occasionally and checking to make sure it's not getting too well done.