Cinnamon Bun Snail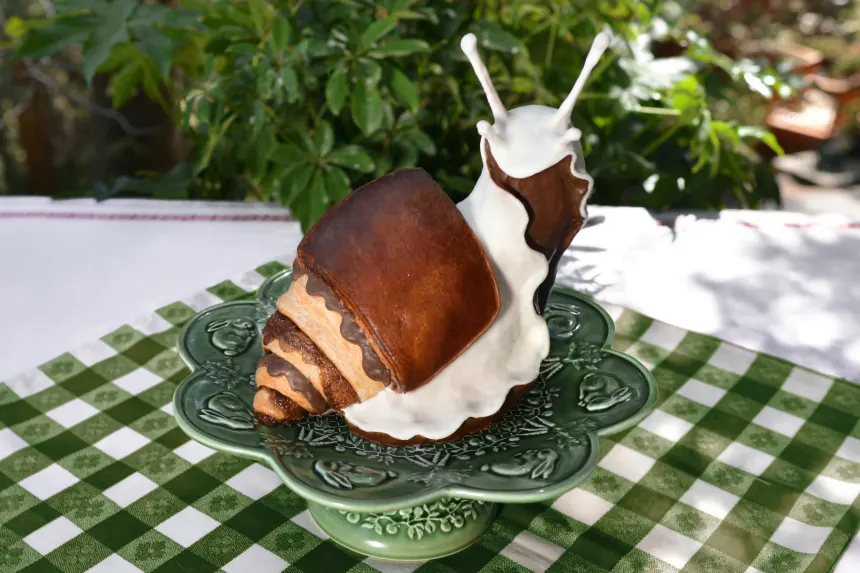 photo by ChristineMcConnell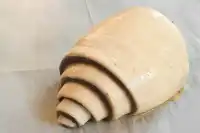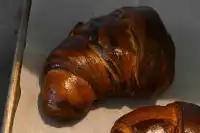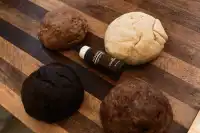 Ready In:

11hrs

Ingredients:

32
directions
Coffee Cake:

Grease one 10X10 baking pan and heat oven to 350 degrees F.
In a mixing bowl make your streusel by combining brown sugar cinnamon and melted margarine. Mix until crumbs form. Cover and set aside.
In a separate mixing bowl combine flour, baking powder and salt. In a stand mixer fitted with a paddle attachment add oil, eggs, vanilla, milk and sugar. Beat until well combined then add flour mixture.
Pour half of batter into prepared baking dish then coat with half of streusel. Pour in and spread out remaining half and top with remaining streusel.
Bake 25 minutes or until inserted toothpick comes out clean. Cool and remove from pan after ten minutes. Cover and chill in fridge until ready to use.

Cinnamon Roll Dough & Filling:

In a glass bowl mix warm water (100 degrees F), sugar and yeast. Allow to activate at least five minutes. In a stand mixer fitted with a dough hook; add warm milk, egg, room temp butter. Mix and slowly add yeast mixture. Finish by adding flour and salt. Mix roughly five minutes unit dough forms. Place in greased bowl and cover with damp cloth for at least one hour.
Mix filling by combining melted butter, sugar and cinnamon. Cover and set aside.
Heat oven to 350 degrees F.
Once dough has risen, punch down and roll out to about 1/4-inch thickness. Cut into angled triangle that's roughly 8-inches wide at the bottom and 4-inches at the top total length should be about 20 inches. Using an offset spatula spread out 1/2 cup of filling evenly onto the top of the dough. Begin rolling at the 8" base and roll smoothly up to the top making sure the edge is covered underneath. Bend the tail inward slightly and cover with a large mixing bowl and allow to rise for 40 minutes.
Once risen remove the bowl and place in oven for 35 minutes or until desired coloring is reached. I followed this method three different times (using brown food coloring on two attempts) to get the shape I wanted and actually borrowed a large piece from one of the duds to use as the top shell band on my snail. If I were to do this over, I would make one larger piece all one color instead of Frankenstein-esque ones you see here. That said, you're in charge of how you do this, and I say; make it however you like!

Buttercream:

In a stand mixer beat room temp butter until fluffy. Add icing sugar one cup at a time. Add whipping cream, salt.

Royal Icing:

In a stand mixer beat egg whites till frothy. Add sugar until desired consistency is reached. Once mixed I split this batch in half and used the brown gel food color on half. This was used to create the wavy lines on the shell and coat the underside of the snail.

Decorative Direction:

Once your batch of buttercream, royal icing, cinnamon buns and coffee cake are made, you're ready to start assembling! As you can see in the photo this takes some patchwork and there's really no right or wrong way to stack and frost it. I did use two wooden dowel rods down the neck to support the weight while building, but I removed them once the cake had been crumb-coated and chilled. I used white and brown royal icing to create the final coat and for the long eyes I piped several strips of thick royal icing on parchment and allowed it to dry, then gently pierced the cakes head with them and did a royal icing flooding over top with a watered-down batch. The final product was really fun to look at and really didn't take that long!
Questions & Replies

Got a question?
Share it with the community!
Reviews
Have any thoughts about this recipe?
Share it with the community!