Chocolate Cookie Cake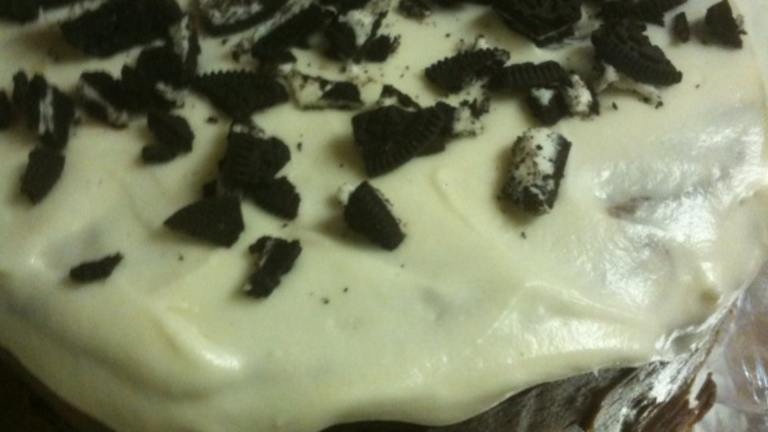 You'll definitely need a glass of milk with this one! I adapted this from my Better Homes and Gardens New Baking Book. This cake is sweet and a little time consuming, but SO worth it, especially if you like Oreos! I've made it for a cake walk, as it makes a pretty presentation. Before I even baked all of the batter, my husband asked if there would be any leftovers! :)
Ready In:

1hr 20mins

Serves:

Yields:

Units:
ingredients
Cake

2 2⁄3 cups all-purpose flour
2 1⁄4 cups sugar
1 1⁄4 teaspoons baking soda
3⁄4 teaspoon salt
1⁄2 teaspoon baking powder
1 1⁄3 cups milk

1

(8 ounce) sour cream

5

ounces unsweetened chocolate, melted and cooled

1⁄3 cup butter, softened (5 1/3 Tablespoons, it has to be REALLY soft)

3

eggs

2

teaspoons vanilla

1

cookie, filling recipe (see recipe below)

1

recipe chocolate-sour cream frosting (see recipe below)

Cookie Filling

4

cups sifted powdered sugar
1⁄3 cup butter, softened

2

tablespoons milk (plus additional 1 -2 Tablespoons)

1

teaspoon vanilla

10

sandwich cookies, crushed

Chocolate-Sour Cream Frosting

1

cup semisweet chocolate piece

1⁄4 cup butter
1⁄2 cup sour cream
2 1⁄2 cups sifted powdered sugar

To garnish

4

sandwich cookies, crushed
directions
Grease and lightly flour two 9x1-1/2-inch round cake pans (or three if you have three). Set pans aside.
In an extra-large mixing bowl, combine flour, sugar, baking soda, salt, and baking powder. Add milk, sour cream, melted chocolate, butter, eggs, and vanilla.
Beat with an electric mixer on low speed about 1 minute or until mixture is combined. Beat on high speed 3 minutes, scraping sides of bowl occasionally.
Place 1/3 of the batter in each of the cake pans. (I only had two, so I had to wait to bake the last layer.).
Bake in a 350 degree F oven for about 25 minutes or until a toothpick inserted near the center comes out clean.
Cool cakes in pans on wire racks for 10 minutes.
Remove cakes from pans. Cool layers thoroughly on wire racks.
Prepare Cookie Filling: In large mixing bowl, combine powdered sugar, butter, milk, and vanilla. Beat with electric mixer on low speed until combined; beat on medium speed until very smooth.
Beat in enough additional milk (1 to 2 tablespoons) until frosting is easy to spread. Reserve 3/4 cup of the filling (without crumbs) for the cake garnish.
Stir crushed sandwich cookies into remaining mixture.
To assemble the cake, put a cake layer on a serving plate and top with half of the crumb-filled cookie filling, spreading filling evenly over layer. Add a second layer of cake and spread with the remaining portion of the cookie filling. Top with remaining cake layer.
Prepare the Chocolate-Sour Cream Frosting: In a 4-cup Pyrex measuring cup (or a small saucepan), melt 1 cup semisweet chocolate pieces and 1/4 cup butter, stirring frequently. Cool about 5 minutes. Stir in sour cream.
Gradually add powdered sugar, beating until smooth and easy to spread.
Spread top and sides of cake with frosting.
Spoon the reserved cookie filling onto the center top of the cake. Carefully spread filling to force some down sides of cake. Garnish the top of the cake with the 4 crushed chocolate sandwich cookies.
Cover and store in the refrigerator.
Submit a Recipe Correction
RECIPE MADE WITH LOVE BY
"You'll definitely need a glass of milk with this one! I adapted this from my Better Homes and Gardens New Baking Book. This cake is sweet and a little time consuming, but SO worth it, especially if you like Oreos! I've made it for a cake walk, as it makes a pretty presentation. Before I even baked all of the batter, my husband asked if there would be any leftovers! :)"
I gave this recipe 5 stars based on the comments from my coworkers. They all loved it. My recommendations are to make 1 1/2 times the amount of cookie filling. It is a very rich dessert so slices can be cut very thin but everyone will be satisfied with it. Also, use Oreo brand cookies. I went with a cheap copycat brand and I think I could tell the difference. Thanks for posting the recipe, Chef Greeny4444.

You'll definitely need a glass of milk with this one! I adapted this from my Better Homes and Gardens New Baking Book. This cake is sweet and a little time consuming, but SO worth it, especially if you like Oreos! I've made it for a cake walk, as it makes a pretty presentation. Before I even baked all of the batter, my husband asked if there would be any leftovers! :)