Cheese Enchilada Stack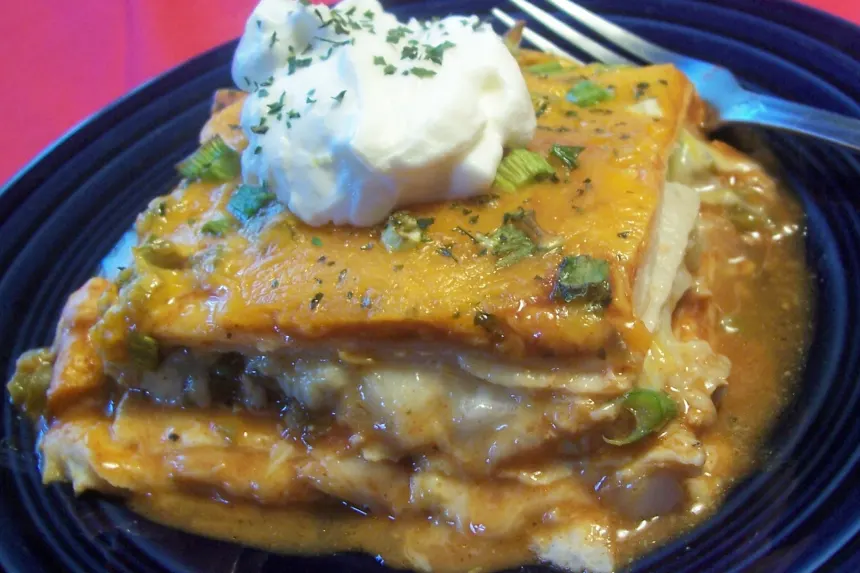 photo by *Parsley*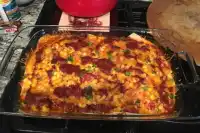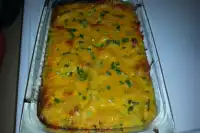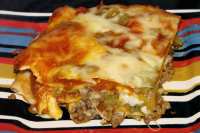 Ready In:

20mins

Ingredients:

5
directions
Preheat oven to 400 degrees.
Spray square 8x8 baking pan with pam (the garlic one is good).
Line pan with layer of corn tortillas.
Top with 1/3 sauce, cheese, chilis, and onions.
Top with second layer of tortillas.
Top with second layer of 1/3 sauce, cheese, chilis, and onions.
Top with final layer of tortillas.
End with final layer of 1/3 sauce, cheese, chilis, and onions.
Bake until bubbly (approximately 10-15 min.).
You can use green sauce and 2 cups cubed chicken.
Or black beans.
Or ground beef seasoned with taco mix.
Questions & Replies

Got a question?
Share it with the community!
Reviews
This was SOOOO good! I'd give it five stars, but the original recipe needs some substantial tweaks... First of all, 12 corn tortillas would be too many. I would suggest going with a standard 10-pack of corn tortillas. Even that was more than necessary. 8 tortillas ought to do it if that's all you have. 12 ounces of cheese would be too much (and I'm from Wisconsin!), especially if you're topping this off with sour cream. Again, go with a standard supermarket size and just get an 8-ounce bag of your favorite shredded cheese. It will be the perfect amount. 15 ounces of enchilada sauce would be the perfect amount, but most good Mexican brands come in 12 ounces, or way more than that (I think 28.5 ounces). I made this with one 12-ounce can of enchilada sauce, and about 1/4 jar of leftover salsa. As for preparation, rather than doing layers of sauce, I would recommend dipping each of the tortilla sections in the enchilada sauce, so that they get completely "sauced;" otherwise your tortillas will be a little dry! Skip the green chiles; I can't imagine those working in this recipe. I would suggest adding a can of black beans and possibly a can of corn. I would also recommend a liberal sprinkling of a good Mexican hot sauce like Valentina, Bufalo or Cholula for added flavor... But the flavors you get from the canned goods ain't gonna do it. (Of course, you must have sour cream as garnish!) One more note... If you don't have an oven, simply put this in the microwave for 10 minutes as I did. It will turn out perfect either way! Thanks for a great base recipe!!

 

I made this dish twice already, and I LOVE it. Cheese enchilada's are my favorite food. My only comment is that I made it once w/o the green chilies and once w/ them, and I actually prefer it w/o. But that's just my personal choice. I used the medium heat enchilada sauce, and I found that that adds enough heat that the green chilies just end up being a little overkill.

 

Gee, what else can I possibly add? This was unbeliveably awesome! My hubby, since I taught him to cook(serious)likes to cook for himself.He goes hiking a few times a week, and I've gotten into the habit of cooking for him when he goes hiking. I made this last night for him. He never said a word all through dinner. When he was finished, he said "I loved it."!! Just to clear up something, he has loved my cooking for nearly 20 years! It must be a "man' thing!lol. I make up "taco meat" and freeze it. I took some out and added it to the recipe, and if I do say so myself, it really was fabulous. Not to say that eating it like it was, wasn't great, because I kept a corner for myself without the meat, and it is just sooo good! Thank you so much for a definate keeper!

 
Tweaks
Yum! Yum! Yum! This is one of my favorite super fast recipes. I added a can of black beans and also used some salsa verde in place of the diced green chiles. It was fabulous and took no time at all. I did have to heat mine longer than 10 - 15 minutes, but nobody complained about waiting a few extra minutes for such a terrific dish!

 

Everyone in our family loved this (even me, and I'm not an enchilada fan). I used 6 flour tortillas instead of 12 corn tortillas and added a can of black beans. The very bottom layer of tortillas didn't get as soft as the middle layers. Next time, I'll pour a little bit of enchilada sauce in the bottom of the pan before adding the first layer of tortillas. Yummy!

 

This was really good! I replaced the green onions with 1/2 of a yellow onion sauteed in a little olive oil, used a 19 oz can of black beans, and subbed half of the cheddar cheese for some cubed monterey jack, because that's what I had in the house. My husband was complaining about the lack of meat, but we butt heads about that a lot since I'm vegetarian. I thought it was just fine without it, but the non-veggies might like it better with meat. Thanks for the great recipe!

 
RECIPE SUBMITTED BY
I live in the Texas Panhandle in a littel log cabin. Pretty odd since the area is in the Llano Estacado. I'm married and have three teenage step kids who are the best. Four cats and a big dog. I belly dance do psycic readings and cook a lot. My favorite cook book is an old electric company cook book I've had forever. It has alot of comfort foods and entertainment ideas. I LOVE garlic. I hate electric stoves and non-stick cookware.
View Full Profile