Big Ol' Mess (Smoked Sausage in Spicy Sweet Sauce)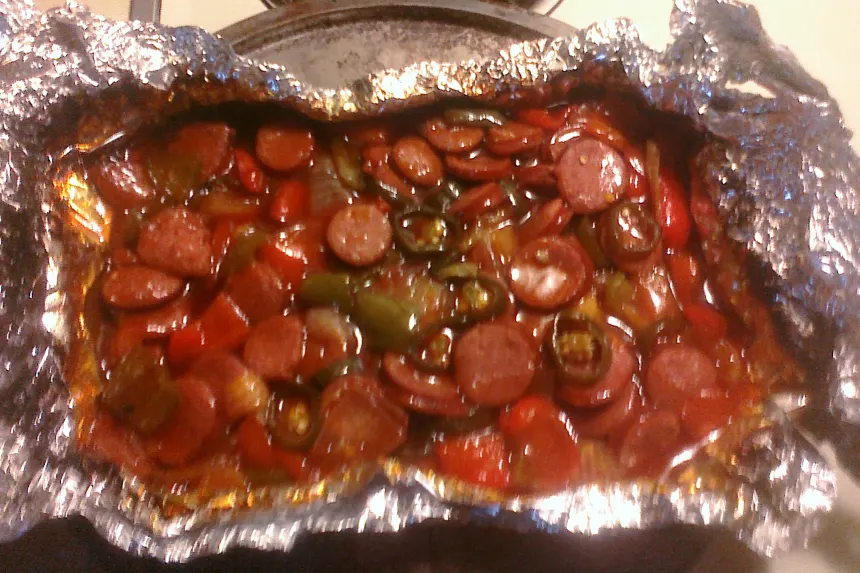 photo by arphilly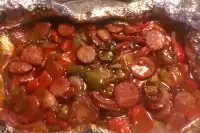 Ready In:

1hr

Ingredients:

6
directions
Make an aluminum foil bag. Use 2 12" x 18" sheets of heavy-duty foil (or double regular foil) and, (after the ingredients are in the bottom half), crimp the top half on.
Put the sausage, green pepper and onions in the bottom half of the foil bag.
Mix the Tabasco up with the sweet and sour sauce and pour it over the sausage mix. Seal the foil bag with the top half. Make sure it is "leak-proof".
Place on the grill (gas or charcoal) and cook for a total of 45 minutes, turning after each 15 minutes.
You can slit the bag open when done and serve from it at the campsite.
If you are cooking this in the hot coals of a campfire, reduce the total cooking time by about 15 minutes and turn every 5 minutes.
Questions & Replies

Got a question?
Share it with the community!
Reviews
I've been making this for years, and it's always a big hit at tailgates and camping. I do have a couple of suggestions;<br/><br/>- After a couple of near-catastophic foil packet failures, I started using a disposable aluminum lasagna pan. Much easier to check the progress and stir things up during cooking, and far less mess.<br/><br/>- I always slice the smoked sausage lengthwise and put it on the grill to get a bit of a char going before cutting into chunks. Improves both the flavor, and especially the texture of the final product quite a bit.

 

I have this cookbook and have done this recipe many times and it is always a hit. One of my favorite things is that it is so easy to play with. I have used different sausages (spicy, sweet, etc. ), different hot sauces (Tobascco, Red Hot), and my favorite different peppers for a different kick (Habanero, etc.) This is easy and great. I have also done this in a crock-pot when when I am not grilling. Great Recipe

 

I've had this dish several times made by a friend. I finally made it myself. I did half and half red and green bell peppers. The red bell peppers are a great addition. I followed the recipe for the amount of tabasco and found it to be a little much. I eat a lot of tabasco on almost everything and think the dish would be better with less of it. I also used the foil pan instead of just foil and found it to be very easy. I will post after next tweaked recipe. I will keep the red bell pepper, use about half the tabasco, and probably add more sausage.

 

I stumbled on to this recipe after trying to figure out what to do with a pound of chipotle-flavored smoked sausage a friend gave me a couple days ago. I didn't have any jars of sweet and sour sauce, so I used #350238 from here on the site, and set out to create my own sensational sweet and sour smoked sausage skillet (say that 5 times fast). I used Tiger sauce added to said recipe for sauce and thinned it out a bit for your dish, I also used a can of pineapple chunks toward the end and left out the jalapenos since I had none, and served the mess over rice. It was pretty good stuff, better than I expected in fact. I will definitely keep this one around for that next camping trip where I bet it will taste even better. Thanks for sharing.

 
RECIPE SUBMITTED BY
<p>I am a retired State Park Resort Manager/Ranger. <br /><br />Anyway, as to my years in the State Park System (retired now), I was responsible for 4 restaurants/dining rooms on my park and my boss at Central Headquarters said I should spend less time in my kitchens and more time tending to my park budget. I spent 25 years in those kitchens and worked with some really great chefs over those years, (and some really awful ones too!) <br /><br />I spent THOUSANDS of hours on every inch of that park and adjacent state forest (60,000 acres) and sometimes I miss it. But mostly I miss being in that big beautiful resort lodge kitchen. I miss my little marina restaurant down on the Ohio River too. I served the best Reuben Sandwich (my own recipe -- posted on 'Zaar as The Shawnee Marina Reuben Sandwich) in both the State of Ohio and the Commonwealth of Kentucky down there and sold it for $2.95. Best deal on the river! <br /><br />They (friends and neighbors) call my kitchen The Ospidillo Cafe. Don't ask me why because it takes about a case of beer, time-wise, to explain the name. Anyway, it's a small galley kitchen with a Mexican motif (until my wife catches me gone for a week or so), and it's a very BUSY kitchen as well. We cook at all hours of the day and night. You are as likely to see one of my neighbors munching down over here as you are my wife or daughter. I do a lot of recipe experimentation and development. It has become a really fun post-retirement hobby -- and, yes, I wash my own dishes. <br /><br />Also, I'm the Cincinnati Chili Emperor around here, or so they say. (Check out my Ospidillo Cafe Cincinnati Chili recipe). SKYLINE CHILI is one of my four favorite chilis, and the others include: Gold Star Chili, Empress Chili and, my VERY favorite, Dixie. All in and around Cincinnati. Great stuff for cheap and I make it at home too. <br /><br />I also collect menus and keep them in my kitchen -- I have about a hundred or so. People go through them and when they see something that they want, I make it the next day. That presents some real challenges! <br /><br />http://www.dnr.state.oh.us/parks/parks/shawnee.htm</p>
View Full Profile