Baked French Doughnuts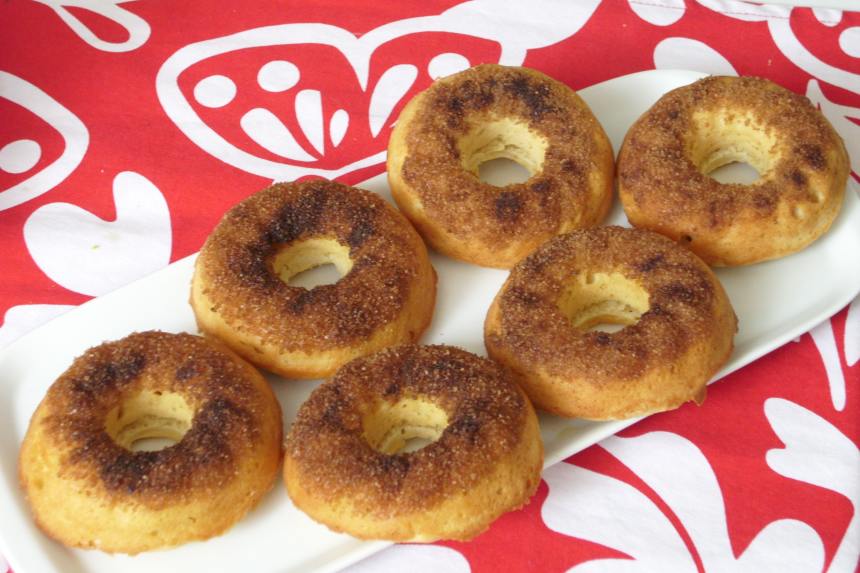 photo by Lalaloula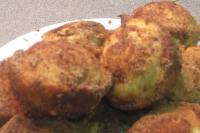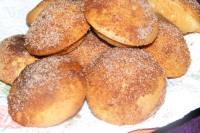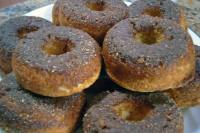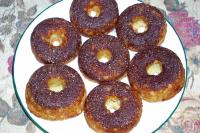 Ready In:

45mins

Ingredients:

11
directions
Cream margarine, sugar and mix well.
Add egg and mix.
Combine dry ingredients; add alternately with milk.
Fill greased muffin tins half full and bake 20 to 25 minutes at 350ºF.
TOPPING: Remove doughnuts from pan immediately.
Dip or toss in melted margarine, then into cinnamon-sugar mixture.
Reviews
These are really good. Yes they are a muffin but you can bake them in a doughnut pan. I just dipped the tops in cinnamon and butter. Easier cleanup. I made 6 large dougnut muffins and 3 small but overfilled my pans a bit so I could probably get a few more next time. I will definitely make again. My kids loved them and even I (muffin hater) liked them.

 

Update: These were great when I made them, but the next day they were dry and the glaze soaked in them. I had to throw them away. So if you make them, eat them the same day. I'm going to look for another recipe.<br/><br/>This is the exact same recipe I received with my mini electric doughnut maker. A few tips I learned: using my mini doughnut maker they baked in 2 minutes. Any more time than that and they are tough. The recipe made about 43 minis. The icing I made was: 1 cup powdered sugar (sifted for lumps), 2 tablespoons of hot water and 1/2 teaspoon pure almond extract. If using pure vanilla and/or pure almond extracts, I start out with less and add more if I need to. I tinted half with one drop of red food coloring to make pink and the other half I left plain. This was a perfect amount of glaze/icing for this recipe. Only dip about 4 doughnuts and then add the sprinkles. Otherwise the icing hardens and the sprinkles fall off. I found out the hard way. :) I did add 1/2 teaspoon of cinnamon. They turned out very pretty. Oh, if you are using an electric mini doughnut maker, use about 1 teaspoon of batter. When you close the lid, they will turn into doughnuts. I just used a chop stick to remake the hole in the center. Easier than trying to miss the middle. LOL

 

these turned out very well, not sure what I was thinking of at the time I made this but by mistake I used 1/2 cup butter instead of 6 tablespoons and they still turned out well, I also added in 1/2 teaspoon of cinnamon to the batter, they are delicious, thanks for posting DG, this was made for KK's forum tag

 

I added cinnamon to the batter (I love cinnamon!) and I skipped the topping since my oldest son likes doughnuts and likes his food plain. I've made it three times in a mini doughnut pan, and they're always hard. I thought they needed to rise more (my baking powder is new, acts fresh in other recipes). I suspect Ms. Cooky spotted the real problem instead: baking too long. The flavor is fine, so maybe I just need to bake them for a shorter time. Given the small size of my mini doughnut pan, I wouldn't be surprised if I only needed to bake for 5 or 10 minutes! If I give this recipe another try, since the flavor is good, I'll try that.

 
Tweaks
these turned out very well, not sure what I was thinking of at the time I made this but by mistake I used 1/2 cup butter instead of 6 tablespoons and they still turned out well, I also added in 1/2 teaspoon of cinnamon to the batter, they are delicious, thanks for posting DG, this was made for KK's forum tag