Authentic Baked Ziti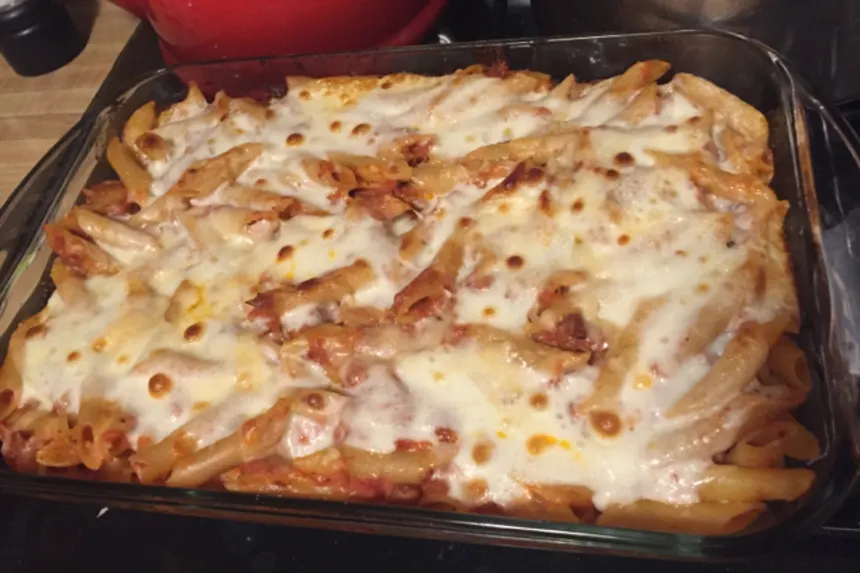 photo by Jenaemj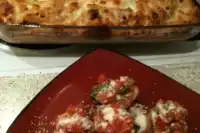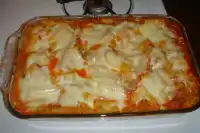 Ready In:

1hr 30mins

Ingredients:

15
directions
SAUCE.
Remove the sausage casings and crumble the sausage.
Add 2 teaspoons of olive oil to a pan, and brown the sausage.
Puree the tomatoes in a blender (not too much).
Add onions and garlic to now-browned sausage. Cook for a few more minutes until transparent.
Add your tomato puree to the sausage.
Add thyme and basil to sauce.
Add some salt and pepper to taste.
Add a generous pinch of the pepper flakes.
Stir this up, heat to near-boil, then let it simmer covered on low for 15 minutes.
BUILDING THE DISH.
Boil your ziti pasta to not quite al-dente. Don't overboil, pasta will soften while baking.
Cut the mozarella, half of it into 1/2 inch cubes, the other half in as thin of slices as you can manage.
Remove the herb sprigs from the sauce and discard.
Add the can of tomato paste to your sauce to thicken it up and give it a lively red color and more intense flavor.
Add the pasta, your sauce, the cubed mozarella and half the parmesan in a baking dish.
Top with the sliced mozarella and the remainder of the parmesan.
Bake for about 30 minutes until golden.
Tweaks
I saw this recipe and decided to make it, just to try something new for my family. It turned out looking just like the pics. Very easy to follow. My husband and kids are accustomed to Caribbean dishes because im from Guyana south America and here is jamaican. I liked it but picky husband and kids didn't like dishes. next time I'll omit the italian sausages and use chop meat instead. Great easy and quick dinner idea.

 

I don't eat meat, so I made a vegetarian version of this (with a little extra fresh mozzarella and sauce instead of sausage), and it was fantastic. I'm Italian and difficult to please, but this one is great and my dinner guests loved it too! I love the fresh mozzarella in there. Next time I may add some fresh chopped mushrooms to the onions instead of the meat.

 

Okay, I made a few changes but the results were still very tasty. I used ground sirloin instead of sausage because although my kid likes Italian sausage, she doesn't like it IN things. I also used puree instead of whole tomatoes that I pureed because same kid will eat sauce but not "chunks" of tomato. Otherwise, I followed the recipe and was very pleased with the outcome. I had always made a ziti bake using jarred sauce, but this had such a lovely flavor that I won't be doing that again. Thanks!