Almost No-Knead Bread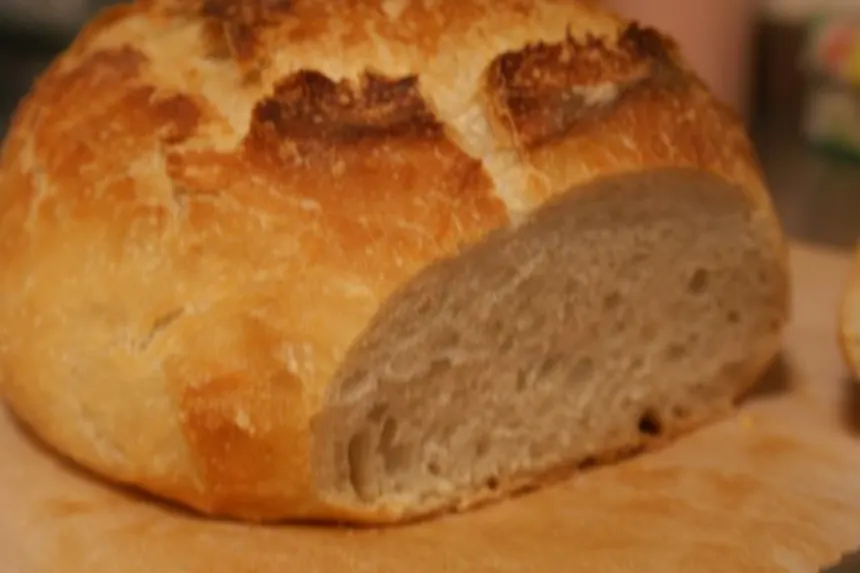 photo by Abundance n Joy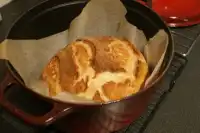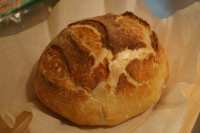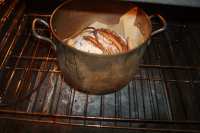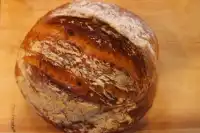 Ready In:

2hrs

Ingredients:

8
directions
In a large bowl, whisk together flour, yeast and salt. Now add the water, beer and vinegar. Fold batter using a rubber spatula. Scrape the dry ingredients from the bowl bottom and continue folding until a ragged ball of dough forms. Cover bowl with some plastic wrap. Allow to sit at room temperature for 8 to 18 hours.
In a 10-inch skillet, place a 12 x 18 inch piece of parchment paper. Spray parchment paper with nonstick cooking spray. Take the bowl of dough and turn out onto a lightly floured work surface. Knead dough 10 to 15 times. Pull edges of dough from edges into the center to form a ball of dough. Place the dough with the seam side down, into the parchment lined skillet. Spray dough with nonstick cooking spray. Cover the dough loosely with a piece of plastic wrap. Allow to rise at room temperature until the dough is doubled in size, about 2-hours. The dough should not easily spring back when poked.
Place a 6 to 8 quart, heavy bottom, Dutch oven with lid, on lowest oven rack. Preheat the oven at 500°F for 1/2 hour. Lightly dust top of dough with flour and then make single 6-inch long, 1/2 inch deep cut on the top of the dough with a sharp knife or razor blade. Take preheated Dutch oven from from the 500°F oven and remove lid. Using edges of parchment paper, pick up dough from frying pan and place into Dutch oven. Allow extra parchment paper to hang out of Dutch oven and cover dough with lid. Return covered Dutch oven to oven and turn temperature down to 425°F Bake bread covered for 30-minutes. Remove lid and continue baking until bread is deep brown and an instant read thermometer, inserted in loaf center, reads 210°F This may take 20 to 30 minutes after removing cover. When done, remove bread from Dutch oven and cool on wire rack for 2 hours, until bread reaches room temperature.
Questions & Replies

Got a question?
Share it with the community!
Reviews
I agree with Monstr - this turns out SO much better than the regular no-kneads! I followed the original ATK instructions (3/4 c. water, 1/2 c. beer) but increased the yeast to 1/2 t. since I only had regular yeast. For baking I used a 10-inch cast iron pot with 3 1/2--inch sides. The loaf rose so much that it hit the lid! It turned out with a beautiful super-crispy crust and looked just like the artisanal loaves I see at the store! My loaf was already golden brown when I took the lid off after 30 minutes so another 15 was all that was needed to produce a deep brown crust. I was so impressed I just bought a bigger cast iron pot on Amazon so my future loaves have as much room as they need. Excellent!!

 

This bread turned out great, it's a HUGE improvement over the original no-knead that went around awhile ago. The dough is firmer and easier to work with. The parchment trick makes it very easy to shape and get in the pot. I used my 5 quart crock pot liner and glass lid to bake, worked fine. I forgot to slash the top but that was fine too, not as fancy looking I guess.

 
RECIPE SUBMITTED BY
I am a Christian and as old as dirt...LOL I live on the beautiful MS Gulf Coast. We lost our home to Katrina but we are in our new place now,,on the same property...so we are doing fine..I have two cats and a DH who used to be a singer for years in a band...now he is semi-retired. I raised Cairn Terriers, made handbuilt pottery and sold on eBay for years..I was one of the first sellers on there. I love Spring and putting new annuals in all my old pots. I use the thrill, fill, spill method. LoL. I like to cook but simple things with few ingredients.
View Full Profile