Zwetschgenkuchen - Plum Cake
wizkid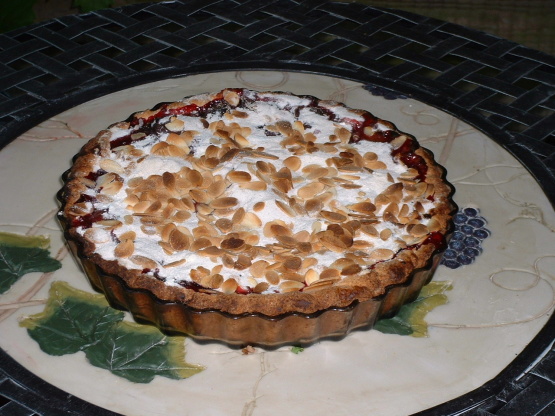 This is a classic German pastry and a delicious way to use all the plums that ripen in late summer. Actually a cross between a tart and a cake, the baked red plums give the treat a rosy appearance. Not an overly sweet dessert, it should be served with lots of fresh whipped cream.

This was demolished at our house. It was fun to make (had to substitute allspice for the mace), and it was a great way to use the too-many plums I'd bought. I like this recipe better than some other plum tarts because it uses so many plums you get plum flavor, instead of the usual sugar taste. All the skinnys in the fam enjoyed it with lots of lightly sweetened whipped cream. Thanks Julesong for a terrific post.
Prepare pastry: Cut margarine into flour, sugar, baking powder, salt, lemon peel and mace until mixture resembles fine crumbs.
Mix egg and water; stir into flour mixture.
Gather pastry into a ball; knead just until smooth, 5 or 6 times.
Press evenly on bottom and side of ungreased round layer pan, 9x1 1/2 inches.
Place plum halves cut sides down and overlapping slightly in pastry-lined pan.
Mix sugar, flour and cinnamon; sprinkle over plums.
Sprinkle with almonds.
Bake in 375 degree oven until pastry is golden brown and plums are bubbly, 35-40 minutes.