Zucchini With Summer Herbs
Linky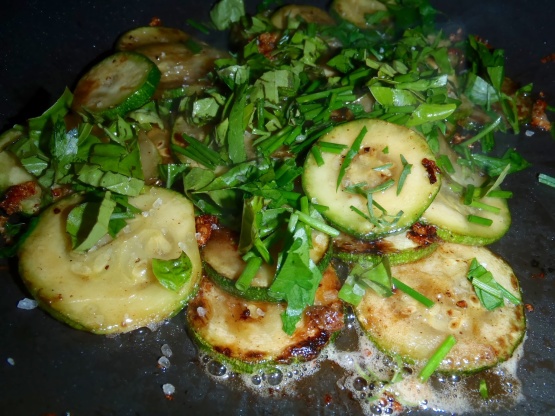 A simple sauté of zucchini that pairs nicely with fresh fish or perhaps baked chicken. The recipe calls for fresh herbs, but dried will work very nicely too or even a combination; just use 1/3 to 1/2 of the fresh amounts.

Rinse the zucchini and pat dry. Trim off ends and slice zucchini into 1/8 inch thick slices without peeling. There will be about 6 cups.
Heat oil in a skillet over medium high to high heat. Cook zucchini while shaking and stirring the skillet. Turn the zucchini occasionally with a spatula. Add salt and pepper to taste. Cook about 5 to 7 minutes. Drain in a sieve.
Add butter to the skillet until melted. Return zucchini. Sprinkle with garlic and herbs. Check for salt. Toss and serve.