Zucchini Prosciutto and Tomato Slice
katew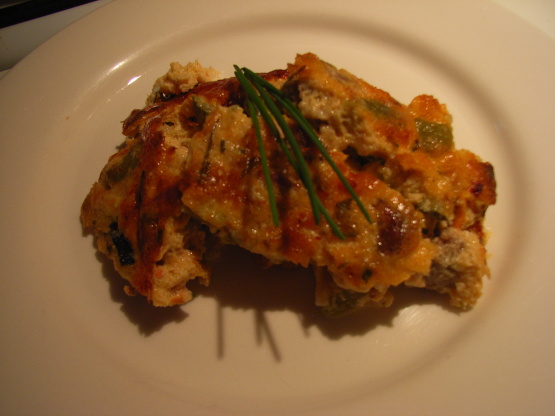 Great as snack on its own or as a side. Can be served hot or cold and great for a picnic. Light sour cream can be used just as well.

Top Review by katew
Savoury and enjoyable hot and I am looking forward to trying it cold too. I used fresh tomatoes and zucchini straight out of the garden and also added a green pepper I picked. I mixed all ingredients together as suggested by previous reviewer.Thankyou Tis.
olive oil, to grease tray

2

medium zucchini, coarsely grated

100

g prosciutto, finely chopped

3

spring onions, finely chopped

29.58

ml sun-dried tomatoes, roughly chopped

6

eggs, lightly whisked

240

g sour cream

14.78

ml parsley, finely chopped

1

garlic clove, finely crushed

59.14

ml cheddar cheese, finely grated

59.14

ml gruyere, finely shredded

59.14

ml parmesan cheese, finely shredded
Preheat oven to 180°C Brush a square 19cm non-stick cake pan with oil to lightly grease it.
Combine zucchini, prosciutto spring onions and sun driedtomatoes in a bowl. Spoon over base of prepared pan and season with pepper.
Combine egg, sour cream, parsley garlic and cheddar cheese in a jug & pour over the zucchini mixture.
Mix together the cheeses and sprinkle the combined gruyere and parmesan.on top of mixtue.
Bake in oven for 40 minutes or until just set, when set remove from the oven and set aside in pan for 5 minutes to set.
Cut into squares to serve.