Linky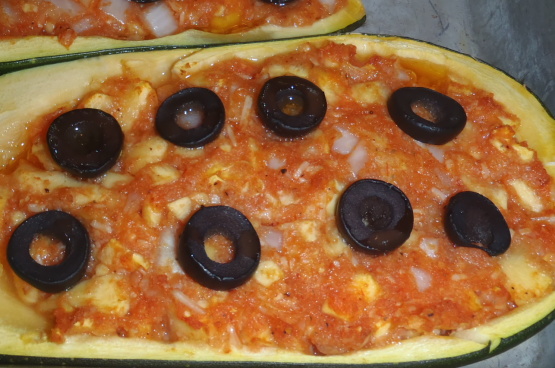 My mother used to make this for us when we were kids, and we would gobble them up. It's the dish that got DH liking zucchini. It looks very festive at a dinner party and isn't that much trouble to make.

This was FABULOUS!! I made one zucchini per person & should have made at least two! Easier with a bigger zucchini & comes out just as good. I threw the olives into the processor with everything else (to hide from olive-hating hubby) and used panko crumbs instead of crackers. Came out so good everyone was clamoring for more. A great way to serve up those 7,000 zucchini that come out of the garden every summer, I'll be making these often.
Note: a melon baller would make scooping out the zucchinis easier; I couldn't find mine & it took forever to scoop them with spoons, knives, etc.
Scoop out the zucchini, being careful to leave the skin intact.
Chop the zucchini meat fine.
Mix or process zucchini, cracker crumbs, onion, tomato paste, lemon juice, salt and pepper to a smooth paste.
Rub shells of zucchini with salt and garlic.
Spoon paste intothe zucchini shells.
Cover with cheese.
Dot with olive oil and olive halves.
Place in a baking dish and bake uncovered at 350 degrees for 30 minutes.