Boomette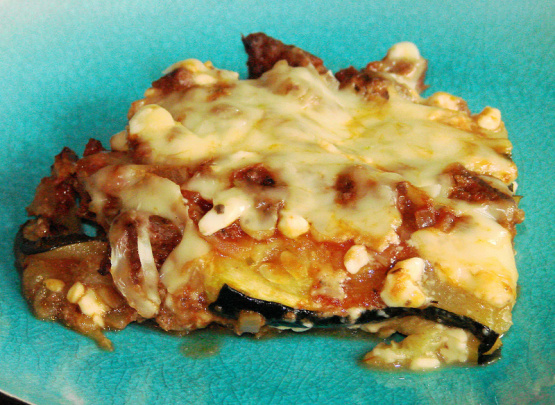 From www.joyinmykitchen.blogspot.com.

This was very good and my husband did not complain that there was not enough meat. I used a mandoline to cut a large zucchini length wise. I would turn the zucchini to the next side when I got close to the center seedy part. A little olive oil was used on the slices before roasting them. I roasted the zucchini about 10 - 15 minutes, turning the slices half way through. I will definitely make this again. I'm also going to email this recipe to my sister, as I know she will like it. Made for New Kids On The Block tag game 2010. 5 Stars
Heat oven to 325. Coat an 8-inch baking pan with cooking spray.
In a medium skillet, brown turkey; stir in tomato sauce, Italian seasoning, salt and garlic powder.
Arrange half of the roasted zucchini slices in the bottom of the dish.
Layer half of the meat sauce, half of the cottage cheese, and half of the cottage cheese over the zucchini.
Repeat layers, ending with the mozzarella cheese.
Bake uncovered for 40 minutes.
(note: you can make this ahead of time and refrigerate until dinner; just lengthen the cooking time by 15 minutes).