BarbryT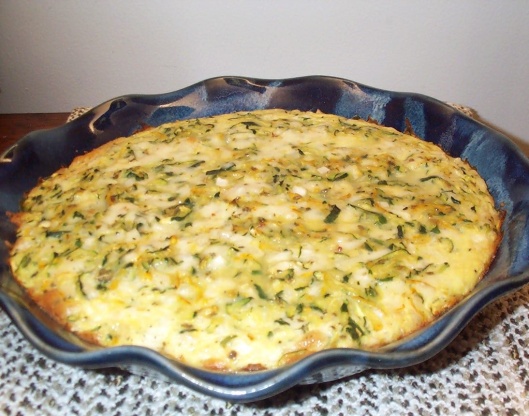 Just another way to use up that zucchini from your garden.

I really like this! It was a bit spicey for my taste, but I'm a wimp when it comes to peppers. I didn't have quite two pounds of zucchini, so added a couple of yellow squash, which made it very pretty. Also, I used real eggs (3 or 4) and used pepper jack cheese instead of the regular monterey jack cheese and the hot pepper flakes. Since it was on the too-spicey side for me, I shall make it again with regular monterey jack and just a few hot pepper flakes and suspect I shall be back with a 5-star rating. Made for PAC Fall 2007. Thanks, Parsley!
Place shredded zucchini in a colender set over a bowl. Add salt and toss to mix. Let stand for 30 minutes.
Press zucchini with back of a spoon to press out excess moisture.
Preheat oven to 325 degrees.
Combine egg sub., onion, oregano, basil and hot pepper flakes in a large bowl. Stir in cheese and zucchini and mix well.
Pour into a lightly greased 9" pie plate.
Bake at 325 for 25-30 minutes or until golden and set.
Serve right away or cool to room temperature and serve.