Zucchini Chocolate Orange Cake
Leslie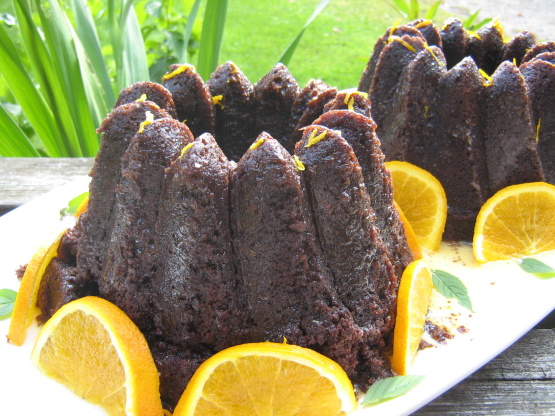 Awesome cake of Mexican Origin. Very moist because it's chock full of zucchini, and it has the most delicious glaze on top. Hope you enjoy!

With a light, moist texture, orange glaze and kaboom you have a winning recipe! I used a dark cocoa in the batter and did not change anything else. I know a lot of the reviewers felt it needed amped up with orange but I liked the subtle flavor found in the glaze and cake. Just blended so well with our taste buds. Found and made for ZWT8.
To make the cake:.
Preheat oven to 350 degrees F.
Grease and flour Bundt pan.
In a medium bowl, sift flour, cocoa, baking powder, baking soda, salt and cinnamon. Set aside.
In a large bowl, cream butter and sugar until fluffy.
Add eggs, 1 teaspoon vanilla and milk to the butter mixture.
Stir in dry ingredients and mix until well blended. Fold in zucchini, orange zest and nuts.
Pour into a greased and floured Bundt cake pan.
Bake at 350 degrees F for 50 to 60 minutes, or until a toothpick inserted into center of cake comes out clean.
Allow to cool.
To make the glaze:.
In a small bowl mix together sugar, orange juice and vanilla. Invert cake onto serving dish, then drizzle glaze over.